Fight Against Superbugs Crucial to America's Biodefense
How the U.S. is countering the national security threat posed by antibiotic-resistant bacteria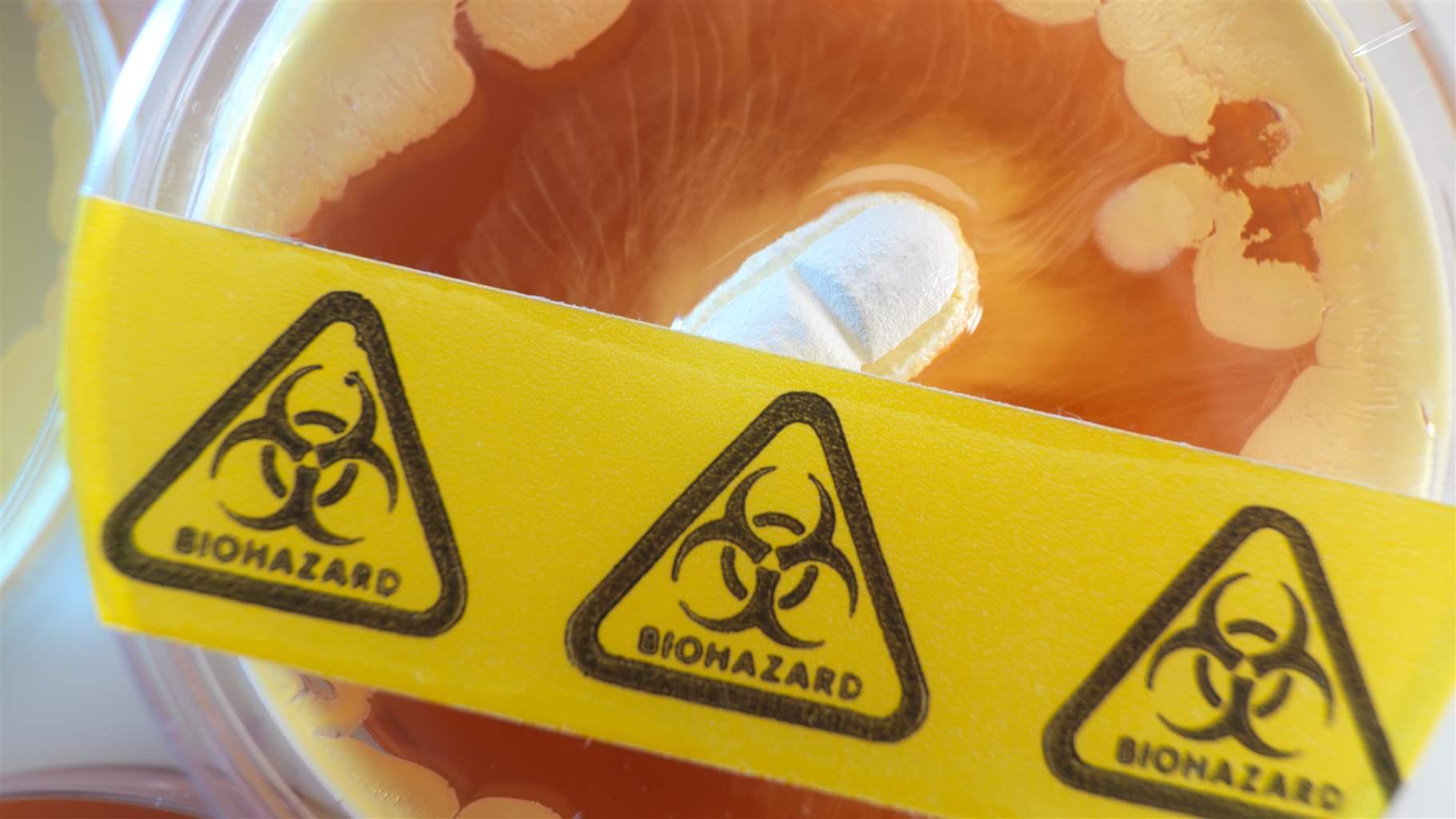 Antibiotic-resistant bacteria are not only a threat to public health in the United States, but also to national security. The federal government has recognized that antibiotic-resistant pathogens complicate soldiers' wounds, exacerbate casualties associated with both natural and manmade emergencies, and can be weaponized by our nation's enemies. Consequently, the first U.S. National Biodefense Strategy, released last year, highlights the need to reduce the emergence and spread of such superbugs both domestically and internationally, and accelerate the development of new drugs, diagnostic tests, and vaccines.
Rick Bright, director of the Biomedical Advanced Research and Development Authority (BARDA)—part of the Department of Health and Human Services' Office of the Assistant Secretary for Preparedness and Response—is among those leading the strategy's implementation.
Bright began his career in vaccine and therapeutics development at the Centers for Disease Control and Prevention. Today he oversees the development and procurement of medical countermeasures to fight an array of threats to national security and the public's health, including chemical, biological, radiological, nuclear threats and pandemic influenza, as well as emerging infectious diseases.
He recently answered questions from The Pew Charitable Trusts about the threat posed by antibiotic-resistant bacteria and the work underway to mitigate the risks.
Q: What is the role of the Office of the Assistant Secretary for Preparedness and Response (ASPR), and why does your office care about antibiotic resistance?
A: ASPR's mission is to save lives and protect Americans from 21st-century health security threats. Those range from chemical or biological weapons, radiological and nuclear threats, to pandemics and include antibiotic-resistant bacteria. We work with government partners at all levels, the health care sector, nongovernment organizations, academia, biotech firms, and pharmaceutical companies to address these threats and strengthen the country's readiness, response, and ability to recover.
During disaster response and recovery, we orchestrate the federal government's public health and medical efforts, which means we coordinate across the government to bring unified support to devastated communities during some of the worst moments of their lives. The resources we bring to bear include providing medical personnel to help evacuate patients, staff hospitals, or provide care at shelters; deploying drugs and other medical supplies from the Strategic National Stockpile; and much more.
Within ASPR, BARDA partners with companies or institutions to support advanced development and manufacturing of critical vaccines, drugs, diagnostics, and other medical devices so they are available during emergencies. Those products may become available on the commercial market, or BARDA may purchase them for the Strategic National Stockpile. Part of this work focuses on developing promising products to detect and treat antibiotic-resistant infections and that can be used to counter national security threats such as anthrax, plague, or secondary bacterial infections following diseases like pandemic influenza.
Q: Why are antibiotic-resistant bacteria a threat to U.S. national security?
A: Antibiotic-resistant pathogens present threats to national health security in two ways—one is natural and one is deliberate. First, antibiotic-resistant infections complicate our emergency responses. Let's look at an anthrax incident as an example. We've developed antitoxins, antibiotics, and vaccines to combat anthrax infections, but even if these products work exactly as expected, thousands of patients hospitalized because of anthrax exposure could die of secondary natural infections that are antibiotic- resistant. That's unacceptable. Second, adversaries could develop and use antibiotic-resistant bacteria in a deliberate biological attack. Both scenarios represent threats to national security and are why BARDA is working with industry to develop drugs to treat an array of infections.
Q: Recent analyses by Pew and the World Health Organization found that there are not enough antibiotics in development globally to meet current or future patient needs. Why aren't there more antibiotics in the pipeline with the potential to treat the most dangerous superbugs?
A: Market dynamics for new antibiotics are tough, especially for small companies, which may have only one or no approved drugs and a limited pipeline. The costs associated with sustaining production and marketing capabilities, as well as the costs of maintaining an R&D team that can produce a robust pipeline of drug candidates are often higher than revenues from newly approved antibiotics – drugs that are discouraged for broad usage to reduce the risk of increasing drug resistance. Companies have to make tough business decisions about which new drugs to develop. It's understandable; they have an obligation to their shareholders. These decisions are driven by evaluating the potential market for the new drug. Even though having effective antibiotics is essential to nearly every facet of modern medicine, and the public health community sees a need, the market dynamics are not very favorable.
Because most of the antibiotics on the market today are generics that have been used for many years, the price of those products is generally low. Further, the market potential of new antibiotics is limited by the fact that antibiotics are usually used by patients for a short time to treat acute conditions, and because bacteria become resistant to them over time. These market dynamics are part of the reason why so few large pharmaceutical companies are making antibiotics today.
Q: What is BARDA doing to stimulate urgently needed antibiotic research and development?
A: BARDA is helping to change the market dynamic by taking on some of the risk and providing non-dilutive funding [gaining financing without giving away any ownership of the business] for companies willing to invest in developing new antibiotics. For example, BARDA helped establish the Combating Antibiotic Resistant Bacteria Biopharmaceutical Accelerator, or CARB-X, which is the world's largest public-private partnership for preclinical antibiotic development. So far in our first two years, we've invested in more than 30 high-quality antibiotic products, and five of those have entered clinical trials. In the process, we have also attracted new players, and expanded the pipeline of early candidates, including 10 potentially new antibiotic classes. It is gratifying to see this model working, as validated not only by an expanded early-stage pipeline and technical progress, but also significant follow-on private equity investments for many of the companies "Powered by CARB-X."
BARDA maintains a range of partnerships that include some of the world's largest pharmaceutical companies as well as small biotechs. Through these partnerships we can develop products, including new multipurpose antibiotics to treat biosecurity threats like anthrax, plague, tularemia, glanders or melioidosis, as well as secondary drug-resistant infections that can follow and complicate any public health emergency response. These public-private partnerships have led to the late-stage development of nine antibiotics with four applications to FDA for new drug approvals, as well as FDA approval of three novel antibiotics targeting the deadliest drug-resistant bacterial infections.
Additionally, last year, BARDA launched a new Division of Research, Innovation, and Ventures (DRIVe) that is also working with federal and private-sector partners to solve sepsis, which can be triggered by antibiotic-resistant infections.
Q: What do you wish more people understood about the threat posed by superbugs?
A: We're heading toward a future in which routine procedures like joint replacements, chemotherapy, heart surgery, and C-sections may be too risky to perform due to the threat of contracting an antibiotic-resistant infection.
If that future becomes a reality, then any pandemic disease outbreak, major natural disaster, or deliberate attack on our country will become nearly impossible to manage. In addition, science and technology advances have made it possible for adversaries to engineer drug-resistance in a deliberate biological threat, demanding that we stay in front of the science and continue to have more antibiotic options.
Q: There is broad consensus that our level of preparedness does not match the level of the threat posed by drug-resistant superbugs. Beyond working to advance development of antibiotics, what more should the U.S. be doing to ensure that we are prepared?
A: We need new and better methods of disease detection, including tests at home, in urgent care centers and in the doctor's office that can tell immediately whether you have a viral or bacterial infection, and which antibiotics to use or to avoid. We're working on that with private partners. We also need new and innovative classes of antibiotics that combat resistant bacterial infections and that are less vulnerable to emergence of resistance; we're working on that with private partners, too. We must invest in alternative approaches to treating bacterial infections with drugs and include more vaccines in our arsenal. Finally, we must also identify common ways our bodies respond to disease. This will enable us to target treatments to the individual so that they can manage severe inflammation and other biological responses that can sometimes cause more harm than the invading organism.
Technology and science aside, the U.S. and global community still needs to address the market entry lag and challenge of sustaining the fragile antibiotic industry. Perhaps the time has come to consider additional business models for development, production and distribution of antibiotics.
Q: The threat of antibiotic-resistant superbugs is often described in grim terms. What, if anything, gives you hope?
A: In my position, I am fortunate to see many ideas emerge from single entrepreneurs, academia, biotechs and large pharma. I am encouraged by the recent spark of innovation we see in the field. It may take a little time to incubate and mature those ideas into lifesaving products, but the energy is out there. There is also a strong global push to address this challenge and we are grateful that other countries and organizations have joined forces with us in CARB-X. That private companies, large and small, are willing to work with BARDA, CARB-X and now DRIVe to develop new tests, new drugs, novel alternatives to drugs, and new devices, is a really good sign. And private equity funding is showing confidence in BARDA's lead in these areas by backing many of the companies we support. All of the developments we have discussed represent important innovation in the battle against superbugs. That progress gives me hope.