State Policymakers Are Working to Change How Courts Handle Eviction Cases
As CDC's pandemic moratorium nears an end, lawmakers seek to transform adjudication of landlord-tenant disputes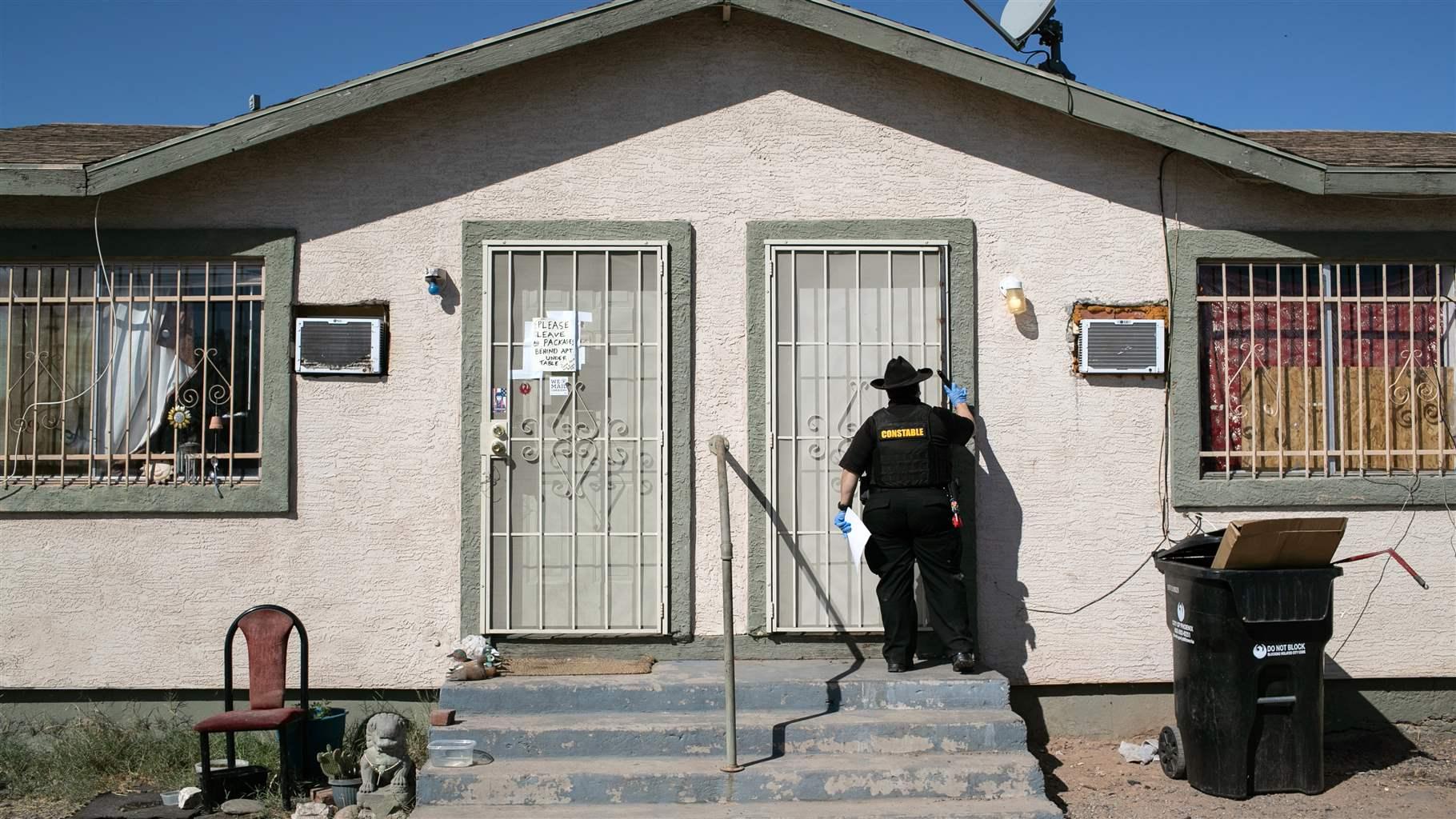 Growing housing instability in the United States was well-documented before the pandemic, but experts estimate that more than 15 million renters now may face the possibility of eviction. As temporary state and federal protections meant to keep people housed during the public health emergency expire, measures making their way through statehouses nationwide attempt to provide more permanent adjustments to eviction procedures.
The federal Centers for Disease Control and Prevention's national moratorium on evictions ended July 31 and the Biden Administration issued a more limited two-month ban on Aug. 3 that focuses on areas harder hit by the novel coronavirus. But the persistence of long-standing housing stability problems, greatly compounded by the spread of COVID-19, has already captured the attention of state policymakers.
Pew examined legislation in the 50 states and the District of Columbia and found that 37 states plus D.C. introduced 182 bills during the first half of 2021 that would affect how eviction lawsuits are adjudicated. That means over 50% more bills have been proposed in the first six months of this year than in all of 2019. Lawmakers in 20 states have enacted 31 such laws so far this year, representing double the number of states that did so in 2019.
When the pandemic took hold in early 2020, governors in 43 states issued executive orders that suspended or modified parts of the eviction process. These measures were critical in mitigating the spread of COVID-19 and keeping vulnerable families housed. Policymakers are now focusing on legislation that would provide long-term approaches to address the challenges surrounding housing disputes.
Of the 192 eviction-related bills active in 2021 state legislative sessions (182 newly introduced ones and 10 that were carried over from 2020), 50 focused on the COVID-19 state of emergency, while 142 presented more permanent solutions. Of those, 17 legislatures passed 22 as of June 30; some of the measures are still awaiting governors' signatures. The bills, which cover a wide range of topics, include steps to improve court technology and data collection, ensure due process for housing court litigants, offer mediation services to resolve cases outside the courtroom, expand the role of municipalities, connect unrepresented tenants with legal assistance, and seal records so that renters involved in eviction cases don't face chronic housing instability as a result of past lawsuits.
Depending on the state, some of the policy solutions require legislation to mandate or outline changes, while others, such as eviction diversion efforts, can be implemented by courts through rule or process modernization.
States Pass Wide Range of Measures to Update Eviction Processes
So far in 2021, 16 have adopted bills that will affect how evictions are adjudicated
| Eviction policy category | States legislatures that have passed legislation in 2021 |
| --- | --- |
| Alternative dispute resolution (ADR) | Maine |
| Court data and technology | Arizona |
| Court process reform | Arkansas, Colorado, Maryland, Montana, Nebraska, Nevada, New Hampshire, New York, Oklahoma, Tennessee, Virginia, Washington |
| Right to counsel | Connecticut, Maryland, New Jersey, Washington |
| Record sealing | Nevada, New Jersey |
Note: In some instances, governors have not yet signed the legislation into law.
Source: The Pew Charitable Trusts using Quorum public affairs software
Court data and technology
Improved collection of data and integration of technology into court processes are critical for an open and efficient civil legal system. So far this year, Arizona is the only state that has enacted a technology and eviction lawsuit-related bill, which permits parties to participate in eviction hearings by telephone.
Maryland, New York, Nebraska, and Texas contemplated legislation that would increase public or legislative access to eviction case data, while Arizona and Nevada lawmakers considered legislative studies of eviction actions.
Court process reform
Court process reform refers to legislative efforts to modernize procedural and substantive policy elements to ensure due process for all parties in eviction proceedings. Procedural elements typically include court forms, notice requirements, and service obligations, while substantive ones can set specific defenses, causes of action, and amounts for damages and fees.
This has been the most popular and wide-ranging category of recent eviction-related policy changes. Key reforms focus on ensuring a level playing field between landlords and tenants: Arkansas updated its landlord-tenant law to include habitability standards that rental units must meet; Washington limited the reasons that landlords can use to evict a tenant; and Montana, Virginia, and New Hampshire specified damages that landlords may be entitled to. On the procedural side, Maryland outlined the information that must be provided to tenants in eviction cases and how they must be served notice. New York, meanwhile, established that judges must review all housing court agreements in which people represent themselves to ensure that all parties understand the terms and their rights.
Minnesota and Hawaii enacted more short-term process reforms that extend notices and information to litigants that were billed as an "off-ramp" to provide continuity once the federal eviction moratorium expired.
Right to counsel
Studies show that access to legal representation leads to better outcomes for tenants facing eviction lawsuits, but they have lawyers in less than 10% of cases. Since 2017, local jurisdictions in 10 states have incorporated some type of right to counsel element in eviction proceedings, but this year three states—Connecticut, Maryland, and Washington—enacted statewide measures.
Connecticut and Washington will make civil counsel available to anyone who receives public benefits or has a household income of less than about $68,000 (Connecticut) or $53,000 (Washington) for a family of four. Meanwhile, Maryland residents making 50% or less of the area median income—about $45,200 for a family of four—will be eligible for counsel in that state. In a different approach, New Jersey appropriated $2 million to help three local law schools develop clinical programs focused on legal housing assistance. Statewide eviction right to counsel or legal aid funding measures have been introduced but have not yet passed in California, Delaware, Massachusetts, Minnesota, Nebraska, and New York.
Record sealing
Preliminary research has shown the promise of expunging or sealing records in eviction cases, as in certain criminal and juvenile cases. Having an eviction record can increase the likelihood of chronic housing instability and job loss, and sealing such records has widespread bipartisan support.
Legislative measures can set parameters and eligibility criteria establishing which eviction records are expunged or sealed from public access and at what point this action takes place. In some states, landlords can deny tenants housing if there has been an eviction lawsuit filed against them, regardless of the outcome. Currently, seven states—California, Colorado, Illinois, Minnesota, Nevada, New York, and Oregon—have some form of eviction record-sealing law in place.
This year, policymakers in 17 states and D.C. introduced 31 eviction record-sealing bills. Policymakers in some states, such as Iowa and Illinois, suggested that eviction records become or remain sealed in all cases where the plaintiff does not prevail. The only related bills to pass so far this year, in Nevada and New Jersey, limit sealing to cases where COVID-19 hardship was a factor.
Alternative dispute resolution
Eviction diversion has become one of the most popular and well-evaluated policy approaches to manage evictions. These programs are a form of alternative dispute resolution that involve the coordination of services provided to landlords and tenants to avoid eviction judgments. Research has found that such efforts work best with a combination of cash assistance, quality mediation, and access to legal aid, community advocates, or self-help tools.
This approach can help keep families housed, property owners solvent, and court dockets efficient. According to the Urban Institute, eviction diversion programs are operating in 28 states and Washington, D.C., including 17 that run statewide. Program outcomes vary, but early studies show promising results: 38% fewer writs in Ingham County, Michigan, 18% fewer judgments in Ramsey County, Minnesota, and 95% of participants still housed 48 months after program intervention in Boston.
Although eight states had active bills to encourage eviction diversion, Maine is the only state to enact legislation this year mandating the creation and evaluation of a statewide eviction mediation program. Courts in other jurisdictions have acted creatively to rapidly adopt diversion programs, often using American Rescue Plan funds. For example, the federal aid was used to develop a housing resource and diversionary court in Nashville, Tennessee.
Enforcement and regulation
Although most state executive orders related to evictions have lapsed, state executives and municipalities still play a key role in enforcing and regulating eviction policies. Attorneys general in states such as Minnesota have prosecuted noncompliant landlords under state consumer protection statutes. Nevada, meanwhile, enacted legislation to create a cause of action and procedure for wrongful eviction. And Virginia's recently passed landlord-tenant amendments direct the state housing authority to develop standardized termination notices that reflect the new law.
Despite the expiration of the federal moratorium on evictions as well as many state-level protections, policymakers and state leaders are capitalizing on national momentum on eviction reform. They are putting forward bills that have the potential to bring profound, long-term improvements in housing stability and lead to a more equitable civil legal system. Program evaluations will be critical to understanding what solutions are most effective, but an analysis of the current options can guide conversations as state leaders continue to convene to develop durable solutions to avoid a cascade of evictions.
Note: The numbers for 2021 include bills active and signed into law this year through June 30. A bill in Maryland is counted twice: in the Court Process Reform and Right to Counsel categories.
Source: The Pew Charitable Trusts using Quorum public affairs software
Copyright © 1996-2023 The Pew Charitable Trusts. All rights reserved.
Erika Rickard is a project director and Natasha Khwaja is an associate with The Pew Charitable Trusts' civil legal system modernization project.