After Missed Chances, Indian Ocean Fishery Body Must Protect Yellowfin Tuna, Stop Illegal Fishing
Long-term management strategy and electronic monitoring would help many fisheries in region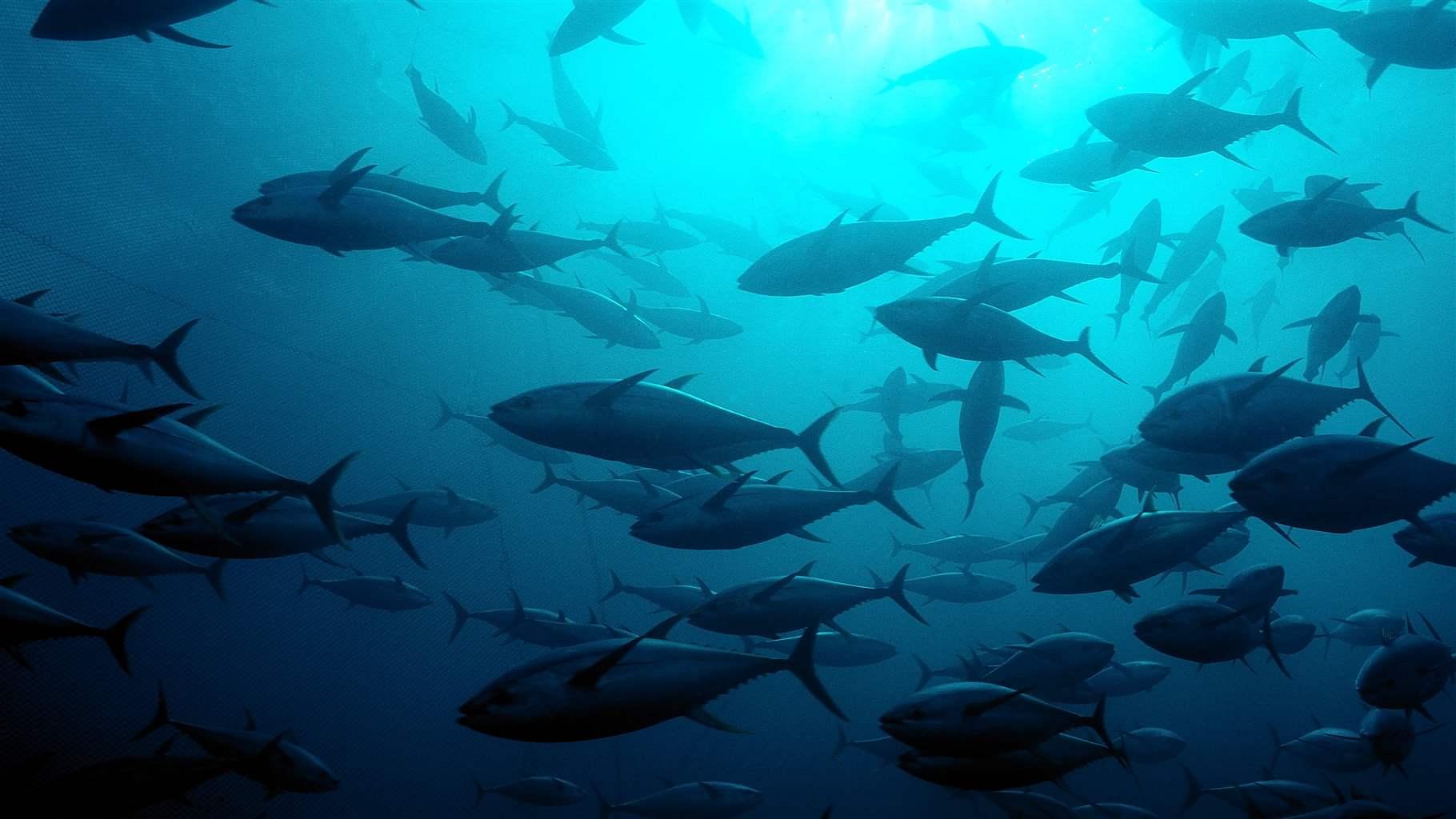 Indian Ocean yellowfin tuna is among the world's most valuable fish, worth $4.19 billion at the final point of sale. But the Indian Ocean Tuna Commission (IOTC), which is responsible for managing the fishery, has been unable to effectively control fishing for the stock. The Commission has allowed overfishing to continue, despite yellowfin being overfished since 2015 and the IOTC's adoption of its first rebuilding plan for the stock in 2016. Prominent food retailers have taken notice and are using their purchasing power to call for the Commission to take urgent action.
Yet even in the face of increasing pressure, IOTC concluded last year's annual meeting and its special session in March without agreement on a revised rebuilding plan, leaving yellowfin on the path to further depletion. At its 2021 annual meeting, being held online from 7 to 11 June, it is critical the Commission reach consensus to immediately end overfishing and advance long-term, science-based management procedures that would not only recover the stock but prevent overfishing in the future.
Yellowfin is not the only stock in need of Commission action. Total allowable catches for skipjack tuna have been exceeded every year since their introduction in 2018. And although the Commission has increased the catch limit for skipjack, recent catches are still well above that limit and reductions are necessary. This year, before increasing limits again, the IOTC must first address the disconnect between allotted catch limits and actual catch levels and—as with yellowfin—should look to management procedures to eliminate time-consuming negotiations of catch limits and ensure that decisions promote recovery, not decline.
Addressing compliance issues to strengthen IOTC's existing measures
Stronger fisheries management measures are long overdue at IOTC and must be accompanied by much better compliance among Commission members; non-compliance with existing rules threatens to undermine their effectiveness and opens the door for illegal, unreported, or unregulated (IUU) fishing.
One proven way to improve compliance is through the expansion of onboard observer coverage, particularly through electronic monitoring (EM) technology. EM systems—a combination of cameras, computers, GPS, and gear sensors on a vessel—can complement existing coverage by human observers, and essentially add to the number of eyes on the water. Now, IOTC requires only 5 per cent observer coverage for longline vessels, which isn't nearly enough. EM can fill the gaps. And, as a critical first step toward implementation of these systems, the Commission should agree to form an electronic monitoring working group to review proposed minimum standards for EM and move IOTC fisheries towards 100 per cent observer coverage.
IOTC can further strengthen monitoring efforts through improving its vessel monitoring systems (VMS), which use satellite technology to track ships' positions. VMS is an essential tool in fisheries management, but IOTC has failed to improve standards for it since tasking its VMS Working Group to do so in 2019. This year, the Commission should encourage the working group to provide advice to transition to a partially centralized system, which would provide greater oversight and therefore incentivize better compliance with flag State obligations. Strengthening control of transshipment activities—the at-sea transfer of catch from the fishing vessel to other boats—is another way the Commission can reduce risks of IUU fishing. The use of VMS can help accomplish this too.
IOTC's failure to address the yellowfin situation has resulted in increased pressure from stakeholders for IOTC to uphold its responsibility to effectively manage its fisheries, and the Commission has the tools to do that, including by strengthening protection of two of the region's most valuable tuna stocks. By focusing on rebuilding yellowfin, moving towards effective management procedures across multiple stocks, and adopting stronger compliance measures, IOTC can finally take steps towards a sustainable future for Indian Ocean fisheries. It's still not too late for the Commission to do the right thing for these stocks, and the fisheries, markets and communities that depend on them.
Glen Holmes works on The Pew Charitable Trusts' international fisheries project.