New Bill Aims to Make Communities and Infrastructure More Flood-Ready
House legislation would require federal projects to be more resilient, lowering disaster risks and costs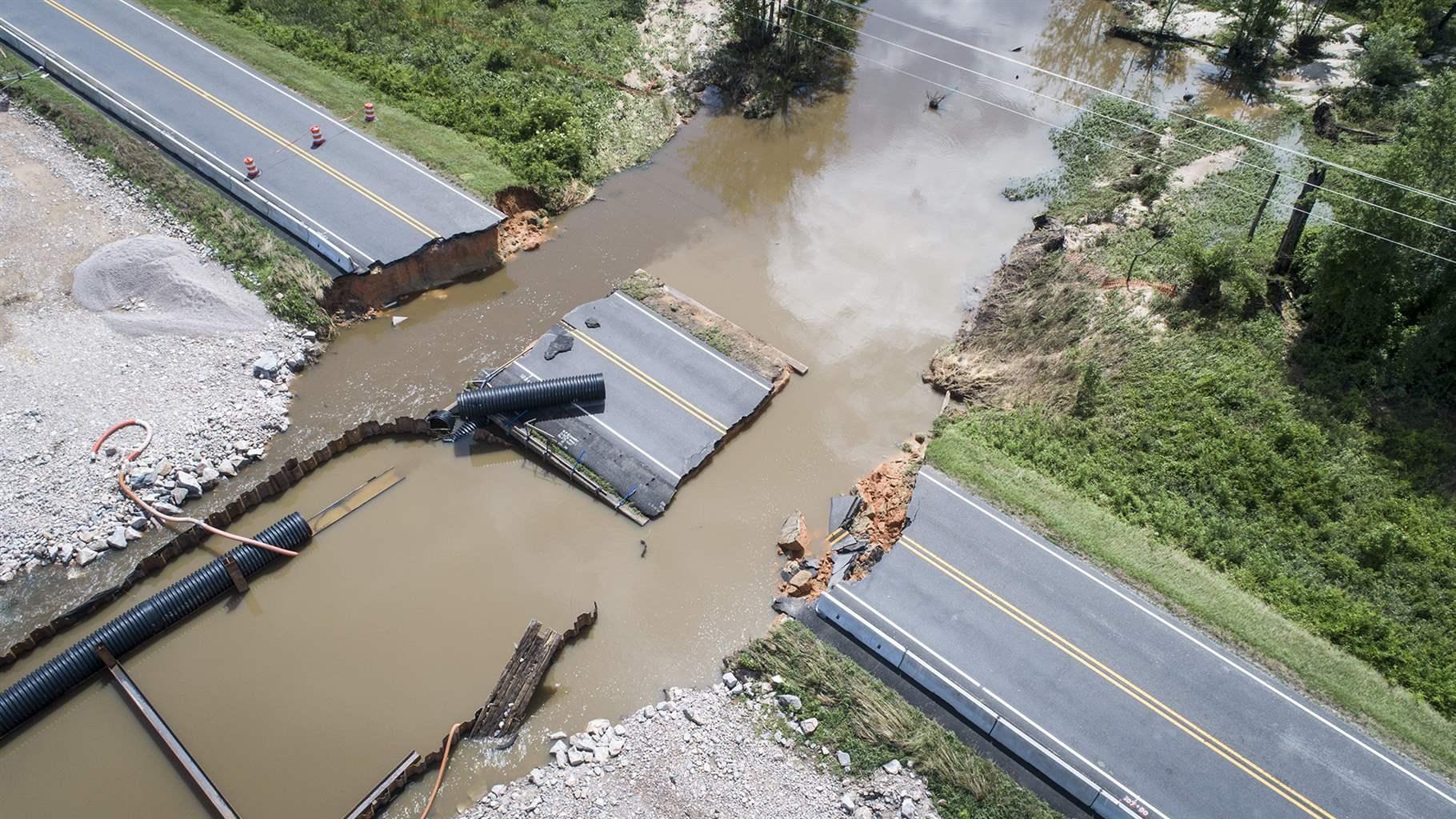 The 2020 hurricane season continues to produce tropical systems at a record rate. With nine named storms having made U.S. landfall already this year, flood risk is a major concern for many vulnerable communities. To help reduce the impacts of these types of events in the future, legislation was introduced today in Congress that would make communities and infrastructure more resilient to flooding. Introduced by Representative David Price (D-NC) and Representative Lee Zeldin (R-NY), the Flood Resiliency and Taxpayer Savings Act of 2020 would direct federal agencies to plan for future risks, such as those associated with severe weather and rising sea levels, throughout the intended life of projects that use taxpayer dollars to build, improve, or rebuild in flood-prone areas.
The change would be similar to one that Congress recently required the Department of Defense to adopt for major construction of facilities and infrastructure. Rather than designing and building based on what is known about current flood risk, the agency is now considering how flood risk will change over the planned lifetime of facilities. The bill would require that all federal agencies spending taxpayer funds for new construction or major rebuilding projects take similar precautions—a marked improvement from current standards, which are based on historical data and risk factors.
Here are five ways the legislation would benefit taxpayers, communities, and infrastructure:
Saving taxpayer dollars
In the U.S., economic losses and property damage from flood-related disasters have risen by more than $100 billion every decade since the 1980s, affecting all 50 states. Improving the resilience of the nation's infrastructure and being smarter when spending taxpayer dollars in at-risk areas can reduce the impacts of flooding and lower disaster recovery costs. Importantly, the bill introduced by Reps. Price and Zeldin would not prohibit projects in flood-prone areas but simply safeguard investments from future damage and losses. These preventive efforts can be cost-effective. The National Institute of Building Sciences found that investments in flood mitigation projects involving roads, bridges and railways, water and wastewater facilities, and electric and telecommunications substations yield positive returns.
Limiting disruptions to communities
With the provision for more flood-resilient infrastructure, the bill would help limit the extent and duration of direct and residual effects of flooding on communities. Otherwise, communities can become paralyzed by disruptions stemming from extended periods of power or clean water outages, closed schools, shuttered businesses, and blocked access to medical facilities. For example, the Texas Medical Center, the world's largest medical complex, endured more than $1.5 billion in damage and lost decades' worth of medical research because of historic rainfall and flooding during Tropical Storm Allison in 2001. The facility was redesigned to include numerous resilience measures, from installing floodgates to improving storm drainage systems. These improvements allowed the medical center to remain operational during Hurricane Harvey in 2017.
Utilizing the best data available
Federal agencies have long been required to consider flood risk to new investments but have typically accounted only for risks shown on flood insurance maps—an approach that has proved to be shortsighted. For example, reviewers have assumed that new investments outside the 100-year floodplain carried no risk, regardless of the age of the map, regional rainfall trends, local growth rates, or the threat of sea level rise. That means that new roads, structures, and other facilities meant to last for decades are evaluated by current and past risk, not future.
The Flood Resiliency and Taxpayer Savings Act would require consideration of future risks or, where such data is unavailable, incorporation of a safety factor—that is, an assumption that future floods will exceed the high-water levels depicted on current flood maps.
Some localities and states are already adopting similar approaches, tailoring building and water retention requirements based on maps of future risk. In Florida, legislation signed into law earlier this year requires state-funded projects in coastal areas to account for the impact of sea-level rise decades into the future. Alternative designs and siting of at-risk facilities, along with evaluations of costs and risks of maintaining structures over time, are also required as part of the state risk assessments.
The new act would ensure that federally funded projects—from airport modernizations to new or repaired highways, hospitals, or post offices—account for increasing threats, including sea level rise and more frequent and stronger storms.
Ensuring consideration of nature-based solutions
Nature-based solutions, such as preservation or restoration of wetlands, rivers, or green space, are sometimes overlooked by all levels of government considering approaches to address flood risk. However, a growing body of evidence finds that such solutions are often effective in reducing such risk. During Superstorm Sandy, coastal wetlands prevented an estimated $625 million in property damage throughout the Northeast, experts say. Acknowledging the need for flexibility when determining the most viable resilience measures, this bill does not require nature-based solutions but ensures that they will be considered among the options to mitigate flood risk.
Addressing Americans' consistent support for resilience
Recent polling conducted by The Pew Charitable Trusts found that 85% of Americans across the political spectrum (80% of Republicans, 91% of Democrats, and 87% of independents) support a requirement that all federally funded projects in flood-prone areas be constructed to better withstand future flooding. The bill introduced today is supported by national groups including fiscal conservatives, floodplain managers, insurance businesses, engineers, design professionals, and public works professionals, among others. And more than 500 small businesses and 250 local elected officials across the country have called on Congress to develop stronger flood-ready standards.
If passed into law, the act would enhance our country's ability to reduce flood damage, better protect people and infrastructure, and accelerate post-disaster recovery—all while saving taxpayer dollars. Without these needed changes, Americans will continue to endure an increasingly costly cycle of flooding, damage, and repair.
Laura Lightbody is the director of The Pew Charitable Trusts' flood-prepared communities initiative.