Indonesia's Small-Scale Fisheries Yield Big Catches—but Little Data
Pew marine fellow helps fishers report their haul and build sustainable livelihoods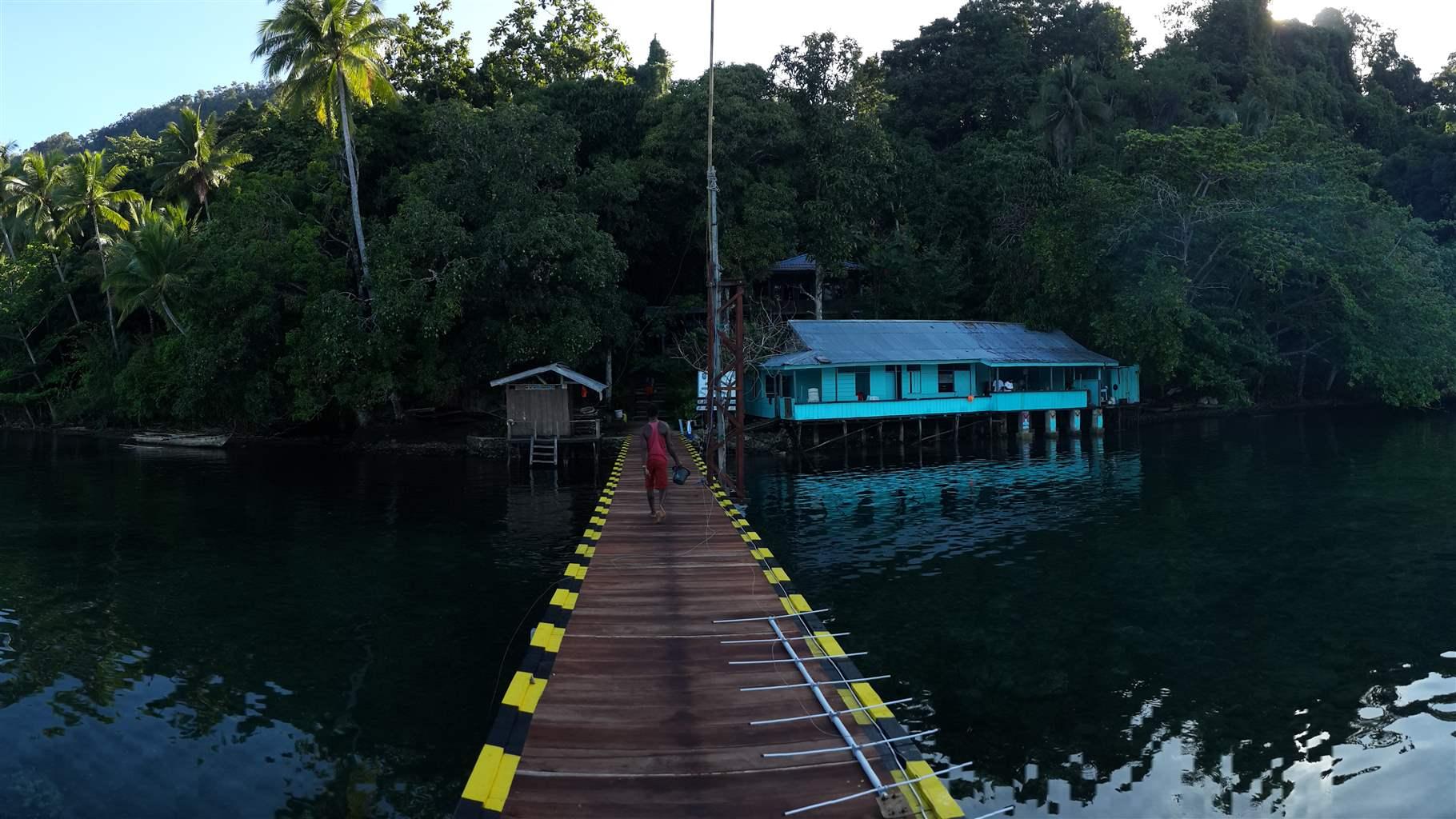 In Indonesia, the world's largest island country, small-scale fisheries are a vital source of nutrition and income for many communities. Yet nearly all small-scale fishing—which makes up around 95 percent of Indonesia's fishing sector—is unreported, making it difficult for the government to track and maintain the health of its marine resources.
Raymond Jakub, a program implementation manager at the conservation nonprofit Rare Indonesia and a 2017 Pew marine fellow, is developing a scalable catch recording system for small-scale fishers and the national government. Jakub discussed his work with The Pew Charitable Trusts.
This interview has been edited for clarity and length.
Q: How did you first become interested in small-scale fisheries?
A: Indonesia is a maritime country, so I had many opportunities to work in this area. Initially, I spent a lot of time learning and working directly on corals and reef fish. But then, as I spent more time in the field, I started to understand the importance of fisheries to people's livelihoods. This pushed me to begin working with small-scale fisheries in these communities that have a lot of valuable local knowledge.
Q: Why are these fisheries important?
A: About 95 percent of our fisheries are small scale, which means their catch numbers can be huge when added together. But in Indonesia, it's not mandatory for small-scale fishers to report their catch. The statistics we produce every year mostly come from the catches of marine fish landed in official domestic ports. But a lot of small-scale fisheries do not land their fish in these ports—they either bring it home or sell it locally or to middlemen.
Plus, until recently, to combat illegal, unreported, and unregulated (IUU) fishing, Indonesia was focusing on the illegal and unregulated part; the unreported part was still lacking the attention it deserved. So I started thinking about how to actually gather the catch numbers from these small-scale fisheries in an effective but participatory way. Because it's important that these data are considered in fisheries management practices to achieve real sustainability. And bringing small-scale fisheries into the decision-making process is also important, because it allows fishers to share their local knowledge and historical experience.
Q: How have fishers reacted to this effort?
A: Although they want more profitable fisheries, they know that tracking this information will not directly increase the value of the fish they sell or the number of fish in the water. But they do understand that by having these data, they will see trends and, as a result, will be able to better manage their fisheries. Management might mean that they need to change their gear, or agree on size limits, or understand what season they need to be aware of to protect fish populations.
Most of the resistance was linked to me introducing something new, a new behavior: reporting. Illiteracy is also a problem, because not everyone is familiar with writing, or they simply are not in the habit of recording things. But I also found champions who wanted to report their catch because they understand the long-term goals and benefits of monitoring.
Making the catch recording an activity to be discussed and completed collectively is also important because of the strong social cohesion between individuals in the community. So, in the long run, they will see the increased abundance of the fish as part of their collective contribution. The more information on fisheries they can gather, the better their chances to manage their future and their livelihoods.
Q: Are you collaborating with other organizations?
A: I have been collaborating with other organizations, mostly with the Technical Implementing Unit for conservation, both under the Ministry of Environment and Forestry and Ministry of Marine Affairs and Fisheries. Those are the units that manage the marine protected areas in Indonesia.
Also, in collaboration with the U.S. Agency for International Development Sustainable Ecosystems Advanced (USAID SEA) Project, we have been trying to acknowledge this initiative in the revision process of the ministerial decree regarding fisheries logbooks in Indonesia. Though catch recording is not mandatory for small-scale fisheries, the decree encourages fishers to report their catch to improve fisheries management. And hopefully, by having this initiative stipulated in that regulation, other districts or provinces will adopt small-scale fisheries catch recording.
Q: What has been the most surprising thing you found?
A: Even having 15 or 20 fishers who want to do their own catch reporting is surprising to me. Some of these people, after a long fishing day, are willing to spend the time to sit down and write for 10 to 15 minutes recording their catch.
Using OurFish, a digital platform to record fisheries transactions, I was also surprised by the eagerness of some of the buyers to record their fish. The system automates the process of uploading data from a phone to the database. The buyers even pay for their own internet package as part of their contribution.
Q: What do you hope to accomplish through this work?
A: This project is trying to demonstrate that small-scale fishers can improve their own futures by taking adaptive actions to manage their fisheries. And reporting their catch is the first step in that process. When they are writing and reporting, they are also doing their own bookkeeping. So that's another goal—improving communities' livelihood through better financial management.
I also want the world to know that small-scale fishing is a noble profession. They may have low incomes, but they are not just poor people who fish because they don't know what else to do. Fishing is a good profession, and they are the managers of their resources. Everyone knows that small-scale fisheries and the buyers, the fishers are important. But if governments and the people have a better understanding of their value, and more people are paying attention, then management will improve, and the lives of many, many people may improve in turn.
Q: How has the Pew marine fellowship helped you do this work?
A: The fellowship has allowed me to go deeper into the catch recording initiative, using both paper and digital applications. With this project, I have been digging deeper into fishers' motivations for reporting and assessing the recording mechanisms that will work best for them.
I've also been able to identify which data can be used for this system and how to apply them for adaptive management at the community level. So I'm able to spend ample time working with these communities. I'm also able to think about how to make this system replicable and scalable to other areas. I'm trying to identify practical aspects of the process that can be adopted in other places, hopefully in an easy and cost-effective way.