How Ohio Designed Its System to Track Natural Disaster Spending
State Emergency Management Agency official discusses effort to better capture costs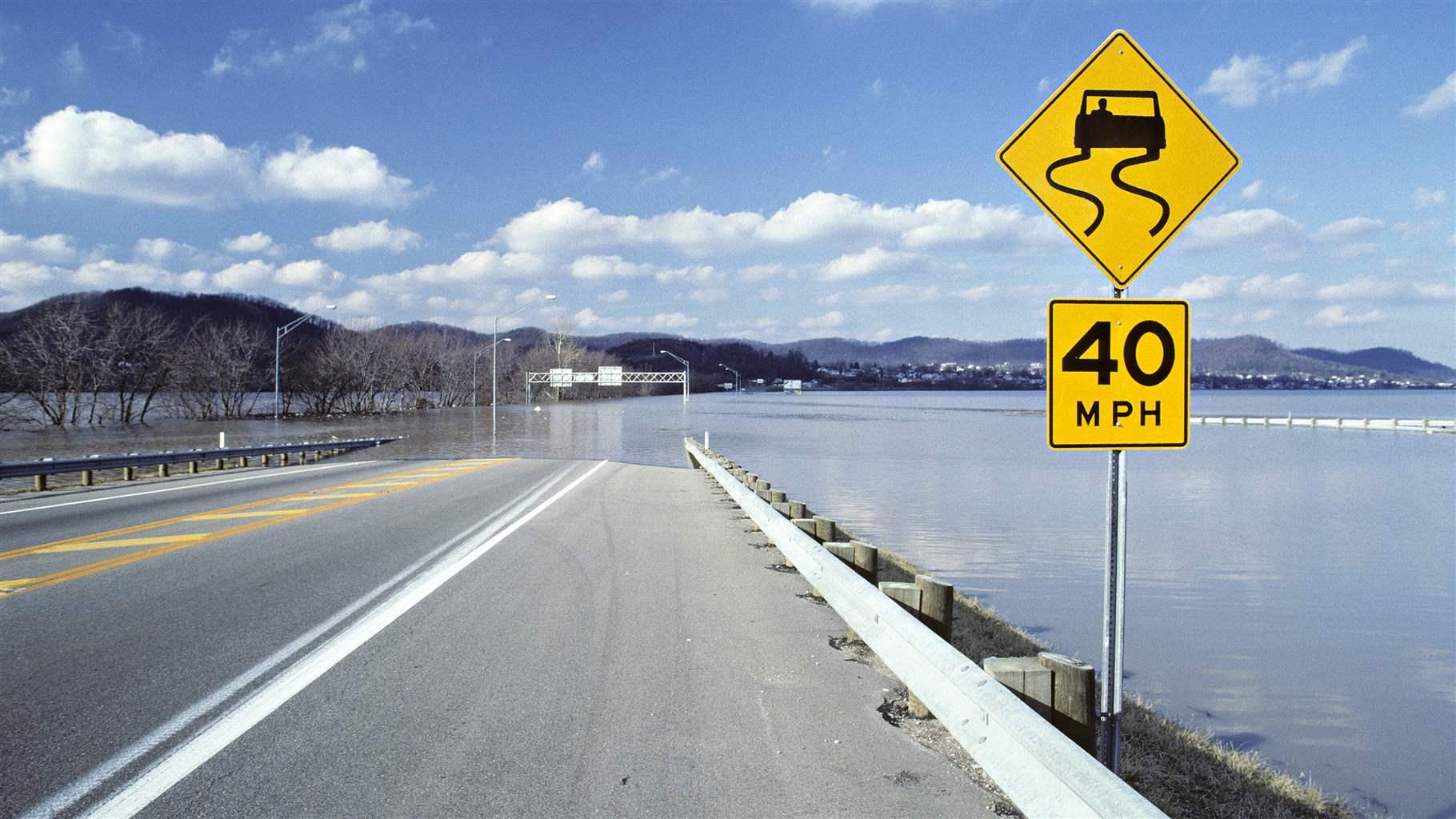 Federal, state, and local governments all play key roles in paying for disaster assistance. Local governments are the first line of defense, especially in smaller events, but if a disaster is more severe, states and the federal government can step in. The result is a complex and interconnected flow of funding.
State governments are central to this system, spending on their own relief programs for events that overwhelm locals but do not meet the criteria for federal assistance, and covering a portion of costs as a requirement to receive some types of federal aid. But as research by Pew has found, most states do not track spending across the many agencies involved with the stages of preparing for and responding to disasters—preparedness, mitigation, response, and recovery. Better tracking is critically important at a time when federal policymakers are looking to manage the rising costs of disasters in ways that could affect federal-state funding relationships.
To gather more comprehensive spending data, Laura Adcock, disaster recovery branch chief for Ohio's Emergency Management Agency (EMA), and colleagues at the state Office of Budget and Management (OBM) developed a system to capture cross-agency disaster costs. Adcock oversees state and federal disaster recovery programs and has administered funds from the Federal Emergency Management Agency's (FEMA's) largest grant program—public assistance for state and local government infrastructure repair—for 27 presidential disaster declarations since 1992.
She recently responded to questions from Pew about the policy she helped create. This interview has been edited for clarity and length.
Q: Why did Ohio decide to prioritize tracking spending on natural disasters?
A: For several years, we had been having ongoing conversations about the importance of statewide tracking of costs for issues that span multiple agencies, such as the state's costs associated with the swine flu outbreak in 2009. Then in late 2016, we received Pew's request for information about state spending on natural disasters, which coincided with a scheduled update of the Financial Management Annex of our State Emergency Operations Plan. We realized we weren't tracking those costs enterprisewide, especially for smaller events.
Tracking spending is an essential step when a state pursues reimbursement from insurance policies or federal grant programs. Quantifying the state's total contribution to disaster relief efforts has additional advantages: It supports federal funding requests, increases transparency and, most importantly, expands the data available to make decisions about spending priorities, including how we can increase our investments in cost-saving mitigation efforts.
With all of these elements coming together, we decided to work with OBM to develop a policy to improve tracking and got to work creating it.
Q: How does the tracking system work?
A: Implementation of the cost tracking policy is tied to activation levels at the State Emergency Operations Center (EOC), which is the central coordinating, information sharing, and communications nexus for emergency and disaster management. The EOC has four levels of activation based on the increasing severity of a situation—daily operations, assessment and monitoring, partial activation, and full activation. Under our policy, when the level reaches partial activation, the director of Ohio EMA sends a memo to OBM, which alerts fiscal officers of each state agency involved in the EOC to begin tracking any spending associated with that disaster.
These agency officials collect expenditures on personnel, equipment, state-owed infrastructure damage, and grants and loans to local governments for response and repair costs. They then send this information to Ohio EMA. While our policy does not prescribe a specific way agencies should track this spending, we encourage them to tag or code it in our state's financial management system. We piloted this system during a flooding event in February 2018, incorporated feedback from state agencies on the process, and made it official last July.
Q: What were the most challenging components to getting started?
A: First, we had to start the conversation with the right state officials. We worked closely with Ohio OBM, which was able to identify the right contact for each state agency by tapping into its fiscal officers' communications network.
Another challenge was to ensure that agencies would participate. While we initially intended to use EMA's enhanced authority to direct agency activities during an emergency to drive reporting, OBM's decision to codify it into a policy requirement means it has a greater impact. Another crucial step in tracking costs successfully has been educating fiscal officers about what to track, how to send information to Ohio EMA, and ensuring we really understand how much the state spends on disasters.
We also ran into limitations in our state's financial system, specifically, that there wasn't additional space to create a new, standardized code for disaster spending. We overcame that by encouraging agencies to tag spending under existing fields that describe the purpose or category of a specific expenditure.
The system isn't perfect: There's an inherent delay in receiving the cost information because agencies only report it periodically. It also requires some additional work on the part of the agencies. But at the end of the day, this method provides us with more complete and thorough information about money going out the door.
Q: What advice would you give to other states starting to track their disaster spending?
A: The most important thing is to draw on your existing networks. For emergency management offices, that means the agencies you know play key roles in disaster response, recovery, preparedness, and mitigation. For example, we have points of contact and relationships through Ohio's State Recovery Partners, a group of 29 state agencies that participate in FEMA's long-term recovery activities. We also relied on OBM's network of fiscal officers.
Another key step is to find leaders who are invested in the cause and can help overcome roadblocks to implementation, as well as encourage participation. For our policy, we had strong support from Ohio EMA Executive Director Sima Merick and Tim Keen, then-OBM director.
And finally, find ways to create systems based on the state infrastructure already in place. In terms of reporting data, we are using existing financial systems that agencies are familiar with. And on the outreach side, we were able to build on existing partnerships with state agencies that we developed when implementing FEMA's National Disaster Recovery Framework. The framework, implemented in Ohio in 2014, is a federal effort to build a structure for collaboration between private and public stakeholders to address long-term recovery efforts and issues.
Q: What are your next steps?
A: Our primary goal is making sure that tracking becomes as streamlined as possible and is seen by agencies as a routine part of dealing with disasters. Therefore, we continue to develop guidance and education for agencies on the implementation of this policy during a disaster.
We are creating standard operating procedures for the type of spending fiscal officers should track and report, and clear reference materials to promote their use. Over time, we hope to have a more complete understanding of how much we spend across the state on disasters, data that can inform our decisions and the setting of priorities going forward.