How Cities Are Expanding Opioid Use Disorder Treatment
Local providers and public officials focus on evidence-based care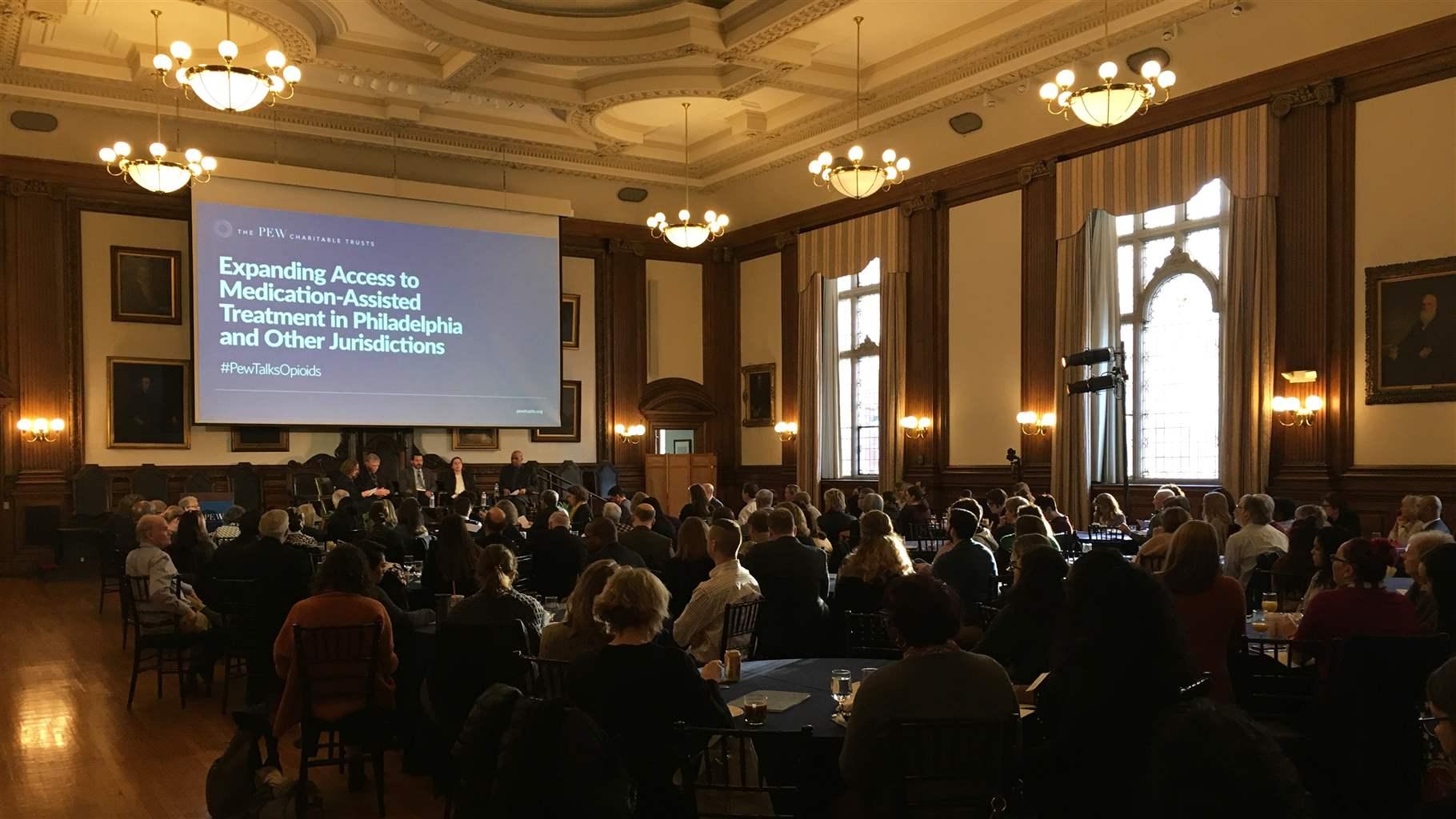 On January 25, The Pew Charitable Trusts convened public health officials from Philadelphia, Pittsburgh, Cincinnati, and New York as well as providers from three Philadelphia care settings to share their insights and experiences related to medication-assisted treatment (MAT) for opioid use disorder.
More than 47,000 Americans died of opioid overdoses in 2017, and virtually no community has been spared from this public health crisis. Philadelphia alone recorded 1,217 accidental drug deaths that year—88 percent of which involved opioids.
In response, many communities are striving to make effective treatments more accessible. MAT, which combines Food and Drug Administration-approved medications with behavioral therapies, is considered the gold standard of care, as it is the most effective intervention to treat opioid use disorder (OUD).
As the speakers at the Jan. 25 event in Philadelphia discussed the current policy and treatment landscapes, and what they need to increase MAT access in their cities, three key takeaways emerged:
Integrated, coordinated treatment for OUD is essential
Opioid misuse can afflict many types of people, so cities must adopt a multifaceted approach to treatment. Public health officials and treatment providers agreed that local agencies, care settings, and community organizations must work together to reach as many individuals as possible. And panelists stressed the importance of insurance providers covering care coordination to strengthen connections and reduce treatment gaps.
Tim Ingram, public health commissioner in Hamilton County, Ohio, which includes Cincinnati, said some of his agency's staff members visit the local jail once a week, saying, in effect, "If you're ready for treatment, we have instant access for you." And Regan Kelly, president and CEO of NorthEast Treatment Community Care in Philadelphia, spoke of the importance of a "warm handoff" between primary care and behavioral health providers in which patients are informed about their treatment plans.
Stigma associated with MAT may keep people from accessing evidence-based treatment
Although they acknowledged that understanding of the opioid crisis and the value of MAT is increasing, the experts said too many providers, patients, and members of the public still see opioid misuse as a moral failing and not as a chronic brain disorder.
"Every step of the opioid crisis is seeping with stigma. Every step of this requires education," said Priya Mammen, director of public health programs at Philadelphia's Thomas Jefferson University.
"All the work we do is through the lens of destigmatization," added Marissa Kaplan-Dobbs, primary care initiatives manager for the Bureau of Alcohol and Drug Use Prevention, Care, and Treatment of the New York City Department of Health and Mental Hygiene.
People "need to realize [misusing opioids] is not a choice," said David Barclay, a family medicine physician in Center City Philadelphia who also serves as medical director of Prevention Point Philadelphia. Kelly noted that the stigma has also surfaced in treatment centers like her own. For a long time, she said, "using MAT has been seen as not 'clean.' Even that word is stigmatizing." But "the data are very clear," Kelly said. "The data tell us what to do."
David T. Jones, commissioner of Philadelphia's Department of Behavioral Health and Intellectual disAbility Services, concluded the first panel by asking the audience to say, "Bupe works," referring to buprenorphine, one of the three FDA-approved medications used in MAT.
MAT helps facilitate recovery from OUD, reduce the likelihood of relapse, and decrease overdose deaths. That is why, "if we offer counseling, we also want to offer [MAT] medicine to support that," said Eric Hulsey, manager of behavioral health analytics for the Allegheny County Department of Human Services in Pittsburgh.
Access to FDA-approved medications is a public health imperative
Several experts discussed how first responders in their cities make use of the overdose reversal drug naloxone. But, Ingram and others noted, reversing an overdose with naloxone is an incomplete intervention unless individuals are immediately connected to integrated, coordinated medical care with access to MAT and other services that support recovery.
Jones noted the increasing number of people on MAT in Philadelphia and the ways in which his department—through Community Behavioral Health, the city's behavioral health insurer for Medicaid enrollees—is working to reduce barriers to accessing these medications.
MAT has also been shown to significantly increase a patient's adherence to treatment. This underscores why policymakers and care providers are so focused on expanding access to this care.
As Kaplan-Dobbs noted, if patients are in treatment, "that means they're still alive."
Larry Eichel directs The Pew Charitable Trusts' Philadelphia research initiative. Learn more about Pew's work in Philadelphia here.