School Flooding Shows Need for Better Storm Preparedness, Recovery Planning
8 of 10 states with most at-risk facilities recorded major disasters last year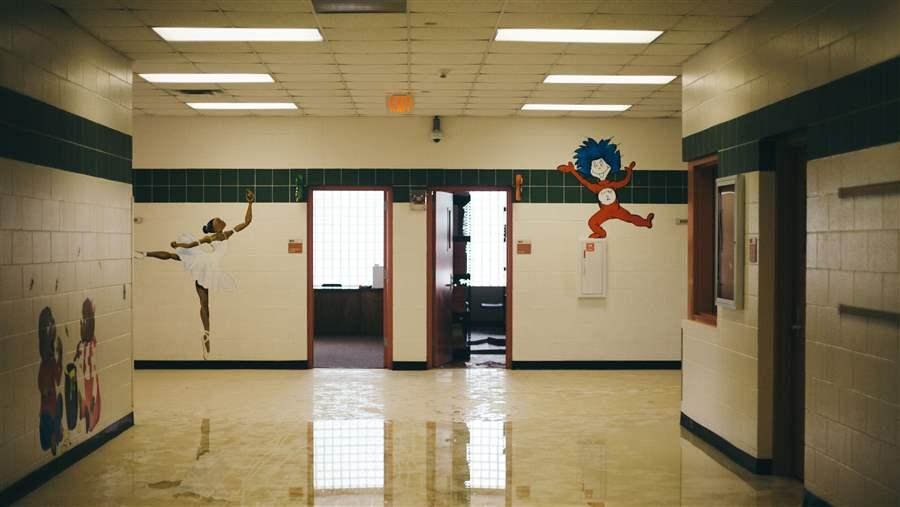 Flood water inside a hallway at Hilliard Elementary School in East Houston on Sept. 2.
© John Taggart for The Washington Post via Getty Images
Thousands of communities and families across the country are still reeling from 2017—one of the most destructive and expensive years on record for natural disasters. Coastal and inland floods inundated a broad swath of the country—from California to Texas and Missouri to Florida—damaging homes, roads, and bridges, and closing many institutions, including schools.
These closures disrupt learning for children, upend daily life for families, and leave communities with steep repair costs. And these impacts are not confined to the coasts: Pew research has found that four of the 10 states with the most high-flood-risk counties for public schools are inland, and that eight have recorded at least one flood-related disaster declaration this year. That's why schools and other public infrastructure should be built and repaired to better withstand flooding.
A closer look at Pew's research, which was released a month before record-breaking hurricanes began striking the U.S. in September, found that counties in Florida and Texas were among those with the greatest flood risk to public schools. States in the Southeast, including Florida, Georgia, North Carolina, and South Carolina, had the greatest percentage of U.S. schools and student populations located within the 100-year flood plain, or the area with a 1 percent annual chance of flooding, with 552 schools serving 312,600 students. In Texas, flood zones encompass over 400 schools with upwards of 269,000 students.
Hurricanes Harvey and Irma hit many of those schools hard. Every school in Florida closed for days leading up to Irma's Sept. 10 landfall, and many remained closed for weeks. In Puerto Rico, Hurricane Maria resulted in thousands of school closures, and most students weren't able to return to classes until Dec. 11—almost three months after the storm hit.
Harvey forced the closure of more than 200 schools in the Houston area due to significant damage; this displaced more than 15,000 students at the height of storm's impacts. In neighboring Fort Bend County, floodwater inundated Creech Elementary School with several feet of water that did not recede for days. Unbeknownst to school officials, Creech was built in a reservoir's "flood pool," an area most at risk of being swamped during heavy rain. Creech, in need of over $5 million in repairs, has yet to reopen and is teaching its 800 students at a nearby college.
Workers cleared furniture from the cafeteria, which doubles as a gym, at Creech Elementary School in Fort Bend County, Texas, after floods from Hurricane Harvey inundated the building in September.
© Amelia Brust/Community Impact Newspaper
Many U.S. public schools are also highly vulnerable to flood damage due to their age and condition. More than half were built in the mid-1900s to accommodate the baby boom generation and, much like other infrastructure of that time, were not designed to withstand the growing frequency and intensity of extreme weather taking place around the country.
Designing communities, including schools, to withstand future floods can help reduce the time schools are closed and the high cost of rebuilding that typically follows natural disasters. This is especially critical because researchers anticipate that areas at high risk of flooding in riverine and coastal communities will expand by 45 and 55 percent, respectively, by the end of the century. Analysis from the Federal Emergency Management Agency found that every $1 invested to reduce disaster risk saves the nation an average of $4 in future costs. Making smart decisions now will help communities reduce flood-related impacts on their schools while greatly cutting the expense of post-storm rebuilding.
Laura Lightbody directs The Pew Charitable Trusts' flood-prepared communities initiative. Forbes Tompkins is an officer with the team.