On Superstorm Sandy Anniversary, a New Call for Flood Policy Reform
Innovative financing and partnerships can help prepare communities for natural disasters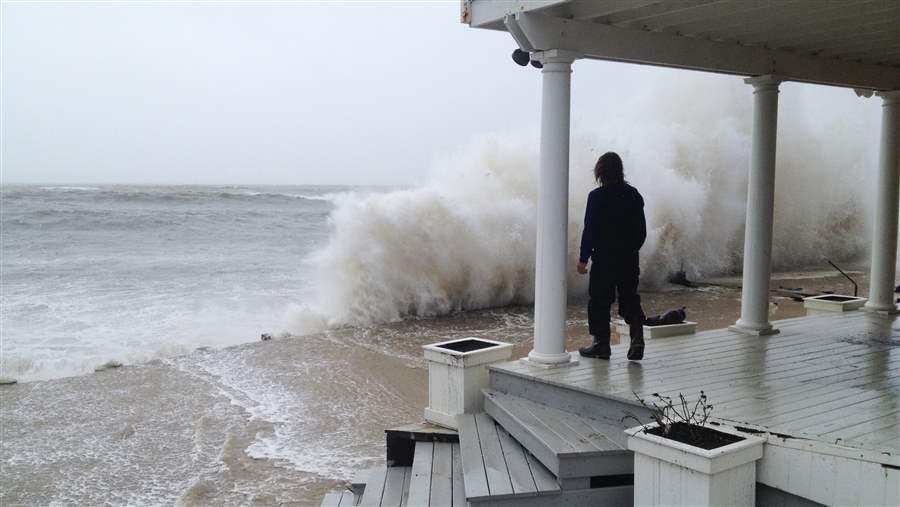 A man watches waves crash against the shore in Montauk, New York as Hurricane Sandy hits the coast in October 2012.
© Sheila Rooney/Getty Images
With some Southeastern states and U.S. territories still recovering from the most furious hurricane season in recent memory, many residents of the Northeast are recalling the devastation that Superstorm Sandy brought to that region five years ago.
The anniversary of Sandy, which made landfall in New York on Oct. 29, 2012, is a reminder that this year's storms are not outliers but are part of a trend toward more extreme weather in many parts of the world. Five years before Harvey, Irma, and Maria broke records for rainfall and hurricane size, Sandy unleashed its own record-shattering impacts on 24 states, causing 72 deaths and $65 billion in damage and economic loss—which at the time made it the second-costliest cyclone in U.S. history behind Hurricane Katrina (just under $150 billion in damage).
Sandy's unfortunate legacy lives on in areas such as Sea Bright Borough, New Jersey, where the storm destroyed 50 percent of the businesses, and 55 miles south in Stafford Township, which experienced $200 million in damage.
"Dealing with Sandy was a nightmare for us," Stafford Mayor John Spodofora said Oct. 17 at New Jersey's Shore of the Future symposium. More than 4,000 homes in the township were severely damaged. Today, only 65 percent of Stafford is rebuilt.
Sandy's anniversary, coupled with the fierce 2017 season, should inspire federal, state, and local governments to commit to greater partnership and innovation in preparing communities for the new normal in natural disasters, particularly the threat of flooding.
Congress should start by passing the State Flood Mitigation Revolving Fund Act of 2017, an innovative proposal introduced in the Senate in June under which the federal government would give states capitalization grants for flood mitigation. States in turn would provide low-interest loans to communities and individuals to elevate structures and buy out property owners in high-risk areas, making communities more resilient to storms—even superstorms like Sandy.
At the same time, Sandy-affected communities are pursuing additional initiatives to increase preparedness. For example, New York Mayor Bill de Blasio in 2014 established the Office of Recovery and Resiliency to implement recommendations in two reports—"A Stronger, More Resilient New York" and "One New York: The Plan for a Strong and Just City"—with the goal of eliminating disaster-related displacement of New Yorkers by 2050.
Although a number of those recommendations rightly target sea level rise, some resilience approaches in the Connecticut-New Jersey-New York region focus too much on storm surge instead of the longer-term, permanent flooding that threatens to reshape the area, according to a 2016 report by the Regional Planning Association (RPA), a research and advocacy nonprofit focused on the tristate region.
The RPA's report found that sea level rise poses a significant threat to the New York metropolitan area, which includes 23 million residents and some 3,700 miles of tidal coastline. "Relatively little has been done to address the inevitable permanent inundation of buildings, infrastructure and communities," the authors wrote.
In fact, several of New York's waterfront neighborhoods already flood on a regular basis, including Hamilton Beach and Broad Channel Island. In New Jersey, communities along Barnegat Bay and Toms River will probably experience the most flooding because of sea level rise, with nearly 23,000 residents in places that could be permanently flooded, according to the RPA report.
As former New Jersey Governor Thomas Kean wrote recently in an op-ed, the state's "130 linear miles of coastline and 239 coastal towns remain as vulnerable to another hurricane as they were in 2012.
A common theme from Sandy-affected states is the scarcity of resources for pre-disaster mitigation activities such as buying out vulnerable properties from willing sellers—one effective way of addressing future risk. Although some progress has been made in post-Sandy buyouts, only $750 million has been spent on them in the New York metropolitan region, out of the billions in federal recovery assistance allocated in this area. Few states have designated a specific funding stream for disaster resilience.
In the aftermath of storms, finger pointing is common, but no one entity is to blame: The federal, state, and local governments all have roles in helping communities prepare for disasters. That's why partnership proposals such as the aforementioned State Flood Mitigation Revolving Fund Act of 2017 are one way to narrow the nation's gap in financing disaster preparedness. If it becomes law, the act will allow the federal government to collaborate with states to create self-replenishing funds for pre-disaster mitigation efforts, including more buyouts.
No one knows whether another superstorm will hit the U.S. in two weeks, five years, or a decade. But without better preparedness—driven by new policy ideas and greater partnership—the country will remain as vulnerable as ever to devastating storms and sea level rise.
Laura Lightbody directs The Pew Charitable Trusts' flood-prepared communities initiative, and Matt Fuchs is an officer with the initiative.