Report Backs Dental Therapist as a Way to Increase Access to Dental Care
As Americans age, the Gerontological Society offers roadmap to improved oral health for seniors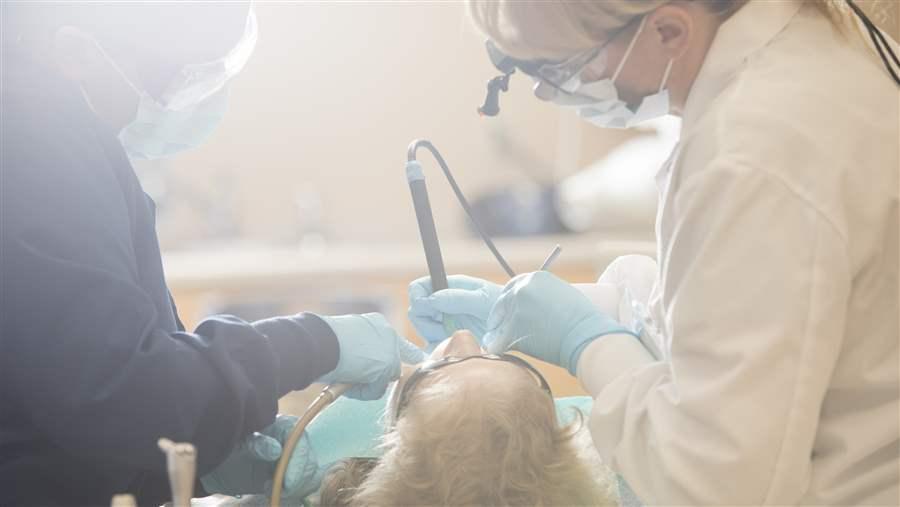 Heather Luebben, a dental therapist from Apple Tree Dental performs dental treatments through their mobile clinic at Options, Inc. in Big Lake, Minn., on April 13, 2017.
© The Pew Charitable Trusts
A recent report by the Gerontological Society of America provides a plan to address the unmet need for oral health care services for older adults with limited access to care.
Among the strategies recommended in the report, "Interprofessional Solutions for Improving Oral Health in Older Adults," is greater use of dental therapists. Akin to a nurse practitioner in the medical field, dental therapists can provide preventative and routine restorative care, like filling cavities, in a cost-efficient way. Dental therapists are especially suited to increase care to older Americans because they can provide services outside of traditional dental offices and treat patients in community settings, such as long-term care facilities.
U.S. seniors are keeping their teeth longer than they did in the past, yet many are unable to access preventive dental care or treatment. Senior citizens—those 65 and older—made up 15 percent of the U.S. population in 2014, and their share of the population is expected to nearly double by 2060. As the number of older Americans increases in the coming decades, the demand for care for this age group is expected to intensify.
Jane Koppelman is the director of research for the dental campaign at The Pew Charitable Trusts.