Oversight Improves After Contaminated Compounded Drugs Killed Dozens, but Risks Remain
What has been learned since 2012-13 outbreak to make these medications safer?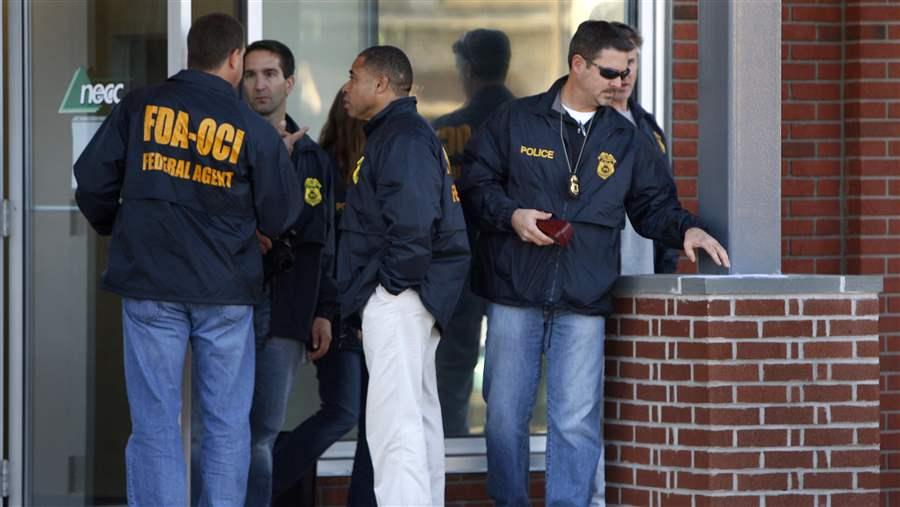 FDA-OCI agents entered New England Compounding Center (NECC) at 697 Waverly Street in Framingham, Mass on October 16, 2012 after reports of medicine contaminated with fungus.
© Barry Chin/The Boston Globe/Getty Images
An executive from a now-closed compounding pharmacy in Massachusetts was convicted of racketeering and fraud, and another faces federal murder charges, stemming from an outbreak of fungal meningitis that occurred after the pharmacy shipped tainted injections to more than 20 states in 2012. Roughly 750 people became ill and more than 60 died after fungus-contaminated drugs were injected into their spines and joints. Many surviving victims still struggle with chronic, and in some cases disabling, health problems.
While the outbreak is the most extensive known example of harm to patients from compounded drugs, there have been many other cases of serious illness, injury, and death associated with such medications. Policymakers have implemented important reforms since the meningitis outbreak; however, federal and state officials have further to go to protect patients from the dangers posed by the compounders engaged in risky, or even illegal, behavior. If policymakers and regulators do not follow through on the lessons learned from this catastrophe, another devastating outbreak could occur.
What made the outbreak possible?
Pharmaceutical compounding is the creation of a medication that is tailored to the requirements of patients whose clinical needs cannot be met by Food and Drug Administration (FDA)-approved products. These medicines differ from approved products, which have earned that classification by undergoing a process to demonstrate to FDA that their benefits outweigh their risks and they work as intended. Approved products are also manufactured under FDA oversight.
Compounding is an important part of health care in specific circumstances. This process is used, for example, when a child needs a liquid version of a medicine that is approved only in pill form, a patient who cannot eat and digest normally must be fed intravenously with a customized mixture of nutrients, or a patient requires a preservative-free formulation of a sterile drug. Other drugs that are typically compounded include epidural analgesics used during childbirth, patient-controlled analgesic pumps, and allergy shots. Compounded products pose a higher level of risk to patients than approved products because, since they are customized for individual patient needs, they have not been tested for safety and efficacy and they are typically not made under the same quality standards.
Dramatic expansion of the compounding sector in the years leading up to the 2012-13 meningitis outbreak resulted in production volumes that were in some cases on a scale closer to pharmaceutical manufacturing than traditional pharmacy practices; it was unclear who was responsible for regulating these operations. In general, states regulate pharmacists, while the federal government regulates drug manufacturers. But the compounding of stock supplies of medications fell into a gray area between these oversight systems. A series of conflicting judicial opinions sowed further confusion about which specific compounding activities were subject to federal oversight and which were the domain of states.
Moreover, some states were not appropriately prepared to regulate this industry or were too under-resourced to do so meaningfully. For example, facility inspections are a key mechanism of oversight. Yet according to an assessment by The Pew Charitable Trusts, even in 2015—after the fungal meningitis outbreak had focused attention on the need for compounding oversight—states still averaged just one inspector for every 230 pharmacies. One state had only one inspector per 900 pharmacies.
All in all, this complex, technical practice was not consistently under a level of oversight appropriate to its potential risks to patients. Under these conditions, the fungal meningitis outbreak occurred after one pharmacy shipped contaminated injectable medications across the country, killing and injuring vast numbers of people.
A big step forward at the federal level, but follow-through must continue
In response to this systemic failure to protect public health, Congress enacted the bipartisan Drug Quality and Security Act in 2013. The law serves public safety by preserving access to safe compounded medications for Americans who need them, while helping protect patients from the risks of drugs produced under dangerous and illegal conditions.
Patients are safer today than they were before the law was passed. An FDA progress report on the first three years of implementation highlights some of the ways that the law is already providing tangible benefits for patients, including more appropriate production conditions in many compounding facilities, instances of certain compounders ceasing operations when quality standards were not met, and voluntary recalls of potentially contaminated drugs. Compounders have taken these important steps after FDA regulatory actions such as facility inspections and warning letters, often undertaken in collaboration with states.
While these improvements represent needed progress for public safety, the report also provides ample evidence that, in some facilities, drugs are still being compounded under conditions that can pose grave risks to patients. For example, FDA inspectors have reported observing the buildup of waste in areas that must be kept clean. Even tiny amounts of unintended contamination or particulate matter can have serious consequences; in 2011, five people were blinded when they received eye injections that included trace amounts of an unrelated cancer drug. In other facilities, inspectors have found visible mold contamination on ceiling tiles. Mold in the air can lead to fungal contamination of the drugs being produced in the room—the type of contamination responsible for the deadly meningitis outbreak. Other examples of FDA inspectors' recent observations include the presence of dog hair, dog beds, or dead insects near where compounding occurs; toaster ovens being used for sterilization; and coffee filters being used for filtration. FDA took action against the compounders responsible for each of these inappropriate and illegal practices, which, had they been permitted to continue, could have resulted in patient injury or death.
The widespread violations reported by FDA are evidence of the necessity of ongoing inspections and enforcement actions. To protect patient safety, the law must be implemented and enforced in a robust way.
States are on the front lines
As frequently happens with public health, when it comes to compounding, states are on the front lines against many of the risks that can arise. For example, it was the Tennessee Department of Health that first identified the cause of the meningitis outbreak and worked with the Centers for Disease Control and Prevention and authorities in other states to develop a response, likely saving lives in Tennessee and across the country. Under the federal law passed after the outbreak, compounding that occurs in traditional pharmacies—the vast majority of all compounding—remains the purview of states.
Pew has identified best practices for state oversight of drug compounding that provide the greatest safety benefits to patients, while also being the most feasible for states to put in place. These recommendations were informed by convening state pharmacy regulators and other experts. One recommended practice is applying widely recognized, evidence-based quality standards to all compounding activities, including cleaning procedures, airflow requirements, and protocols to detect and prevent unsafe levels of contaminants. Another recommendation is that states ensure that any pharmacist who performs or supervises the relatively high-risk practice of sterile compounding has undergone specialized training. (Sterile compounding is the creation of products that are administered to patients via injection or administered directly to an area highly susceptible to infection, such as the eye, bladder, or lungs.)
States vary in their policies governing compounding. Under this patchwork of regulations, patients remain vulnerable to being injured or killed by contaminated or otherwise poor-quality compounded products. These risks affect patients not only in the state where a compounding pharmacy is located, but also for patients in those states to which the pharmacy sends products.
In its progress report, FDA unambiguously stated that without both strong state oversight and collaboration between the federal and state governments, it is more likely that another tragedy like the 2012-13 fungal meningitis outbreak could occur. Patients' lives depend on state and federal policymakers heeding that warning.
Elizabeth Jungman directs The Pew Charitable Trusts' work on public health.