Bipartisan Bill Seeks to Reduce Risk and Cost of Repeatedly Flooded Properties
Reforms would protect communities by requiring proactive mitigation measures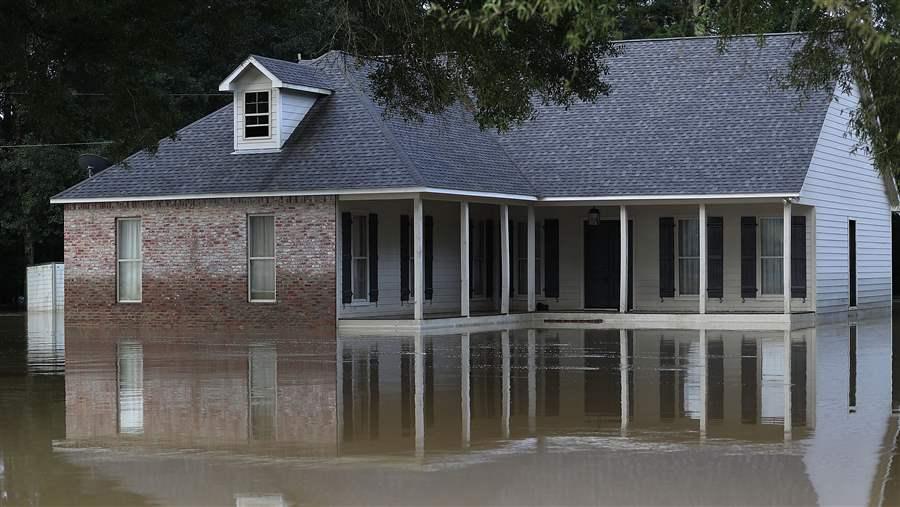 According to the Department of Homeland Security's Office of the Inspector General, the number of repeatedly flooded properties in the United States has been increasing by an estimated 5,000 annually. A new bill in Congress seeks to stop the costly cycle of flooding and rebuilding.
© Getty Images
Bipartisan legislation introduced today by Representatives Ed Royce (R-CA) and Earl Blumenauer (D-OR), the Repeatedly Flooded Communities Preparation Act (H.R. 6196), takes an important step to address a long-standing serious issue involving properties that are continuously rebuilt after flooding. The bill would require communities participating in the National Flood Insurance Program (NFIP) that include significant numbers of these properties to proactively reduce flood risk rather than continually rebuilding.
Under the legislation, certain communities would be required to:
Map repeatedly flooded areas, including properties and infrastructure, and identify those that need drainage improvements or could be part of a voluntary buyout program or other mitigation efforts.
Create a community-specific plan to lower flood risk for people and property. Current law does not require repeatedly flooded communities to change their development regulations or infrastructure investments or to take corrective action to address flood risk.
Share action plans and reports with the public to encourage input from the broader community.
Flooding is a shared responsibility among homeowners, communities, and the federal government. The Federal Emergency Management Agency (FEMA) provides government-backed coverage for homeowners and small businesses in more than 22,000 communities across the country through the NFIP. But the program has fallen nearly $23 billion in debt to the U.S. Treasury as development and populations in flood-prone areas have increased and as extreme weather events have become more frequent and severe in some regions.
Among the NFIP's policyholders are thousands of people whose properties have flooded multiple times, and many of those are likely to flood again. Repeated flooding can result in numerous insurance claims, with no cap on how many can be filed. As of January 2016, there were more than 150,000 such properties nationwide.
Although repeatedly flooded properties are relatively few in number—historically representing just 1 percent of NFIP policies—the claims have had an outsize financial impact, accounting for 25 to 30 percent of losses. For example, claims for flood damage at a 300-unit apartment complex in Roanoke Valley, Virginia, cost the federal program more than $10.5 million over nine years, and a Mississippi home valued at $69,000 flooded 34 times in 32 years, resulting in claims totaling $663,000. Cumulative losses for these extreme cases total over $12 billion—roughly half of the NFIP's total debt. And this number has been growing: A 2009 report by FEMA's inspector general found that the number of repeatedly flooded properties was increasing by nearly 5,000 each year.
Flooding can occur in low-lying areas, communities with bad stormwater management, and poorly planned developments that exacerbate drainage problems. Regardless of the cause, however, action to address the problem of repeatedly flooded properties is overdue. Pew supports policies, such as those laid out in H.R. 6196, that would better prepare and safeguard people and their property from future flood events.
The Repeatedly Flooded Communities Preparation Act is an important step in addressing this persistent and growing problem. If enacted, it would help to limit repeat losses; lessen the cost and impact of flooding on homeowners, communities, and the federal government; and compel flood preparation and mitigation.
Phyllis Cuttino directs Pew's flood-prepared communities project.