New Poll: Californians Support Transition to Less Wasteful Gear for Catching Swordfish
Respondents say action by state officials would ensure healthy oceans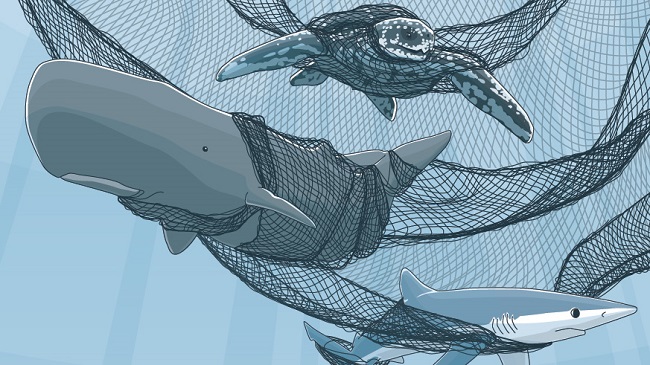 © The Pew Charitable Trusts
California voters overwhelmingly support ending the use of drift gillnets to catch swordfish, with 87 percent of those surveyed in a poll commissioned by The Pew Charitable Trusts agreeing that fishermen should use less harmful gear. In contrast, 37 percent of poll respondents said they would be willing to allow continued use of drift gillnets, but only with limits on the amount of nontarget marine life—such as sea turtles and whales—that may be killed or injured by such fishing.
Among the poll's other key findings:
78 percent of respondents favor an outright ban on the use of drift gillnets for catching swordfish, with 64 percent saying they "strongly support" a ban, and another 14 percent somewhat supportive.
After poll respondents learned more about the pros and cons of fishing with drift gillnets, support for an outright ban rose to 86 percent, and strong backing for it rose to 66 percent.
After learning about the severe damage that drift gillnets cause to nontarget marine life, 90 percent of respondents said that ending use of the nets would help California ensure healthy oceans for future generations.
Pew shares this concern about the damage caused by drift gillnets targeting swordfish. That's why we are asking the Pacific Fishery Management Council (PFMC) to authorize an alternative fishing method, known as deep-set buoy gear. This gear gives fishermen a better way to provide a steady source of locally caught swordfish while avoiding the unnecessary waste of dolphins, whales, sea turtles, and game fish like striped marlin caught in drift gillnets. By authorizing an alternative to drift gillnets, the Pacific Fishery Management Council PFMC will allow fishermen to address the public's concern, protect important marine life, and help bring innovation into this fishery.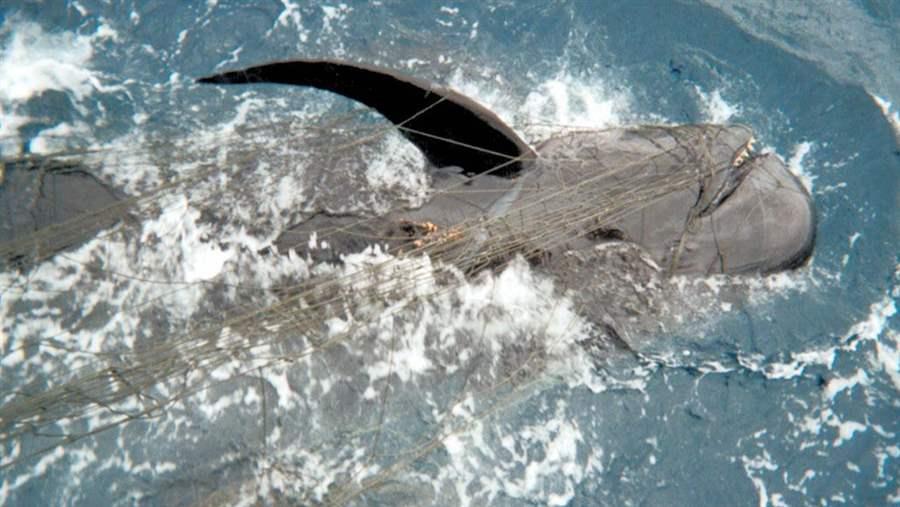 © National Oceanic and Atmospheric Administration
Drift gillnets that target swordfish can also catch or ensnare other marine animals, like this pilot whale. That's why the Pacific Fishery Management Council should approve an alternative to drift gillnets, called deep-set buoy gear, that targets swordfish but poses very little threat to other marine life.
With deep-set buoy gear, fishermen drop baited hooks hundreds of feet below the ocean surface, targeting swordfish where they normally feed during daylight hours. This minimizes the likelihood of accidental catch of other marine life, most of which feeds closer to the surface. After five years of research and experimental fishing, the gear has earned the support of a wide cross-section of stakeholders, including recreational and commercial fishermen, seafood suppliers, members of Congress, and other elected officials who are concerned about the damage caused by drift gillnets. Thousands of Californians have called on the PFMC to put an end to the use of drift gillnets in favor of the less wasteful gear to catch swordfish.
Unfortunately, the PFMC in June paused a multistep process to officially authorize the use of deep-set buoy gear—a process that the council had committed to begin only three months earlier. The decision was spurred by the California Department of Fish and Wildlife, which has a seat on the council.
This newly released poll of California voters was conducted in February to gauge the public's opinion on the use of drift gillnets. California is the only state on the West Coast that continues to allow use of the nets to catch swordfish.
The poll results align with our belief that the time has come for state fishery managers to reconsider their decision and stand with the strong majority of Californians who support the transition toward a better way of managing this public resource.
The telephone poll of 601 registered California voters was conducted Feb. 25-28 by two research firms, Public Opinion Strategies and Fairbank, Maslin, Maullin, Metz & Associates. It has a margin of sampling error of plus or minus 4 percentage points.
Paul Shively directs West Coast marine conservation efforts for The Pew Charitable Trusts.