Scientists Document Commercial Fishing's Effects on Penguins and Seabirds
Competing with fisheries for food is a top threat to many penguin species.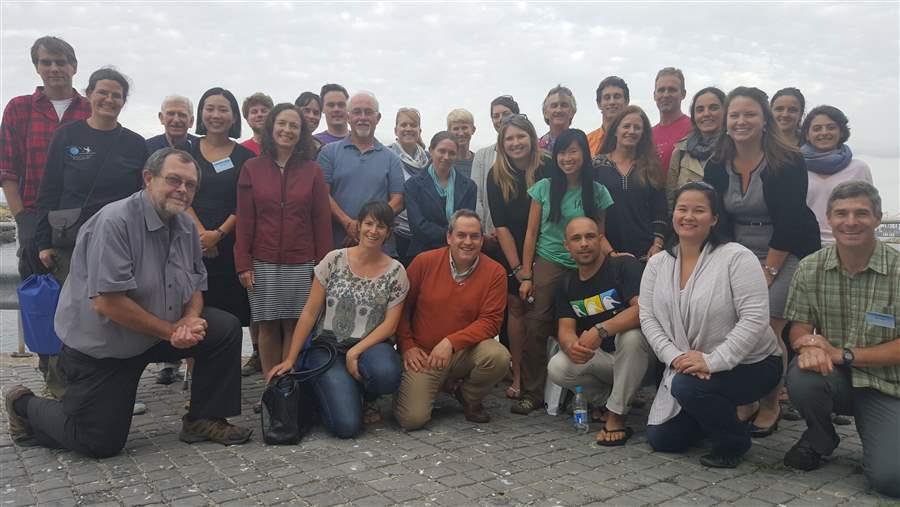 © The Pew Charitable Trusts
Participants gather on the waterfront after the workshop held at Cape Town's South African Department of Environmental Affairs.
Seabirds, whales, and other marine predators often must compete with commercial fisheries for food. For instance, the concentrated fishing of Antarctic krill in and around the Antarctic Peninsula, combined with the effects of climate change, is drastically reducing the availability of krill in areas where penguins, such as chinstraps and Adélies, forage. In fact, competition with fisheries for food is one of the top threats to the world's 18 penguin species, 15 of which are classified by the International Union for the Conservation of Nature as "near threatened," "vulnerable," or "endangered."
To further analyze the effect fisheries have on seabird populations, Dr. William Sydeman of the Farallon Institute for Advanced Ecosystem Research, supported by Pew's global penguin conservation campaign and environmental science division, recently convened a series of workshops to develop a set of guidelines and best practices for documenting the effects of fisheries. As organizations that manage fisheries begin shifting towards a big picture, ecosystem-based approach, rather than species-by-species, a better understanding of the relationship between fishing and foraging by marine predators is needed.
The Farallon Institute convened two workshops, one in Cape Town, South Africa, in October 2015, and another in Seattle, Washington, in January 2016. Each was attended by experts in the field of forage fish and fisheries, and included Robert Furness with the University of Glasgow, Richard Sherley with the Bristol Zoological Society and the University of Exeter, and Elizabeth (Libby) Logerwell of the Alaska Fisheries Science Center. The workshops also provided training opportunities to several graduate-level scientists who were given travel stipends in order to participate.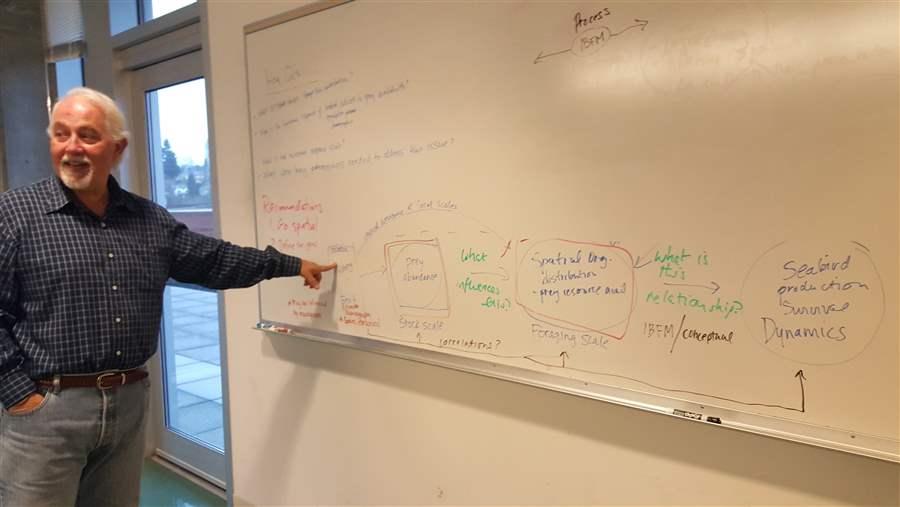 © The Pew Charitable Trusts
Dr. Sydeman of the Farallon Institute for Advanced Ecosystem Research discusses a conceptual model for assessing the effects of fisheries on seabird food resources during the workshop convened at Seattle's University of Washington.
Case-study presentations at the workshops were followed by breakout groups targeting different techniques for analyzing the competition between seabirds and fisheries. The methods explored in these workshops fell into three broad categories: ecosystem models, experimental fishery closures, and analyses of observed changes in populations of fish, fisheries, and seabirds. Participants discussed the challenges and opportunities of each method , developed detailed strategies, and identified when each might be most appropriately to used in evaluations.
Dr. Sydeman and this international group of scientists are synthesizing this information for a peer-reviewed publication. They hope their findings will provide seabird and fisheries scientists with the tools they need to inform management decisions.
Additional details about the workshops, including a report with preliminary results, can be found at: http://www.faralloninstitute.org/seabirdfisheries-competition.