Shark Attack Survivor and Paralympian Now Passionate About Protecting Sharks
In Shark Week Q&A, Achmat Hassiem says dangerous encounter was 'one of the best days of my life'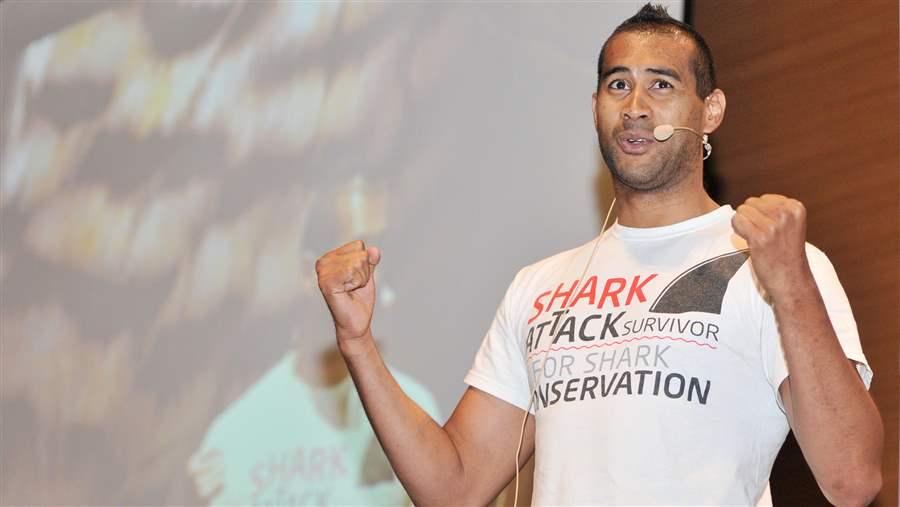 © Achmat Hassiem
Achmat Hassiem addresses the 2014 Convention on the Conservation of Migratory Species of Wild Animals meeting in Quito, Ecuador.
Achmat Hassiem is a champion. Ten years ago, he lost part of his leg in an encounter with a great white shark, but he then became a Paralympic medal-winning swimmer. Today, at 34, he champions the need to protect sharks worldwide. During the Discovery Channel's weeklong Shark Week celebration, which begins June 26, we're shining a light on a South African whose life was forever changed by one of these great ocean predators—for the better, he says.
Q. In 2006, you met a great white shark that changed your life. What happened?
I was participating in a routine lifeguard exercise with a friend and my brother. While we were waiting for the rescue exercise to begin, I noticed movement in the water, heading toward my brother. Then the fin cut the surface of the water, and I knew immediately it was a shark. I started slapping the water, because I wanted to divert the shark. And I was successful—the shark changed direction and headed straight for me.
As this huge creature swam by me, brushing against my leg, I was struck with awe. It was graceful, beautiful, and majestic. As the shark passed by me again, I tried to move, but my leg wouldn't. When I looked down I realized why: It was in the shark's mouth, and I was being pulled underwater.
Q. What happened next?
I started hitting the shark, trying to punch it in the nose. But nothing was affecting the shark or loosening its grip on my leg. And then it dawned on me—the strongest part of my body is my legs. I played soccer and swam all my life. So I started kicking the shark. I thought she let go because I was able to swim to the surface. But what actually happened was the shark bit my right leg off, just below the knee.
I reached the surface, gasping for air. My brother, the other lifeguards, and the National Sea Rescue Institute, the group that provides volunteer rescue crews in South Africa, were able to scoop me into the rescue boat and get me to shore, and then immediately to the hospital. I named the shark Scarlet, because she had a big scar on her face.
Q. After that experience, what caused you to advocate for shark protections?
It wasn't immediate. I mean, losing my leg was traumatic. I don't want to undersell that or make light of it. It took me a while to not pity myself. At first, I thought my life as I knew it was over. But as time passed and I got into swimming again and started competing, I started feeling better, back to normal.
And then the Shark Attack Survivors for Shark Conservation group contacted me and provided information about sharks and the plight they are facing around the world. The more I learned, the more I wanted to get involved.
Q. What were the most surprising facts you learned about sharks?
I learned that at least 100 million sharks are killed every year, primarily for their fins. I also didn't know that many sharks don't reproduce like other fish. Many are more like mammals, in that they don't bear young until later in their lives and may only have a few offspring every or every other year.
And then there's the little issue of sharks being a vital component to healthy oceans. They sit at the top of the ocean food web, and without them, entire marine ecosystems would collapse. There's so much already going wrong in the ocean—all the debris, pollution, illegal fishing. Causing the collapse of healthy ecosystems by fishing out sharks is something we can't afford to do.
Q. Can you talk about some of the advocacy work you've done?
The Pew Charitable Trusts invited me to speak in Quito, Ecuador, at the Convention on the Conservation of Migratory Species of Wild Animals meeting in 2014. At that meeting, 120 nations voted to protect 21 species of sharks and rays. It felt good to me because it was a win! It stirred the competitive nature in me.
Then I was invited to attend a meeting in the Maldives in 2015, where Sri Lanka and the Maldives announced proposals to protect silky sharks and three species of thresher sharks through the Convention on International Trade in Endangered Species of Wild Fauna and Flora (CITES). This September, CITES will hold a huge meeting in my home country, in Johannesburg, to vote on the shark proposals. It may sound surprising, but my shark conservation work is just as rewarding to me as winning Paralympic medals.
Q. The 2016 Paralympics takes place this September in Rio de Janeiro. You qualified to compete for South Africa in the 100-meter butterfly. In 2012, you won the bronze medal in London for this event. How are you preparing for your third Paralympics?
An average day of training consists of waking up at 4 a.m. and then heading straight to the pool for four hours of in-water practice. Then I hit the gym and lift weights for three hours. I'm asleep every night by 9 p.m. I wake up and repeat!
I'll be traveling to the Olympic Training Center in Denver, Colorado, to train for several weeks this summer. From everything I've heard, it is super-high-tech and should help me refine my form. And I believe the higher elevation will definitely boost my lung capacity.
I eat healthy—lean proteins like chicken and lots of vegetables. I'm actually looking forward to splurging after the Paralympics and eating some of my favorite foods, like bagels and buttermilk biscuits.
Q. What's your proudest moment?
Well, of course on the list of proudest moments is winning a Paralympic medal for South Africa. There's no feeling in the world that compares to standing on the podium, as your country's national anthem plays, and receiving a medal around your neck. The honor and pride is overwhelming.
Then there's obviously saving my brother's life. I like to remind him regularly.
But I'm equally proud of the work I've done to help promote shark conservation. It might seem crazy— someone that lost his leg to a shark wanting to save sharks. But it's a really important issue to me. I received a great honor in January from the United Nations Save Our Sharks Coalition when I was given the title of Global Shark Guardian for raising awareness about shark conservation.
Q. Looking back, what do you think about your shark encounter?
Believe it or not, along with winning my Paralympic medal, that was the best day of my life. At least that's how I look at it now. To me, it is destiny that a shark brought me to where I am now, so I need to do everything in my power to give back to sharks.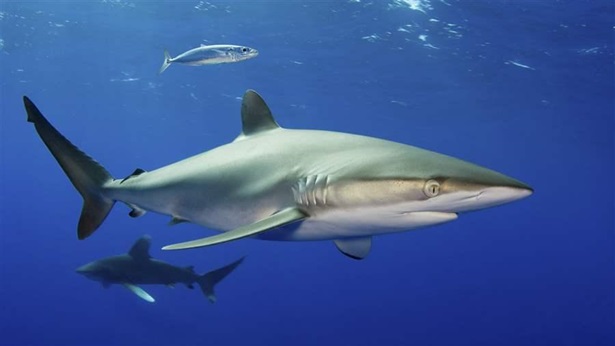 By partnering with us, donors can align their passion with the possibility to cement policy change to protect sharks.