Governments Act to Protect Endangered Sharks
Silky, thresher, and hammerhead sharks have a chance at recovery thanks to international cooperation
©Alex Hofford/Greenpeace
A silky shark swims near a fish aggregating device, or FAD, in the international waters of the Pacific Ocean.
The governments that belong to the U.N. Convention on the Conservation of Migratory Species of Wild Animals (CMS) moved at a meeting in Quito, Ecuador, on Nov. 9 to protect 21 shark and ray species.
Thresher, silky, and hammerhead sharks are now listed on what is known as CMS' Appendix II. That means the 120 governments that belong to the convention have identified them as among the shark species most in need of conservation action, and have committed to work together to better protect them. CMS is the only global convention that specializes in the conservation of migratory species, their habitats, and their migration routes.
"The theme of this year's conference was 'Time for Action,' and governments did not disappoint," said Bradnee Chambers, executive secretary of CMS. "Thanks to a truly international coalition of shark champions, CMS will now help with global coordination to protect these species throughout their range."
The CMS action is a significant step toward better management of these species, and it is a crucial acknowledgement that healthy sharks are critical to healthy oceans. Governments will now have to coordinate through various global or regional agreements, organizations, and fora to better protect and manage these migratory species. These relevant mechanisms include the CMS shark Memorandum of Understanding, the Convention on International Trade in Endangered Species of Wild Fauna and Flora (CITES), and regional fisheries management organizations. Reef manta rays, along with all species of mobula ray and sawfish, will receive stronger protections because of their listing on CMS's Appendix I, which prohibits their deliberate capture.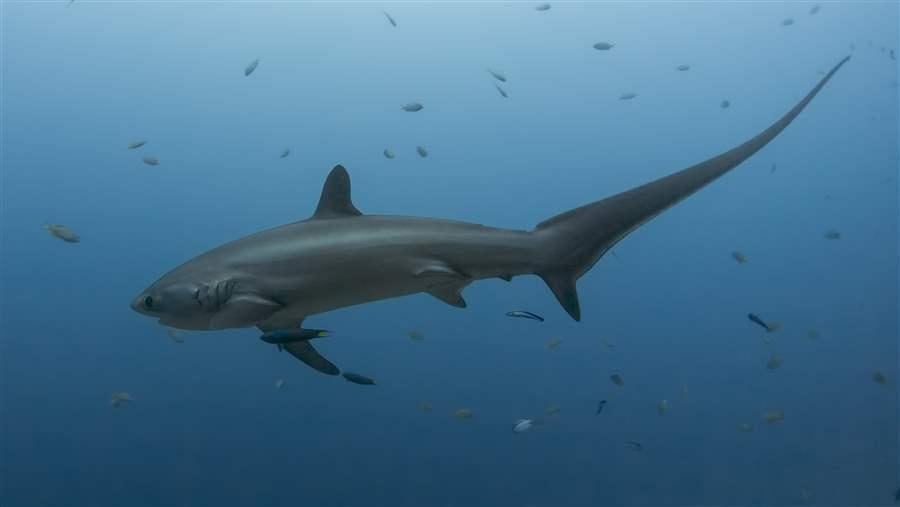 © Shutterstock
A thresher shark swims in the Philippines.
"Today is an important day for sharks and rays," said Luke Warwick, a global shark conservation expert with The Pew Charitable Trusts. "Countries have acknowledged that cooperation is key to properly managing at-risk shark populations and that species such as silky, hammerhead, and thresher sharks are in urgent need of better protections. The CMS action gives these already depleted species a chance to recover and encourages precautionary, sustainable management of all sharks."
About 100 million sharks are killed each year in commercial fisheries, an unsustainable figure. In some regions, numbers of the newly protected species have plummeted to less than 20 percent of their populations' original size.
This urgently needed action came about because the governments of Ecuador, Costa Rica, Egypt, Fiji, Kenya, and the United Kingdom together proposed the listing of these 21 species.
"The UK has a strong track record on shark protection and we continue to push for increased safeguards worldwide," said UK Marine Conservation Minister George Eustice. "Thresher sharks are particularly vulnerable so we are delighted that this UK championed proposal was successful."
Timely and essential, the CMS action builds on the momentum to protect shark and ray species seen in recent years. Among other new steps are the implementation of trade regulations under CITES, the establishment of a growing number of shark sanctuaries in national or territorial waters, and the tightening of international and domestic fisheries rules. All of these achievements have come about because of increased awareness of sharks' vulnerability.
The CMS Appendix II listings allow sustainable fishing of sharks, but if management measures are not effectively implemented, the listed species could qualify for the more strict protections offered under Appendix I. To ensure that these listings have the needed impact, the CMS parties must follow through on their commitments to cooperate by developing stronger domestic shark protections, while considering international management through regional fisheries bodies and CITES.
"The parties to CMS know what's at stake for the ocean," added Warwick. "This isn't the end of work to protect these species, but part of an ongoing global effort. We are confident that the Appendix II listings will be successful in garnering greater coordination for shark conservation, and we look forward to seeing significant progress everywhere sharks are found, caught, or traded, so that these vulnerable species can be safeguarded for generations to come."