'Cooking up Change' Winners Promote Forward-Looking Child Nutrition Legislation
High schoolers from across the nation will prepare dishes and share tips for healthy meals with lawmakers
© The Pew Charitable Trusts
Students from Orange County, California, prepare the award-winning healthy school lunch they created for the 2015 "Cooking up Change" competition.
High school students from around the country who won local "Cooking up Change" competitions will serve their creations—delicious, nutritious school lunches—to members of Congress on June 8 as they ask lawmakers to pass a child nutrition law that puts children's health first. These teens want to ensure that the final federal legislation to reauthorize child nutrition programs builds on recent progress toward healthier school food while supporting schools in achieving even greater success.
The U.S. Senate and House of Representatives are reviewing two bills to renew the child nutrition programs. In January, the Senate Agriculture, Nutrition, and Forestry Committee unanimously endorsed a bill that maintains a strong focus on getting young people the healthy food they need to grow and learn and would provide schools with additional support and flexibility to more effectively deliver nutritious meals. By contrast, the House Committee on Education and the Workforce approved a partisan bill in May that would send school meal programs back in time by carving out broad loopholes in nutrition standards and reducing needy students' access to healthy low- and no-cost meals. The House bill would also create an experimental block grant program allowing up to three states to completely ignore science-based nutrition standards for school breakfasts and lunches. Both bills include important language establishing loan assistance and grant programs to help school districts upgrade food service facilities.
The students traveling to Capitol Hill this month to prepare their healthy dishes and discuss school meal legislation with lawmakers comprise winning Cooking up Change teams from 10 communities: Chicago; Dallas; Detroit; Houston; Los Angeles; Orange County, California; Owensboro, Kentucky; Phoenix; St. Paul, Minnesota; and Wichita, Kansas. They hope that by talking with federal legislators and sharing their experiences preparing healthy, inviting meals that meet the national standards, they can encourage Congress to move forward this year on legislation that more closely resembles the Senate bill—and to do so on a bipartisan basis.
Cooking up Change, sponsored by the nonprofit Healthy Schools Campaign and now in its ninth year, challenges high school students to develop healthy, appealing meals that meet national nutrition standards within the budget constraints faced by nutrition professionals in close to 100,000 schools nationwide. Before they prepare their dishes for senators and representatives, the teams will compete for the national championship in a cook-off at the U.S. Department of Education on June 6.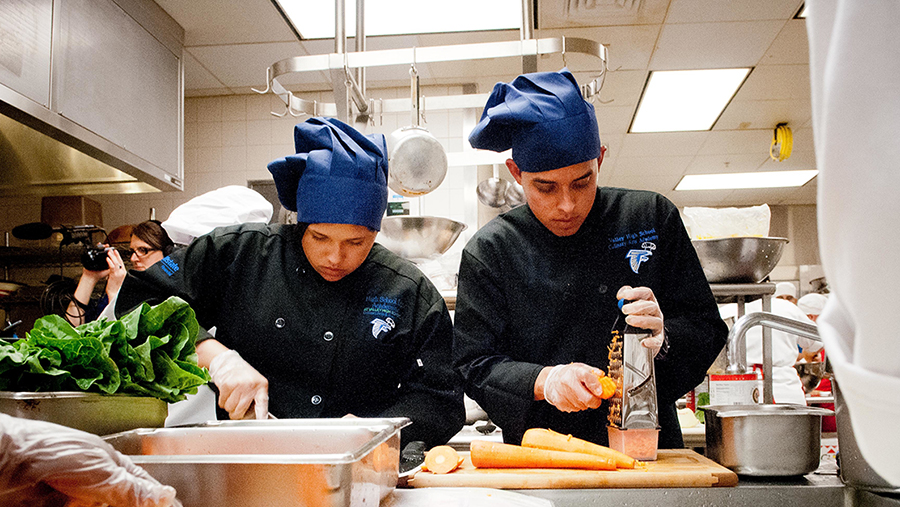 © The Pew Charitable Trusts
Student chefs prepare a healthy meal during the 2015 Cooking up Change competition.
A recipe for success
Students participating in Cooking up Change continually raise the bar for innovation in designing meals that appeal to their peers. They fine-tune their school lunches through multiple taste tests and nutrient analyses, and many of the winning recipes have appeared on their school's menus.
These meals will square off for the national title:
Cajun chicken lettuce wrap, roasted corn relish, and deconstructed peach and yogurt pizza (Washington High School, Chicago).
Chicken parmesan sandwich, green beans with cherry tomatoes, and banana dip bites (Wilmer Hutchins High School, Dallas).
Low-country chicken and collards pilau, country coleslaw, and peanut butter and cracker stackers (Golightly Education Center, Detroit).
Chicken Philly sandwich with sauteed onions, peppers, and cheese; cucumber and onion salad; and yogurt parfait with graham cracker crust and pineapples (Barbara Jordan High School, Houston).
Chicken quesadilla, healthy slaw with cumin-lime dressing, and "pineapple downtown" (Santee Education Complex, Los Angeles).
Moroccan stuffed zucchini, Moroccan salad, and spiced pear cups (Valley High School, Orange County).
Chicken alfredo with roasted vegetables, garden salad, and mixed fruit (Apollo High School, Owensboro).
Taco-burrito, sauteed green beans and carrots, and peanut butter and banana cup (Barry Goldwater High School, Phoenix).
Thai peanut chicken lettuce wraps, cucumber salad, and pineapple crisp (Harding High School, St. Paul).
Barbeque chicken pizza quesadilla, steamed vegetables with bleu cheese dressing, and frozen strawberry yogurt bananas (South High School, Wichita).
Getting in the policy mix
After the national competition, the students will showcase their meals at a luncheon for members of Congress and staff and talk with federal lawmakers about why healthy and delicious food is so important to them. Abigail Faulls, 17, of Apollo High School in Owensboro would like to see more salad options in her cafeteria, while Natalie Ruiz, 17, of Washington High School in Chicago wants schools to add more flavorful seasonings to the food and make lunch options look more appealing.
"Before Cooking up Change, I didn't think the [school] food was to my liking, but now I see how much work is put into menu planning, and I appreciate it so much," said Katelynn Lewis, 15, of Golightly Education Center in Detroit. When asked what she'd like to see in the future, "I would want the lunches to be healthier."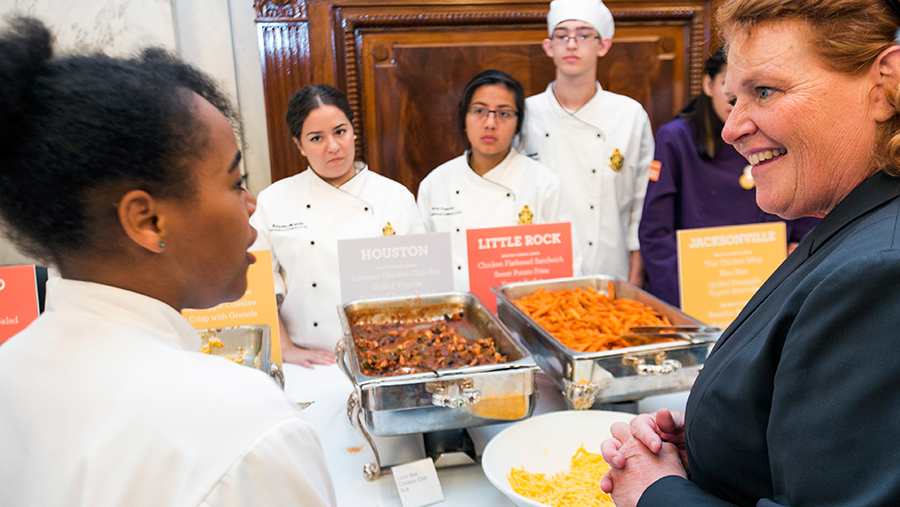 © The Pew Charitable Trusts
Senator Heidi Heitkamp (D-ND) talks with students about their award-winning recipe and healthy school lunches during the 2014 Cooking up Change competition.
Ingredients for lifelong health
For many of the 30 million children served each day by the National School Lunch Program, the cafeteria is one of their best sources of nutrition. With each healthy school lunch served, students not only get the nutrients they need to do well in school, but they also receive a lesson about what a nutritious meal looks like. This lesson on healthy eating is just as much a key to success as any math or English lesson they receive on school grounds.
"[Cooking up Change] has taught us how to eat healthy," Jeremy Tazano, 16, of Wilmer Hutchings High School in Dallas told a reporter for KIAH-TV in Houston. "It's something that not only us, but all teens and all children, can learn from."
The competitions take schools' lessons about healthy eating one step further by offering students the chance to create nutritious meals themselves. Tips about reducing certain ingredients or cooking foods in ways that increase healthfulness are lessons that these students will use throughout their lives.
As Faulls explained, "I have much more respect for the lunch ladies at our school. It's hard to make so much [nutritious] food. … They do all that and make it taste good!"