The U.S. Move Toward Clean Energy, in 3 Charts
Renewable resources become cheaper, more available as consumer demands shift
The U.S. electric grid is changing thanks to new market opportunities, cleaner and more-efficient technologies, and evolving consumer preferences, according to a recent renewable energy report from Pew's clean energy initiative. The study documents how the power grid is transforming—and what the future of clean energy might look like.
In particular, three graphs from the report highlight some key reasons behind the national shift toward renewable energy.
Solar prices have dropped by 75 percent since 2008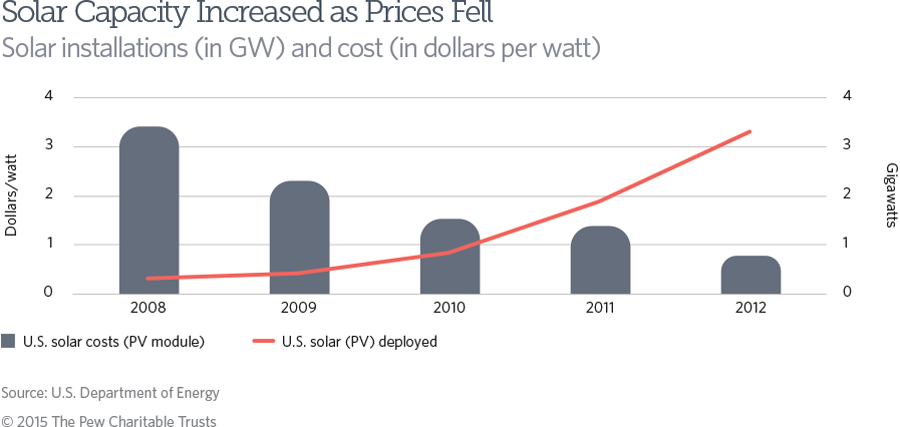 State and federal policies have spurred this dramatic decline:
Most states (29) now have renewable energy portfolio standards, and more than two-thirds have standards or goals for deployment of renewable power within their electric sectors.
At the federal level, targeted tax incentives—including the production tax credit, launched in 1992, and the investment tax credit, passed in 2006—have helped advanced energy industries mature.
The private sector responded to these state and federal efforts by reducing costs and scaling up production of clean energy technologies.
Policies are increasing the use of cleaner, more-efficient technologies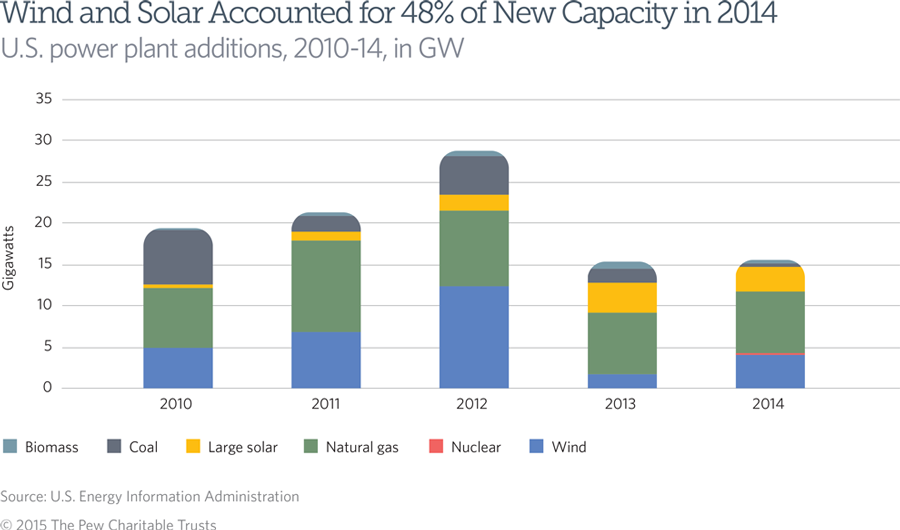 Energy is increasingly produced at or near the place where it is consumed. This advanced capability is commonly referred to as distributed generation.
Net metering—which allows customers to generate electricity on-site, deliver it to the local grid, and offset the power they consume, thereby reducing their charges—has helped foster the spread of rooftop solar and other distributed generation sources.
According to the U.S. Energy Information Administration (EIA), the number of net-metered customers has grown by 50 percent annually since 2009, from 70,000 to more than 482,000 customers by the end of 2013.
Although policy has propelled the shift toward distributed generation, innovative breakthroughs have also played a critical role by bringing a range of new technologies to the marketplace. Scientific know-how has led to improvements in energy generation, increased efficiency, better management to allow the grid to absorb more distributed power production, and greater consumer choice.
Renewable generation continues to be a major contributor in the energy marketplace
More efficient and renewable resources are filling the void as coal and nuclear power recede:
Wind and solar have become significant contributors to the American power landscape, with capacity tripling since 2008.

By the end of 2014, the U.S. had more than 65 gigawatts of installed wind capacity—10 times more than a decade ago.
Similarly, as of the second quarter of 2015, more than 20 GW of solar were installed nationwide—the most ever. More than 22.7 GW of cumulative solar electric capacity are operating in the U.S., enough to power more than 4.6 million typical American homes.

Gas and renewable energy plants account for more than 90 percent of the new U.S. power capacity since 2000. The EIA projects that these sources will make up a similar proportion of the capacity built between now and 2020.
For more on the recent rise of clean energy in the U.S., read our report America's Electric Grid: Growing Cleaner, Cheaper, and Stronger.
Phyllis Cuttino directs and Jessica Lubetsky manages Pew's clean energy initiative.