New Analysis Identifies World's Largest and Busiest Fishing Ports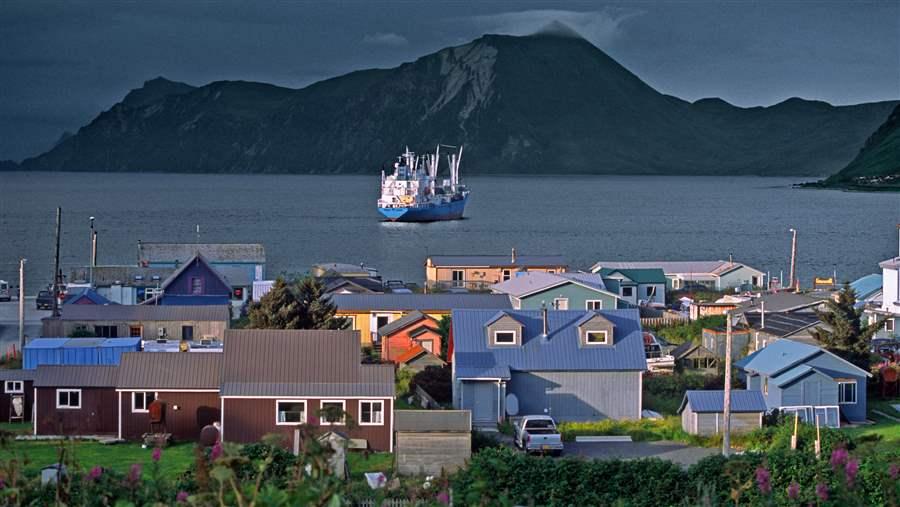 Mihael Blikshteyn
Dutch Harbor, Alaska
A Korean tramper—a large mothership that buys and stores frozen fish as fishing vessels bring their catches in—patiently waits just outside the town of Unalaska.
A new study ranks the world's top 100 ports by volume of commercial fish landed, providing another vital layer of knowledge for assessing fishing vessel activity at ports around the globe. The information fosters a better understanding of where what are known as Port State Measures can be most effective in deterring illegal fishing and preventing illicit catch from entering the market.
Commissioned by Pew, the study "Fish Landings at the World's Commercial Fishing Ports" includes a database with information from 948 individual ports in 47 countries. The Journal of Ocean and Coastal Economics recently published the results of the work led by Tim Huntington, founding director of Poseidon Aquatic Resource Management Ltd., a consulting firm based in the United Kingdom.
Commercial fishing operations use these ports not only to land their catch but also to get access to the services and supplies that fishing and transshipment vessels need to sustain their operations. Fishing vessels that carry illegal, unreported, and unregulated (IUU) catch use these ports as well. That means that some ports, whether their managers know or not, serve as conduits for landing illicit fish.
In 2009, in an effort to deter IUU fishing activities, the United Nations Food and Agriculture Organization adopted the Agreement on Port State Measures to Prevent, Deter and Eliminate Illegal, Unreported and Unregulated Fishing, commonly called the Port State Measures Agreement (PSMA). Countries that are parties to the treaty agree to exert greater control at their ports to detect IUU catch before it can be offloaded from vessels. That helps prevent the catch from entering the world's markets. Still, the lack of reliable data on which ports are the largest and busiest has been a major challenge for authorities in determining where to dedicate resources.
The new study and database highlight an absence of reliable port-specific data on fish landings and fishing vessel activity. While facts on merchant vessels are more readily available, similar data on port calls for fishing vessels are difficult to obtain, and this lack of information continues to undermine global initiatives to identify and prevent IUU fishing.
The PSMA must be ratified by 25 governments in order to go into effect. Once it does, those states will be required to deny entry to vessels suspected of IUU fishing activity. They will also be able to designate specific ports to accommodate incoming foreign fishing vessels. The agreement's reporting and information-exchange obligations will help improve port-level data collection on fish landings and vessel activity. Effective implementation of the agreement will contribute to greater understanding of where fish are being caught and landed, and by whom.
Additional information, such as port landings by foreign and domestic vessels or species and the value of fish landed, is needed to help managers assess a port's susceptibility to IUU fishing. That extra detail would allow for focused efforts to enhance port controls where illegal fishing is of greatest concern.
Tony Long directs the ending illegal fishing project for The Pew Charitable Trusts.
The World's Top 100 Ports
Rankings based on volume of commercial fish landed as reported in 'Fish Landings at the World's Commercial Fishing Ports'
Port/Province
Country
Landings/
metric tons
Chimbote

Peru
677,753
Vladivostok
Russia
604,645
Nahodka
Russia
604,645
Maluku (Ambon)
Indonesia
567,953
Chicama
Peru
566,100
Chonnam
Korea, Republic of (S)
523,931
Callao
Peru
510,537
Coronel
Chile
506,866
Iquique
Chile
488,092
Paita
Peru
483,721
Zhejiang Province – Zhoushan City region – Putuo District

China, PR
481,017
Tromsø

Norway
474,571
Pisco
Peru
473,991
North Sumatra (Medan)
Indonesia
463,201
Shandong Province – Yantai City outskirts – Rongcheng City
China, PR
454,762
Zhejiang Province – Ningbo City region – Xiangshan County
China, PR
449,863
Tarawa
Kiribati
443,750
Zhejiang Province – Wenzhou City outskirts – Wenling City
China, PR
433,576
Ålesund
Norway
421,237
Walvis Bay
Namibia
418,037
Manta
Ecuador
410,611
Dahkla
Morocco
392,537
Guangdong Province – Yangjiang City region – Yangjiang City
China, PR
374,000
Nouadhibou
Mauritania
372,013
East Java (Surubaya)
Indonesia
362,624
Fujian Province – Xiamen City outskirts – Shishi City
China, PR
345,985
Dutch Harbor, AK
USA
340,878
Zhejiang Province – Zhoushan City outskirts – Daishan County
China, PR
340,018
Perak
Malaysia
315,817
Castro
Chile
307,609
Guangdong Province – Zhanjiang City region – Zhanjiang City
China, PR
305,000
Bandar Abbas
Iran (Islamic Rep. of)
304,263
Nevelsk
Russia
302,323
Korsakov
Russia
302,323
Petropavlovsk
Russia
302,323
Magadan
Russia
302,323
Fujian Province – Fuzhou City region – Lianjiang County
China, PR
298,558
Kaohsiung City
China, Rep. of (Taiwan)
292,800
Skagen
Denmark
291,917
Chancay
Peru
290,548
Rabaul
Papua New Guinea
283,591
Arica
Chile
279,060
Talcahuano
Chile
276,221
Coishco
Peru
273,966
Papua (Jayapura)
Indonesia
269,259
Kyongnam
Korea, Republic of (S)
268,499
Karachi
Pakistan
261,788
Guangdong Province – Shanwei City region – Shanwei City

China, PR
260,000
Central Java (Samerang)
Indonesia
251,536
San Vicente
Chile
250,877
Laayoun
Morocco
248,238
Nova Scotia
Canada
235,751
Vestmannaeyjar
Iceland
234,117
Thyboran
Denmark
234,035
North Sulawesi (Mandao)
Indonesia
230,523
Choshi (Chiba)
Japan
229,680
Zhejiang Province – Zhoushan City outskirts – Shengsi County
China, PR
227,585
SE Sulawesi (Kendari)
Indonesia
227,356
Empire-Venice, LA
USA
226,980
South Sulawesi (Makassar)
Indonesia
218,819
Neskaupstaður
Iceland
213,445
Aysen
Chile
211,450
British Columbia
Canada
209,541
Aleutian Islands (Other), AK
USA
206,659
Victoria
Seychelles
204,593
Newfoundland
Canada
198,525
Pago Pago
American Samoa
197,574
Fujian Province – Fuzhou City outskirts – Pingtan County
China, PR
197,373
Chungnam
Korea, Republic of (S)
197,141
Tambode Mora
Peru
197,027
West Sumatra (Padang)
Indonesia
196,511
Majuro
Rep Marshall Islands
193,248
Beitung Islands (Pangkal Pinang)
Indonesia
192,474
Cisnes
Chile
189,028
West Java (Bandung)
Indonesia
185,825
Yaidu
Japan
184,380
Vågsøy
Norway
183,679
Lagos
Nigeria
180,239
Jakarta
Indonesia
180,198
Zhejiang Province – Wenzhou City outskirts – Cangnan County
China, PR
178,382
Kodiak, AK
USA
178,264
Reedville, VA
USA
176,449
Honiara
Solomon Islands
164,899
Shandong Province – Yantai City region – Penglai City
China, PR
164,579
Guangdong Province – Shantou City region – Shantou City
China, PR
163,000
Guangdong Province – Maoming City region – Maoming City
China, PR
162,000
Riau Islands (Tanjung Pinang)
Indonesia
157,506
Intracostal City, LA
USA
156,355
Pohnpei
FSM
155,000
Lampung (Sumatra)
Indonesia
154,484
Fujian Province – Xiamen City outskirts – Dongshan County
China, PR
152,184
North Maluki (Sofifi)
Indonesia
150,232
Abidjan
Ivory Coast
150,000
Ilo
Peru
146,652
Peterhead
UK
146,507
Central Sulawesi (Palu)
Indonesia
145,784
Aceh (Sumatra)
Indonesia
143,681
NTB (Mataram)
Indonesia
140,170
Hanstholm
Denmark
135,930
Zhejiang Province – Wenzhou City region – Dongtou County
China, PR
135,038