Annual Summer Shark Programming Sets Stage to Celebrate Conservation Successes
When it comes to sharks, it's not a bigger boat that you'll need this summer, but a second TV!
Discovery Channel starts its annual tribute to sharks earlier than usual. The 28th year of Shark Week premieres Sunday, July 5.
But this year will bring a double dose of dorsal fins!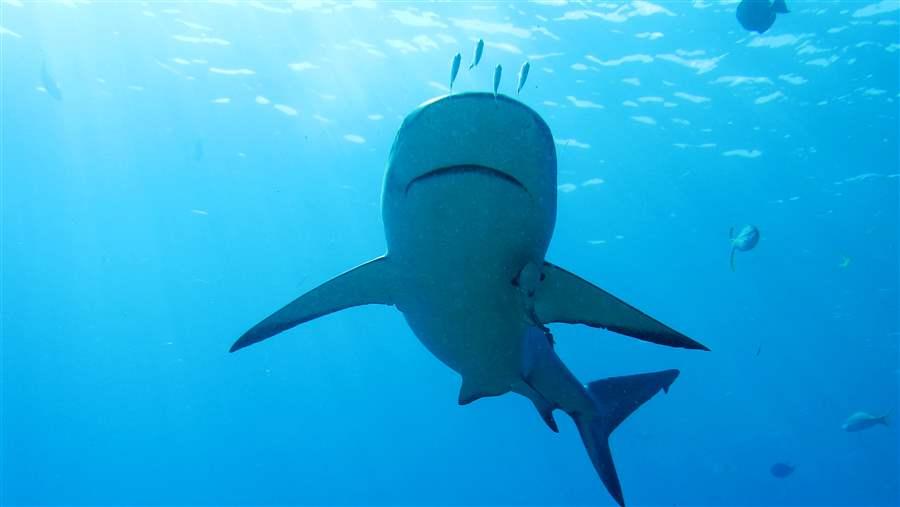 © Katie Grudecki
National Geographic Channel kicks off its SharkFest programming the same week. Be sure to tune in to watch several of Pew's Shark Attack Survivors—Mike Coots, Debbie Salamone, Eric Larsen, and Jonathan Kathrein—featured in National Geographic's "United Sharks of America." The show premieres July 5 at 9 p.m. EDT.
The Pew Charitable Trusts' global shark conservation campaign appreciates the platform that National Geographic and Discovery Channel provide to showcase how vital these animals are to keeping oceans healthy—and how endangered many shark species have become. Pew is working to preserve shark populations worldwide through habitat protection, catch and trade regulation, and reduction in demand for shark fins and other shark products.
It's been an incredible year for shark protections. Check out the list of shark wins that have stacked up since last August. And take some time to learn some new shark facts that will change what you think about the ocean's top predators, including details on the ways many shark species are more similar to mammals than fish.