Keystone State Emerges as Rising Clean Energy Leader
Industrial energy efficiency and solar power are growing sectors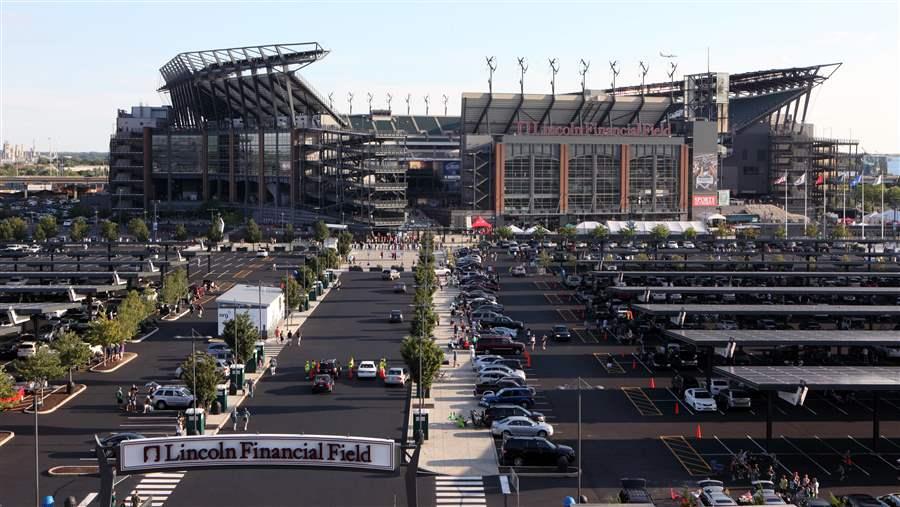 © Philadelphia Eagles
The solar array at Lincoln Financial Field, the largest at any National Football League stadium.
Leveraging its legacy in manufacturing and conventional energy production, Pennsylvania has developed a growing clean energy economy. Over the past five years (2009 to 2013), the Keystone State added nearly 1.4 gigawatts of clean energy capacity and attracted $3.5 billion in private investment. New project installations over the next decade are expected to add 5 GW of capacity and generate $17.7 billion in investment.
Research by The Pew Charitable Trusts, released during a briefing and tour of the industrial energy efficiency plant at the Pennsylvania State Employees Credit Union, demonstrates that policy action can spur investment, create jobs, and increase deployment of clean energy. In 2004, Pennsylvania established its Alternative Energy Portfolio Standards calling for 18 percent of the state's electricity to come from advanced energy sources by 2021—8 percent from renewable power and the remaining 10 percent from other advanced technologies, including efficiency and innovations in fossil energy. Because of this policy, solar power and industrial energy efficiency (212 megawatts and 3.3 GW, respectively, as of 2013) have grown rapidly in recent years.
Innovative financing mechanisms, property tax incentives, state grants and loans, and net metering, which allows customers to offset their energy costs by returning excess electricity to the grid, have further encouraged deployment of clean energy. These measures are complemented by federal incentives, such as the investment tax credit for solar and the production tax credit for wind.
"By setting a goal for renewable energy and offering incentives for clean energy projects, Pennsylvania has been able to attract private investment, create new jobs, and diversify its energy mix," said Tom Swanson, manager of Pew's clean energy initiative.
Today, wind energy (1.3 GW) and hydropower (890 MW) account for the majority of the state's renewable capacity. Pennsylvania's installed wind capacity is enough to power over 300,000 homes. In 2013, Pennsylvania ranked sixth nationally in attracting private investment in clean energy, at $841 million.
Using wasted heat can generate electricity and improve efficiency
Industrial energy efficiency technologies—such as combined heat and power, which produces heat and power from a single fuel source, and waste heat to power, which uses wasted heat from industrial processes to generate electricity—offer Pennsylvania's manufacturers and institutional energy users an opportunity to significantly cut their energy costs and improve business resiliency. Both technologies meet the state's Advanced Energy Portfolio Standards.
In 2013, Pennsylvania ranked sixth for total installed capacity of these technologies (3.3 GW), eighth for capacity added that year (6.6 MW), and eighth for private investment in the sector ($9.9 million).
These technologies are being used in a variety of industrial, commercial, medical, and residential facilities across the state. In 2013, the Pennsylvania State Employees Credit Union installed a combined heat and power system at its new administrative center in Harrisburg that generates 6.6 million kilowatt-hours annually. This project saves the company $447,000 a year on electricity and heating and cooling costs and is expected to pay for itself in 5.6 years.
"Pew's research highlights the success Pennsylvania's policymakers and business leaders have achieved in developing a strong clean energy economy that's poised for further growth and expansion," said Greg Smith, president of the Pennsylvania State Employees Credit Union. "Efficiency technologies such as combined heat and power are helping businesses like ours make strategic investments to cut costs, reduce energy use and greenhouse gas emissions, and ensure the resiliency of our operations."
State policy supports growth of solar power
The Alternative Energy Portfolio Standards require that 0.5 percent of the state's electricity come from solar power by 2021. In addition, the state's Sunshine Solar Rebate Program provided $100 million in financing assistance for homeowners and businesses. Partly as a result of these policies, Pennsylvania ranks ninth in homes powered by solar (nearly 25,000), 11th in capacity added in 2013 (212 MW), and 11th in jobs supported by the industry (2,900).
However, the sector has had some challenges in recent years. The state allowed imports of electricity from out-of-state solar projects to qualify for its Alternative Energy Portfolio Standards, effectively outsourcing some of the economic benefits the standards were designed to generate in-state. This decision also made Pennsylvania vulnerable to the market impacts of weakened policies in nearby states, such as Ohio, which imposed a two-year freeze on its own renewable portfolio standard in 2014.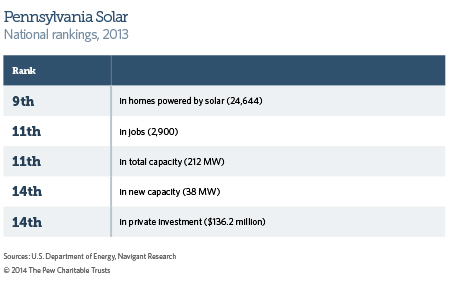 Poised for future growth
Pennsylvania continues to explore new opportunities for deployment of clean energy, including low-impact hydropower projects that minimize the environmental effects on fish, wildlife, and natural resources. With continued policy support for renewable and efficient energy solutions, the state is well positioned to compete in the growing clean energy economy.