Wind Energy Delivers Clean Power in North Dakota
Efficient energy use saves money, creates jobs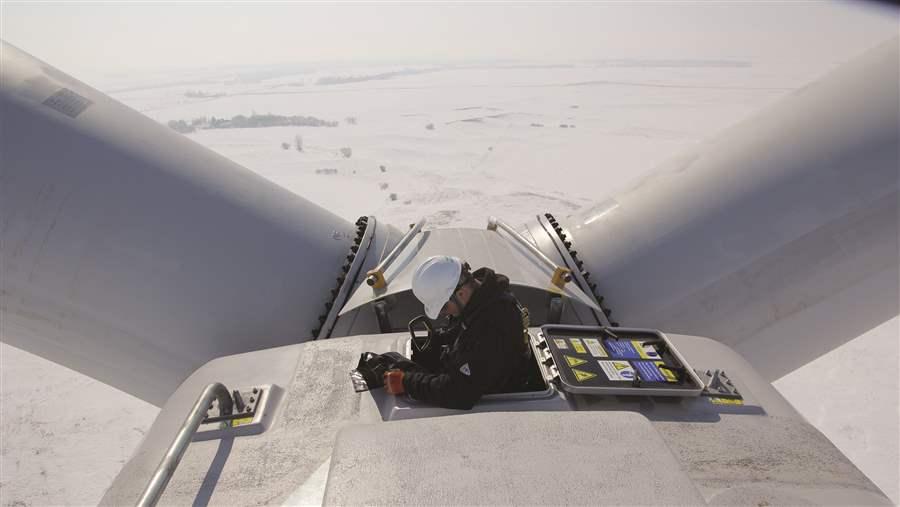 © Lake Region State College
A student in the wind energy technician program at Lake Region State College in Devil's Lake.
North Dakota—well-known for its oil and shale gas deposits—is a national leader in wind power. Wind generated more than 15 percent of the state's electricity in 2013 and powered more than half a million homes. The Ashtabula Wind Energy Center, for example, is a utility-scale project delivering electricity locally and to neighboring Minnesota. The 218 wind turbines generate 331 megawatts of capacity, enough to power 99,000 residences. Yet this energy source is not fully tapped in North Dakota: The state's wind resource potential nearly matches the capacity of all U.S. fossil fuel power plants.
According to a study by The Pew Charitable Trusts, the state from 2009 to 2013 attracted nearly $1.8 billion in private investment in clean energy technologies, which is projected to grow by $2.9 billion over the next decade (2014 to 2023). Pew presented its work at a panel discussion and facility tour co-hosted by Bismarck State College's National Energy Center of Excellence, a nationally recognized leader in energy workforce training, including the renewable areas of wind, solar, geothermal, fuel cell, biomass, hydro, and tidal generation.
"This research underscores the importance of the clean energy sector as part of our robust energy industry," said Dennis Hill, executive vice president and general manager of the North Dakota Association of Rural Electric Cooperatives, who spoke at the event. "We strongly support domestic energy production and environmentally friendly programs and policies which will promote energy independence, including the development of advanced, renewable, and efficiency technologies as well as energy conservation."
Industrial efficiency technologies turn heat into power
In addition to accessing its vast wind-power resources, North Dakota can generate electricity more efficiently through other means, such as combined heat and power. Industrial efficiency technologies provide reliable electricity, mechanical power, or thermal energy by capturing heat that would otherwise be wasted during electricity generation, thereby helping power systems to reach efficiencies of over 80 percent.
Industrial energy efficiency technologies allow businesses to reduce their operating costs by recycling wasted heat for useful purposes and/or making on-site power available in the event of an electric grid power outage. Several utilities in North Dakota use these systems, as do the food processing, hospitality, and chemical industries.
Great River Energy, a nonprofit electric cooperative based in Minnesota, has built one of the largest industrial energy efficiency projects in North Dakota. Electricity from the 99-megawatt coal-fired combined heat and power plant near Spiritwood is sold to commercial and residential customers who, because the plant's excess steam is recycled onsite, benefit from a cost-effective source of energy. In addition, the project created approximately 600 construction jobs plus 43 jobs directly and indirectly associated with the plant's operations.
"North Dakota boasts abundant clean energy resources and is a national leader in wind deployment," said Tom Swanson, a manager with Pew's clean energy initiative. "The state also has a growing industrial energy efficiency sector and a large untapped potential for solar and biomass. New policies, a commitment to educating and training the workforce, and a drive to capture these renewable and efficient resources are propelling North Dakota's clean energy economy forward and creating jobs."