Legendary Waterfalls May Win Protection
The evocatively named Devil's Staircase, on Oregon's Coast Range, may be the most remote location in the state.
In the 1970s, its very existence was the subject of debate. Some thought rumors of cascading pools carved into the sandstone like a staircase were only myth. Others were convinced the waterfall existed but didn't know where along the rugged miles of Wassen Creek it could be found. Hikers hunted for several years before locating the hidden wilderness wonder in the early 1980s.
Today, nearly three decades later, there is still no route—no single, marked path—into the area. To reach this amazing wild place, one must try to follow elk and deer trails, hike the creek bed, or walk overland through nearly impenetrable vine-maple thickets.
Wassen Creek runs through public land managed by the U.S. Forest Service and the Bureau of Land Management. Logging and road-building have been prohibited since adoption of the Northwest Forest Plan in 1994. Today this area has one of the finest stands of old-growth forest in Oregon's Coast Range, inhabited by spotted owls, elk, black bears, mountain lions, otters, and other wildlife.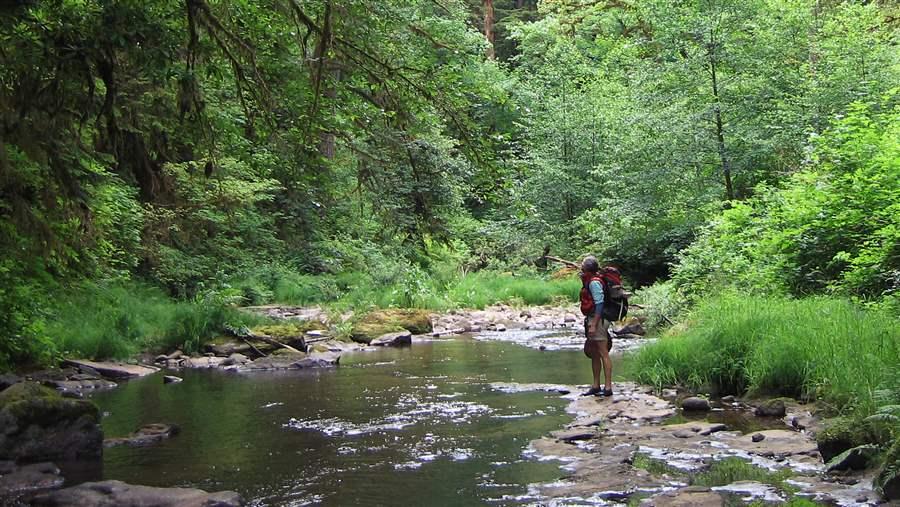 © Dave Tvedt
Devil's Staircse is one of the most secluded spots in Oregon.
The current Congress has the opportunity to protect Devil's Staircase as part of the Oregon and California Land Grant Act of 2014 (S. 2734), introduced just before the August recess by Senator Ron Wyden (D-OR). The bill would help solve the decades-old issue of managing the 2 million acres of the Oregon and California Railroad grant lands, known as the O&C lands, in western Oregon. Senator Jeff Merkley (D-OR) and Representative Peter DeFazio (D-OR) have also backed various pieces of legislation in the past few years that would safeguard Devil's Staircase.
The Pew Charitable Trusts commends Sens. Wyden and Merkley and Rep. DeFazio for introducing legislation to protect nearly 30,000 acres of wilderness around Devil's Staircase and seven miles of Wassen Creek as a wild and scenic river.