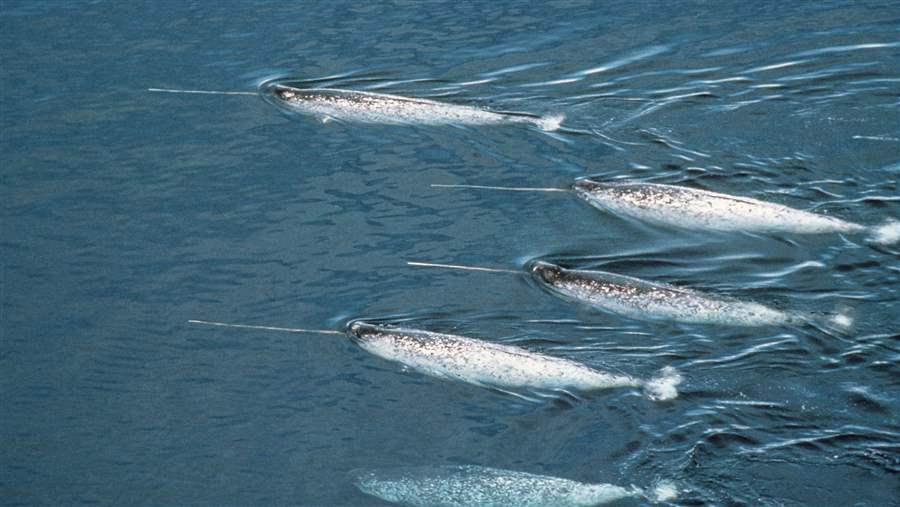 © John K.B. Ford
Narwhal swimming through Arctic waters.
Kristin Westdal, a Winnipeg-based marine biologist with Oceans North Canada, a project of The Pew Charitable Trusts and Ducks Unlimited Canada, traveled to Nunavut in June 2014 to launch a study of how narwhal respond to shipping noise.
Riding over rough sea ice on the back of a snowmobile in near-whiteout conditions, it was hard to imagine that the area would be ice-free in only a few short weeks. Spring on north Baffin Island meant that I was setting out to do narwhal research wearing three layers plus my winter parka. Our three-member team left the community of Pond Inlet and traveled south into Milne Inlet, a summering area for narwhal that would soon arrive from their winter habitat in Baffin Bay.
To document the July migration of narwhal into the area, we decided to deploy two hydrophones—underwater acoustic monitoring devices—before all the ice melted and while it was still safe to travel by snowmobile. Narwhal are a highly vocal species, producing echolocation clicks, pulsed calls, buzz calls, and whistles. The hydrophones will record their presence or absence as part of a multiyear study, conducted with the support of the Mittimatalik Hunters and Trappers Organization, of how shipping noise affects these whales.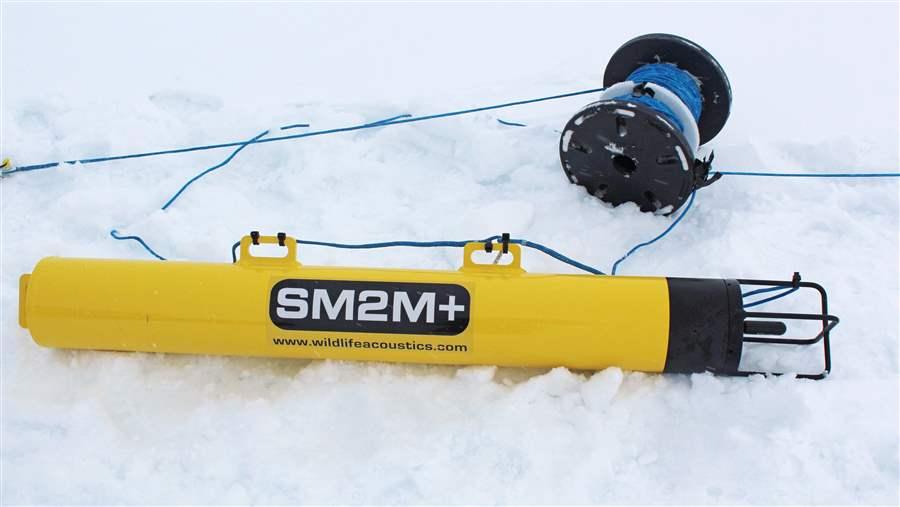 © Kristin Westdal
One of the two deep-water passive acoustic monitoring devices deployed in Milne Inlet.
A new mine could open as soon as this summer on north Baffin Island to extract minerals from one of the world's largest iron ore deposits, meaning that Milne Inlet will be bustling with vessels in the next few years. The waters of Eclipse Sound are part of the greater Lancaster Sound region and provide summer habitat for an estimated 60,000 narwhal from the Baffin Bay population, the largest concentration of these whales in the world. Lancaster Sound is also an important traditional hunting ground for Inuit. Because of the natural abundance, Inuit communities are negotiating with Canada's government to establish a large marine protected area there.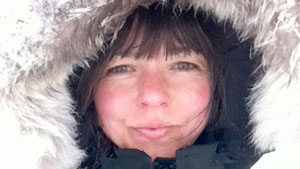 © Kristin Westdal
Marine biologist Kristin Westdal is prepared for near-whiteout conditions.
Our team included longtime Oceans North Canada partner, Alex Ootoowak, and Ben Savard, both residents of Pond Inlet. We set out from the town at 9 p.m. because the sun shines 24 hours a day north of the Arctic Circle at this time of year. Each snowmobile towed a qamutik—a traditional Inuit sled—loaded with food, fuel, tents and camping gear, hydrophones, and buoys and mooring equipment for the hydrophones. Despite the bad weather, we covered more than 500 kilometres (311 miles) in 24 hours, stopping at a cabin to sleep in the middle of the night.
Our two destinations for deployment were at the entrance to the inlet in 150 metres (about 500 feet) of water and partway down the inlet at a depth of 200 metres (656 feet). Luckily, when we arrived, we were able to find breaks in the ice, which was almost 2 metres (6.5 feet) thick and did not have to use an auger. One hydrophone was deployed through a large crack running across the inlet and the other through a seal breathing hole.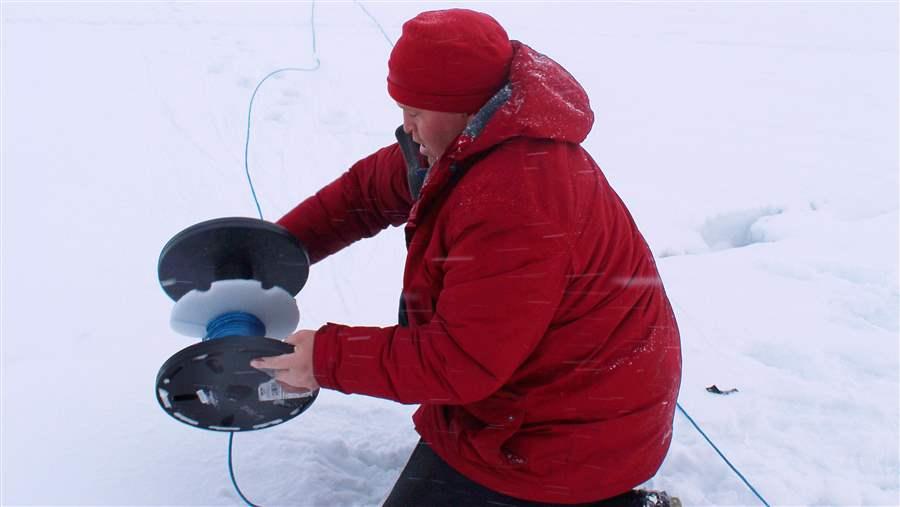 © Kristin Westdal
Alex Ootoowak unwinds more than 150 metres of rope before deploying the first hydrophone through the ice in Milne Inlet.
The devices will begin recording at the end of June and continue to monitor narwhal activity on a set schedule into the fall. We plan to pick up the hydrophones by boat in early October before the ice begins to form. Data logged on the devices will allow us to listen in on what the narwhal did over the summer, and that information can be shared with the community.