The Senate Energy and Natural Resources Committee today approved and sent to the Senate floor a bill to safeguard nearly 700,000 acres of wilderness in Montana's Beaverhead-Deerlodge, Lolo, and Kootenai national forests. Areas included in the legislation are the Pioneer Mountains, the Sapphire Mountains, Lost Creek and Lima Peaks, and additions to the Lee Metcalf, Anaconda-Pintlar, and North Fork Blackfoot-Monture Creek wilderness areas.

Introduced by Sen. Jon Tester and cosponsored by Sen. Max Baucus, both of Montana, the Forest Jobs and Recreation Act (S. 37) would designate new wilderness area in Montana for the first time in three decades. If passed, the measure would improve forest health and fish and wildlife habitat and protect the lands for hunting, fishing, hiking, and horseback riding.

For several years, The Pew Charitable Trusts has worked with partners in Montana, including timber interests, business leaders, sportsmen, and conservationists, to build support for this legislation. "There's a growing recognition we've gone a couple of Congresses without passing a lot of legislation, and there's a backlog building up," David Dreher, Pew's U.S. public lands officer, told the Missoulian this week. "Both houses have legislative priorities, and that creates a whole mix of things you can bring to create political support. With the Tester bill, you've got people working together to solve problems, and that doesn't get lost on people."
Earlier this year, the Bozeman Daily Chronicle offered praise for the Forest Jobs and Recreation Act:
The bill has garnered widespread support from the business community and many industry and recreation groups. According to one poll, 72 percent of Montanans favor the idea. Deadlocks over the disposition of Montana's public lands have prevented any significant action for decades. The Forest Jobs and Recreation Act deals with just two national forests. But as a product of compromise, the bill could serve as a template for the resolution of land management disputes throughout the state. Ideologues on both sides of this issue need to realize that arguments aren't won on the ends. They are won in the middle ground where compromise takes shape among independent-thinking voters. And that segment of the electorate is becoming increasingly disgusted with obstructionists. "We elect our leaders to accomplish things, not prevent things from getting done. And the Forest Jobs and Recreation Act is something worth doing.
In addition to this act, another bill to increase Montana's wilderness cleared the Senate Energy And Natural Resources Committee last month and is awaiting action by the full Senate. The Rocky Mountain Front Heritage Act (SB 364), sponsored by Sen. Baucus, would add 50,500 acres to the Bob Marshall Wilderness and 16,700 acres to the Scapegoat Wilderness. Two-hundred-and-eight-thousand acres of wilderness would be designated as a conservation management area, and noxious-weed eradication and prevention would be a priority on these protected lands.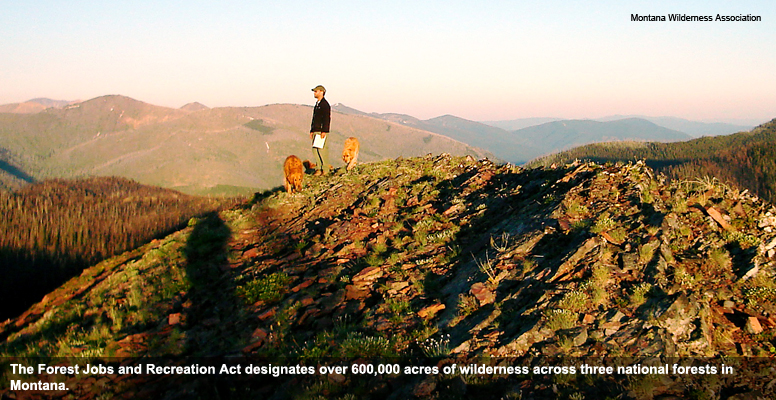 Learn more about the land and people working to protect it:
Video: 'This American Land' Series Features Wilderness in New Mexico, Montana, Other States