The Global Ocean Legacy Navigator: April 2013
Global Ocean Legacy Hero—Ignacio V. "Ike" Cabrera
Beginning with this issue of The Global Ocean Legacy Navigator, we will occasionally honor an individual who has made a significant contribution to marine conservation through his or her dedication to a Global Ocean Legacy marine reserve project proposal. The first recipient of our Hero recognition is Ignacio V. "Ike" Cabrera from Saipan. Ike was a passionate and dedicated advocate for the designation of the Marianas Trench Marine National Monument, and he continues to fight for better management and increased marine protection around the Commonwealth of the Northern Mariana Islands. Global Ocean Legacy managers Heather Bradner and Robert Mazurek presented Ike this honor on their recent trip to Saipan.
Like generations of marine conservationists before him, Ike grew up in a fishing family. But unlike most, his character was shaped by being born and raised on the remarkable island of Saipan in the Commonwealth of the Northern Mariana Islands (CNMI). Saipan is the largest of 15 tropical islands belonging to the Marianas archipelago in the western Pacific Ocean. Although "large" in this case means 115 square kilometers (about 44 square miles) of land sandwiched between sandy beaches on the western shore and rugged rocky cliffs jutting into the ocean on the east.
Ike grew up plying Saipan's pristine waters with his grandfather either gillnetting for tuna, bottom fishing for grouper, or spearfishing for his dinner. The ocean not only provided food and income for his family, but in many ways the ocean was a part of him.
Ike's love for the ocean and his environment led him to a job working for the CNMI's Environment Agency. This allowed him to make frequent visits to the Bird Island Sanctuary and Guguan Island, two of his favorite places and two of the Commonwealth's first nature reserves. There he saw first-hand the benefits of protecting the environment for future generations.
After rising through the ranks, Ike became the Environment Agency's director. And after twenty-three years of working for the government, he retired – at least officially.
Around this time, Global Ocean Legacy began promoting the importance of establishing a large, fully protected marine reserve around the northernmost islands of the Marianas archipelago. While enjoying retirement, Ike decided to play a public role in advocating for the monument and contributed his many skills and leadership to the effort. And, what a difference this made.
Ike helped launch Friends of the Monument, a grassroots organization that educated islanders about the need for increased marine protection around the Marianas Trench. Through his group, he collected signatures in favor of a new National Marine Monument and went to Washington, D.C., to advocate for such protection with legislators and White House staff. He is reported to have even "crashed" a wedding to increase the number of signatures, which he brought to Washington with him.
"For me, the most important thing was educating our people–and especially our youth–on the importance of the ocean environment," Ike said. "The obvious need for increased protection came out of those conversations."
All this hard work culminated in Ike's invitation to the White House in January 2009 to witness then-President George W. Bush signing the proclamation that created the Marianas Trench Marine National Monument.
"That was a proud moment," Ike said, "but there is still much more opportunity and work to be done." Ike refers to the fact that currently, the U.S. National Oceanic and Atmospheric Administration, or NOAA, is leading the effort to create the Monument's first management plan. A draft plan is scheduled to be released and available for public comment sometime this year.
Tristan da Cunha Expedition
Global Ocean Legacy manager Steve Cole travelled in November to one of the most remote, inhabited places on Earth—Tristan da Cunha. Located in the South Atlantic Ocean, the archipelago is about 2,400 kilometers (1,500 miles) from the nearest human settlement.
During his month-long stay, Steve lived with a local family and met with Tristan's residents to learn more about their way of life and the uniqueness of their home. He also explored the possibility of Global Ocean Legacy working with residents to protect the islands' rich and relatively undisturbed waters. Soon after Steve's return home, he received word that the islanders have agreed to work with Global Ocean Legacy in exploring the possibility of creating a very large marine reserve within the waters of the four islands that make up Tristan da Cunha's exclusive economic zone.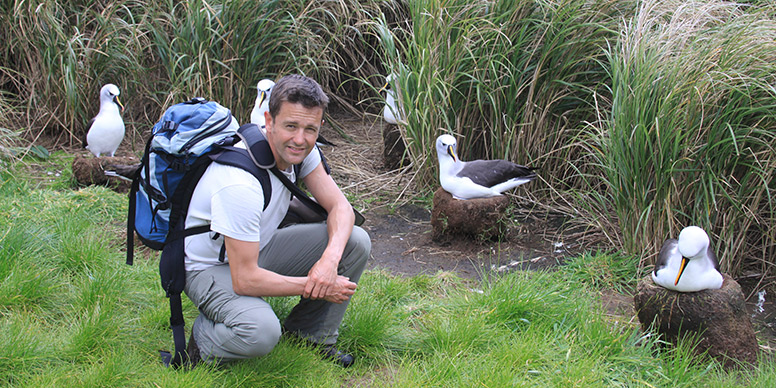 Pacific Connections
In ancient times, voyagers crossing the Pacific Ocean gave shape to the Polynesian Triangle, an area anchored by three island groups: Hawai'i, Rapa Nui (the indigenous name for Easter Island), and Aotearoa (the Māori name for New Zealand). But geography is only one important link shared by these Polynesian cultures; the ocean is another.
Global Ocean Legacy will spotlight the importance of their shared Pacific Ocean spaces from April 8 to 15 by organizing a Polynesian exchange in Aotearoa. During the weeklong visit, a delegation of representatives from Rapa Nui, mainland Chile, French Polynesia, and Aotearoa will gather to celebrate ancestral, cultural, and ocean connections. They will also explore options for the future management of their marine waters.
The next issue of The Global Ocean Legacy Navigator will feature highlights, with photos and videos, of this exciting exchange. Stay tuned!
Coral Sea Update
Progress continues towards finalizing Australia's Coral Sea as the second largest, fully protected marine reserve in the world, and the largest in the Pacific Ocean.
The Australian government is currently considering confirmation of a management plan for these waters. To coincide with this effort, the Protect our Coral Sea Coalition, of which Pew is a member, launched a print-ad campaign featuring Queenslanders from a range of backgrounds and ages thanking Australia's environment minister, Tony Burke, for establishing the Coral Sea Marine Reserve. This group of ads includes a recreational fisherman, a chef and restaurant owner, a diver and spear fisherman, and an operator of a tourism business.
In Case You Missed It…