The Legacy Navigator: May 2012
In this Issue:
---
Dear Friends,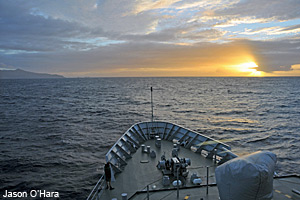 I'd like to wish you a happy, belated Earth Day and a warm welcome to Global Ocean Legacy's first bi-monthly newsletter.  Though we've only been celebrating Earth Day for 32 years, conservationists have had the vision and determination to protect special places on Earth for much longer.
It's been 140 years since Yellowstone National Park, the world's first great terrestrial park, was established in the western United States.  Since then, virtually every country on Earth has protected important sites for biological, cultural, geological, historic, and scenic reasons.  In contrast, conservation in the sea has taken a profoundly different course, with a remarkably small area of the world's ocean protected to date. 
As many of you know, Global Ocean Legacy was created to advocate for the conservation of the Earth's most important and unspoiled marine ecosystems through the establishment of very large, highly-protected marine reserves.  Our staff, working from offices in seven countries, is focused on securing the designation of at least 15 oceanic-scale, no-take marine reserves by 2022—thereby creating the first generation of the world's great ocean parks.  You can see our current projects here.
On behalf of the entire staff, I encourage you to explore some of our recent highlights. Also, feel free to pass this newsletter on to interested friends and colleagues. Over the coming months it will be filled with many new and exciting developments!
Warm regards,
Jay Nelson
Director, Global Ocean Legacy
Pew Environment Group
---
Marine Protection Around Easter Island: "The Belly Button of the World"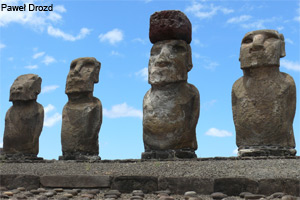 In 2011, Global Ocean Legacy began exploring the concept of a large marine reserve within the Easter Island Province's Exclusive Economic Zone (EEZ), in consultation with the Chilean central government and Rapa Nui representatives.
Located in the southeastern Pacific Ocean, Easter Island—or Rapa Nui, as the island, its community, and its language are known—lies nearly 2,200 kilometers (1,400 miles) from its closest neighbor, the Pitcairn Islands. The Chilean mainland is about 4,000 kilometers (2,500 miles) to the east.
World famous for its remarkable monolithic human figures, or moai, Easter Island is also recognized for its unique marine life.  These waters support wide-ranging populations of fish species such as tuna and swordfish. Ancient Polynesians expertly navigated these waters by the stars and the ocean, giving it the name "the belly button of the world."
Though still largely unexplored, the waters of Easter Island are known to contain geological hot spots and areas of rare biodiversity. Highly migratory fish species, hydrothermal vents, and seamounts ranging from 8.4 million to 13.1 million years old are found here.
A special territory of Chile, Easter Island covers a land area of 163 square kilometers (63 square miles) and is part of Chile's Valparaiso region.  It has a population of about 5,000 people, roughly half of whom are Rapa Nui of Polynesian heritage.  The province of Easter Island includes its namesake island and Salas y Gomez, lying 400 kilometers (250 miles) to the east, which holds spiritual importance for the Rapa Nui. Salas y Gomez is also home to the Motu Motiro Hiva Marine Park, declared by the Chilean government in 2010.  Together, Easter Island and Salas y Gomez are the only undersea mountains of the vast Salas y Gomez ocean ridge that emerge from the waves. The waters surrounding both islands out to 200 nautical miles cover an expanse of approximately 700,000 square kilometers (270,271 square miles).
From an office on Easter Island, our project is beginning the process of commissioning cultural, environmental, and economic analyses of the province.  Stay tuned for updates in future issues of this newsletter.
Easter Island at a Glance:
Ancient Polynesians called Easter Island "Te pito o te henua," or "The belly button of the world," and "Mata ki te rangi," meaning "Eyes that look at the sky."
Declared a UNESCO World Heritage site in 1995 Easter Island has almost 900 moais (monolithic human figures), averaging 4 meters (13 feet) and weighing 12 tons.
A special territory of Chile, Easter Island covers an area of 163 square kilometers (63 square miles) with a population of about 5,000, roughly half of whom are Rapa Nui of Polynesian heritage.
The waters surrounding Easter Island and Salas y Gomez island out to 200 nautical miles, cover an expanse of approximately 700,000 square kilometers (270,271 square miles).
The Easter Island Province is home to hydrothermal vents, 40 ancient seamounts, deep-sea stony corals, and sponge fields.
---
Submissions Period Ends for Coral Sea Draft Plan
In 2008, Global Ocean Legacy initiated a Coral Sea campaign in partnership with three Australian conservation partners. Our goal was to work with the Australian government to establish a Coral Sea Heritage Park—a large no-take marine reserve that would protect its abundant marine life, spectacular coral reefs, remote islands, towering underwater mountains, and deep-sea canyons.
Four years later the campaign now has 15 partner organizations and is in the later stages of its work. Late last year the Australian government released a draft Coral Sea plan for public consultation. That draft identified an area of roughly 490,000 square kilometers (189,000 square miles) as a no-take marine reserve (the Coral Sea Marine National Park). Combined with the 17,290 square kilometers (6,676 square miles) of existing no-take reserves, the draft proposes full protection for just over half of the Coral Sea. However, many of the jewels in the crown of the Coral Sea were excluded—only two of about 25 coral reefs are within proposed no-take waters. 

Learn More:
Before the February deadline for public comments, Global Ocean Legacy's Protect Our Coral Sea campaign secured more than 400,000 "submissions" to the government in favor of stronger protection for the area.  This undoubtedly represents one of the largest public consultation responses in Australian history.
Moreover, before the submission period closed, more than 300 eminent scientists from Australia and from 21 other countries signed a statement urging the Federal Government to create the world's largest no‐take marine reserve in the Coral Sea. And just last month a group of well-known Queenslanders, including two former premiers, an Australian of the Year, two Queenslanders of the Year, various actors, musicians, scientists, and a celebrity chef wrote an open letter to Prime Minister Julia Gillard calling for greater protection of the Coral Sea.
We expect the government to announce its decision sometime in mid-2012. This plan will then go out for another public consultation as part of the statutory process to declare a reserve. We expect the final decision will be unveiled before the end of the year.
---
In the Field
Journey to the Pitcairn Islands 
This past month, we partnered with the National Geographic's Pristine Seas project on a scientific expedition to the remote waters of the Pitcairn Islands in the South Pacific. The 13-member team of expert scientists, technicians, documentary film makers, and a representative from Global Ocean Legacy traveled to the Pitcairn archipelago over four weeks to visit the community and survey Pitcairn and the three other uninhabited, remote islands. The purpose of the trip was to conduct the first comprehensive, quantitative assessment of the reef ecosystems and marine life of this British archipelago, and film and photograph for National Geographic media.
The scientific findings of the expedition will significantly improve knowledge of the area's relatively unspoiled, yet fragile marine environment.  Furthermore, when the National Geographic documentary about the Pitcairn Islands' waters is completed by the end of the year, it will further raise the international profile of this marine ecosystem.
Heather Bradner, Global Ocean Legacy's representative on the expedition, used the voyage as an opportunity to follow up on an initial project visit to Pitcairn in early 2011, which first introduced the idea of a large marine reserve in Pitcairn's vast waters. After a green light from the Pitcairn Island Council to explore the concept of a marine reserve together, Global Ocean Legacy began work on several research projects and the collaboration with National Geographic. The most recent trip allowed for an opportunity to spend almost two weeks talking with islanders, sharing knowledge, and getting local feedback.  We hope to return to Pitcairn later this year to continue working with the community.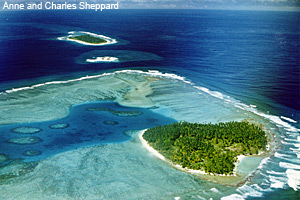 Earlier this year an important science expedition journeyed to the Chagos Marine Reserve, the largest in the world covering 640,000 square kilometers (247,000 square miles).  The reserve encompasses the Chagos Archipelago, a U.K. Overseas Territory in the Indian Ocean, that consists of more than 50 individual islands, coral atolls, and seamounts.
 
Twelve scientists and supporting team members, including a Chagossian youth, participated in the first full scientific expedition since the no-take reserve was established in April 2010. The trip launched what is hoped will be a long-term monitoring program, as well as an exploration of the best and most resource-efficient methods to monitor and manage the reserve. 
In 2007, Global Ocean Legacy first proposed that the entire Chagos Archipelago be designated a no-take marine reserve and, in collaboration with eight U.K. conservation organizations, this concept was developed and presented to the government.  The official designation of the Chagos Marine Reserve, created two years ago this month, is a conservation legacy almost unrivaled in scale and significance. 
---
In Case You Missed It:
---
Sign up to get the Legacy Navigator delivered directly to your inbox!