Estefania P. Bello, Ph.D.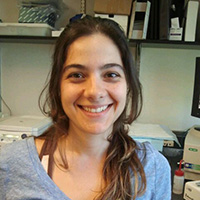 Title

Department

Institution

Address

Paraguay 2155, Piso 7

City

Country

Phone

(+54) 11 5285-3322

Email

Website

https://ifibio-uba.conicet.gov.ar/

Research field

Award year

Country of origin

Mentor name
Research
Schizophrenia is a severe disease that causes a range of symptoms from delusions and hallucinations to social withdrawal, and cognitive symptoms like deficits in attention and in working memory. While delusions and hallucinations are greatly improved with antipsychotic medication, there is no current treatment for the cognitive and social withdrawal symptoms. Clinical studies have implicated the neurotransmitter dopamine in the disease's development, but have not pinpointed its role in causing specific symptoms. In Dr. Kandel's lab, we are working to gain a better understanding of dopamine's influence on schizophrenia, specifically its behavioral and cognitive symptoms. To do so, we use an electrochemical method called fast-scan cyclic voltammetry (FSCV) to measure dopamine release in the brains of two mouse models of schizophrenia. This work will shed light on how changes in dopamine signaling affect schizophrenia-related behaviors and could lead to possible treatments for its previously unaddressed symptoms.