Sohini Ramachandran, Ph.D.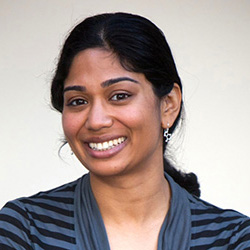 Title

Department

Institution

Address

80 Waterman Street, Box G-W

City, State, ZIP

Phone

(401) 863-9701

Email

Website

http://www.brown.edu/Research/Ramachandran_Lab/

Research field

Award year
Research
Our laboratory uses mathematical modeling, applied statistical methods, and computer simulations to make inferences about aspects of human population histories from extant individuals' genetic variation. Since the emergence of modern humans in Africa, human demographic history has been complex and nonstationary. Human populations have, for example, grown rapidly, split apart, migrated over large distances, experienced isolation, and mixed during historical colonization events. We are interested in the relative roles of human demographic history and natural selection in the patterning of human genetic variation. The advent of large genome-wide datasets and population-scale whole-genome sequences offer both new challenges and opportunities to learn about deep human history and the genomic underpinnings of diseases in modern humans.