Thaddeus S. Stappenbeck, M.D., Ph.D.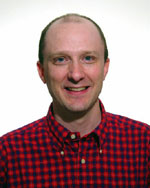 Title

Department

Institution

Address

660 South Euclid Avenue
3001 Regis

City, State, ZIP

Phone

(314) 362-4214

Email

Website

http://immunobiology.wustl.edu/stappenbeck-thaddeus.asp

Research field

Award year
Research
We study the role of intestinal epithelial stem cells and their progeny in development and disease (such as inflammatory bowel disease and colon cancer). A critical function of these cells is to generate and continuously maintain an expansive epithelial barrier. Our goal is to determine how this barrier rapidly expands during development and is preserved when breached. Our working model is that communication of the epithelial stem cells with the underlying mesenchymal cells (the stem cell niche) drives these processes. We use the mouse intestine as an in vivo system model system. To disrupt the epithelial barrier, we use combinations of genetic, pharmacologic, lumenal and physical manipulations (the latter using biopsies visualized with a colonoscope designed for mice). We are currently defining the molecular nature of these stem cell/niche interactions under a variety of conditions that damage the colonic epithelial barrier. In addition, we are investigating the role of growth factors secreted by the epithelial stem cells that control fibroblast differentiation in the stem cell niche.