Jens Lykke-Andersen, M.S., Ph.D.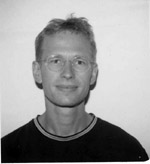 Title

Department

Institution

Address

9500 Gilman Drive # 0322

City, State, ZIP

Phone

(858)822-3659

Email

Website

http://www.biology.ucsd.edu/labs/lykkeandersen/

Research field

Award year
Research
Our laboratory focuses on several aspects of mRNA decay regulation in human cells: 1) Regulation of ARE-mediated mRNA decay: To understand how the TTP-family of ARE-binding proteins activate mRNA decay, we are investigating how they communicate with enzymes involved in mRNA decay. 2) The mechanism of Nonsense-Mediated Decay: We are currently conducting experiments to understand how the EJC communicates with the hUpf proteins and the terminating ribosome. 3) Deadenylation in human mRNA decay: We are currently trying to establish the role of the deadenylases in the ARE- and nonsense-mediated decay pathways. 4) Decapping in human mRNA decay: We identified a human decapping complex that contains at least two proteins, hDcp1 and hDcp2, and we showed that the hDcp2 protein possesses catalytic activity. We affinity purified the decapping complex from a human cell line, and identified three new proteins in the complex. We are currently testing the importance of these novel proteins in mRNA decapping and decay.