Carsten G. Bönnemann, M.D.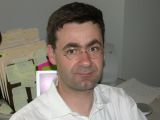 Title

Department

Institution

Address

35 Convent Drive
Building 35, Room 2A-116 MSC 3705

City, State, ZIP

Phone

(301) 594-5496

Email

Website

http://neuroscience.nih.gov/Lab.asp?Org_ID=573

Research field

Award year
Research
The overall aim of the laboratory is to better understand the interactions between muscle and its extracellular matrix and the role this interface plays in diseases of muscle. We are approaching this question coming from the muscle membrane as well as from the extracellular matrix taking our leads from different types of limb-girdle muscular dystrophy (LGMD) and congenital muscular dystrophy (CMD).