Michael J. Overduin, Ph.D.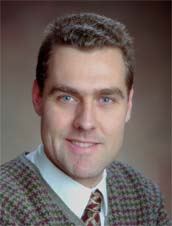 Title

Department

Institution

Address

333 Medical Sciences Building

City, State, ZIP

Country

Phone

+44(0)121-414-3802

Email

Website

https://www.ualberta.ca/biochemistry/people/faculty/michael-overduin

Research field

Award year
Research
Our laboratory seeks to understand how proteins insert into membranes, recognize and transduce signals, and assemble into complex molecular structures. FYVE domains are found in 38 human proteins, and recognize phosphatidylinositol 3-phosphate (PI3P). Due to their compact size, stable structures and exquisite specificity, they have become a paradigm for understanding membrane recognition by peripheral membrane proteins. The structures of the free, PI3P-bound and lipid micelle inserted states of the EEA1 protein's FYVE domain have been determined, revealing the determinants for binding to the PI3P ligand, electrostatic interactions with other lipid head groups, and elements which insert into the bilayer. We also discovered an apparent pH-dependent binding switch formed by an adjacent pair of histidines, and determined the orientation of the protein on a micelle using paramagnetic relaxation effects and HADDOCK software. Currently our lab is interested in 4 main projects: 1) Tetraspanin signaling 2) Sla1 homology domain 1 (SHD1) adaptor 3) GTPase signaling 4) SH2 domains.