Lilianna Solnica-Krezel, Ph.D.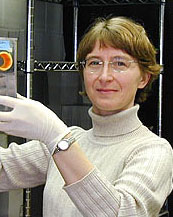 Title

Department

Institution

Address

Campus Box 8103
660 South Euclid Avenue

City, State, ZIP

Phone

(314) 362-8768

Email

Website

http://devbio.wustl.edu/faculty/faculty-members/lilianna-solnica-krezel

Research field

Award year
Research
We are interested in the cellular and molecular genetic mechanisms underlying vertebrate gastrulation, a crucial period of embryogenesis during which the germ layers are formed and then shaped into the vertebrate body plan. Gastrulation entails a combination of inductive events that specify cell identities with massive cell movements and rearrangements that generate and shape the germ layers. The complex and dynamic nature of gastrulation makes it a challenging but intellectually fascinating object of study. In humans, 25-50% of pregnancies end in early miscarriages of largely unknown genetic origin. Moreover, recent studies demonstrate that the molecular regulation of tumor growth and metastasis is strikingly similar to that of morphogenetic processes such as gastrulation, underscoring the practical significance of gastrulation research. We are addressing the mechanisms of gastrulation in the zebrafish (Danio rerio), a system that affords a powerful combination of forward and reverse genetic analyses with embryological and molecular methods.