Pew Applauds First Routing Measures for Ships in Arctic
International Maritime Organization adopts U.S. proposed area protections, joint route with Russia
WASHINGTON—The Pew Charitable Trusts today applauded the International Maritime Organization (IMO), a U.N. agency, for adopting the first two-way route for ships transiting the Arctic. The IMO accepted a joint Russia-U.S. proposed route through the Bering Strait and the Bering Sea, as well as three Areas to Be Avoided that were submitted by the U.S. Coast Guard based on a study of the region's vessel traffic trends as well as its ecological and cultural values.
The region is one of the most productive marine ecosystems on the planet and home to Indigenous peoples who have followed a traditional way of life along the Bering Sea shores for millennia. The area hosts one of the world's major marine migrations, which includes bowhead and beluga whales, Pacific walruses, and ice seals, as well as spectacled eiders and many other seabirds.
Eleanor Huffines, senior officer with Pew's U.S. Arctic program, issued the following statement:
"These first-ever vessel routing measures—Areas to Be Avoided and a two-way route—through the Bering Sea and the Bering Strait are a significant step toward safer shipping in the Arctic. Large vessels will now have lanes charted to modern standards and Areas to Be Avoided that can keep them from navigating too close to ecologically sensitive underwater habitat. These measures will keep vessels on the safest course and reduce the risk of them running aground, colliding, or interfering directly with subsistence hunting."
###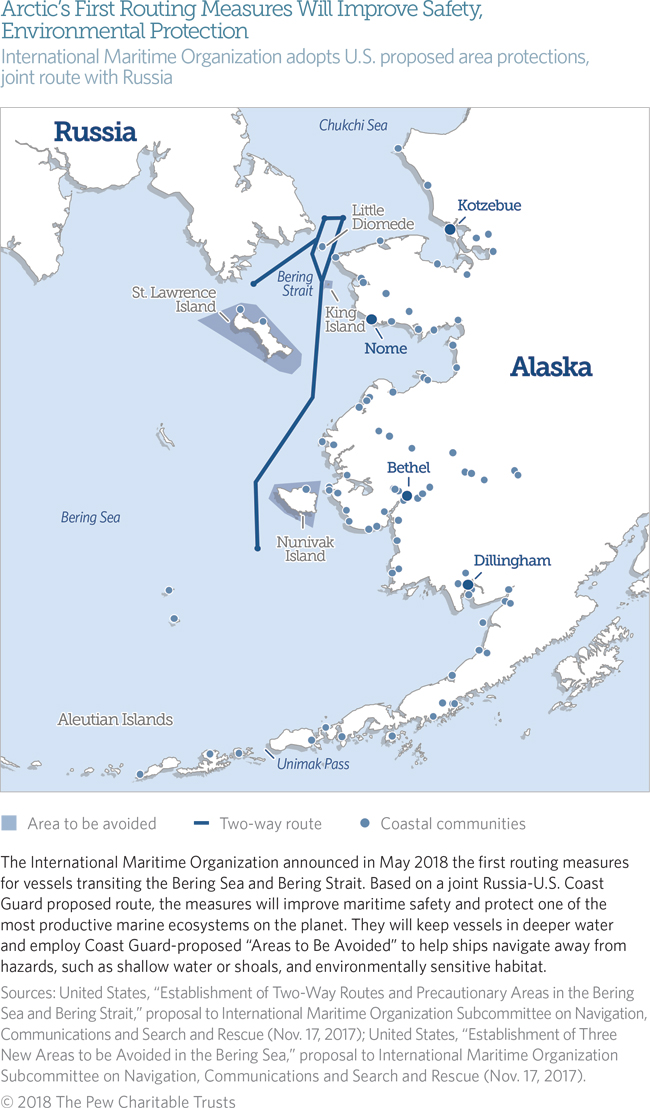 Background
In 2012, Pew, in collaboration with seven conservation organizations, started working with the Coast Guard to provide the best available science to inform development of the agency's Port Access Route Study.
The Coast Guard is responsible for designating safe access routes for vessels proceeding to and from U.S. ports.
The IMO has jurisdiction over vessels transiting international waters.
The Pew Charitable Trusts is driven by the power of knowledge to solve today's most challenging problems. Learn more at pewtrusts.org.