New Coast Guard Measures Mean Safer Shipping in the U.S. Arctic
Retired Vice Adm. Roger Rufe explains how guidance can protect ecosystems and communities
The U.S. Coast Guard finalized a Port Access Route Study for Alaska's Bering Sea and Bering Strait region that outlines a preferred route for vessels transiting between the Pacific and Arctic oceans as well as additional safety measures for shipping traffic. Eleanor Huffines of The Pew Charitable Trusts' U.S. Arctic project spoke with retired Coast Guard Vice Adm. Roger Rufe—whose distinguished career included service as commander of the 17th District in Alaska—about the study, the recommendations, and next steps.
Steep rocky cliffs on the eastern shore of Little Diomede Island off Alaska's Arctic coast provide habitat for seabirds that feed in Bering Strait waters.
© ShoreZone
Q: What is a Port Access Route Study?
A: Under the Port and Waterways Safety Act, the Coast Guard is responsible for designating safe access routes for vessels proceeding to and from U.S. ports. Before making a designation, the Coast Guard conducts a Port Access Route Study—in coordination with interested stakeholders—to determine if there is a need and to reconcile any proposed routes with other waterway uses.
Q: Why did the Coast Guard conduct such a study for the Bering Strait region?
A: Continued retreat of summer sea ice in the Arctic has led to an increase in shipping traffic through the Bering Strait, a relatively narrow chokepoint between Russia and Alaska. All vessels transiting between the Arctic and Pacific must pass through the strait, so the Coast Guard became concerned about an increased risk of groundings and collisions with potential loss of life, oil spills, and impacts on the Arctic ecosystem and indigenous communities in Alaska. These threats are especially challenging in the Arctic due to the remoteness of the region, long distances from response resources, lack of infrastructure, and difficult, often rapidly changing weather conditions.
Q: What did the Coast Guard recommend?
A: The Coast Guard is recommending a two-way route approaching and transiting the Bering Strait. While the vast majority of Arctic waters rely on outdated maritime charts, the recommended route was recently surveyed and shown to provide adequate water depths and to be free of hazards. Also recommended are several Areas to Be Avoided (ATBAs), places that are hazardous or hold important ecological or cultural value. For example, the waters around St. Lawrence Island are culturally significant and important for wildlife like seabirds, walrus, and seals, so the ATBA recommendation will work to minimize disturbances. These two measures—the route recommendation and ATBAs—complement each other, because vessels may have to divert from the route due to ice or for other safety concerns, and ATBAs help reinforce where not to go.
The recommendations apply to vessels 400 gross tons and larger. Basically, that's larger than a tugboat, so it applies to bigger ships. This helps small-boat users and subsistence hunters by keeping the larger ships on a predictable course.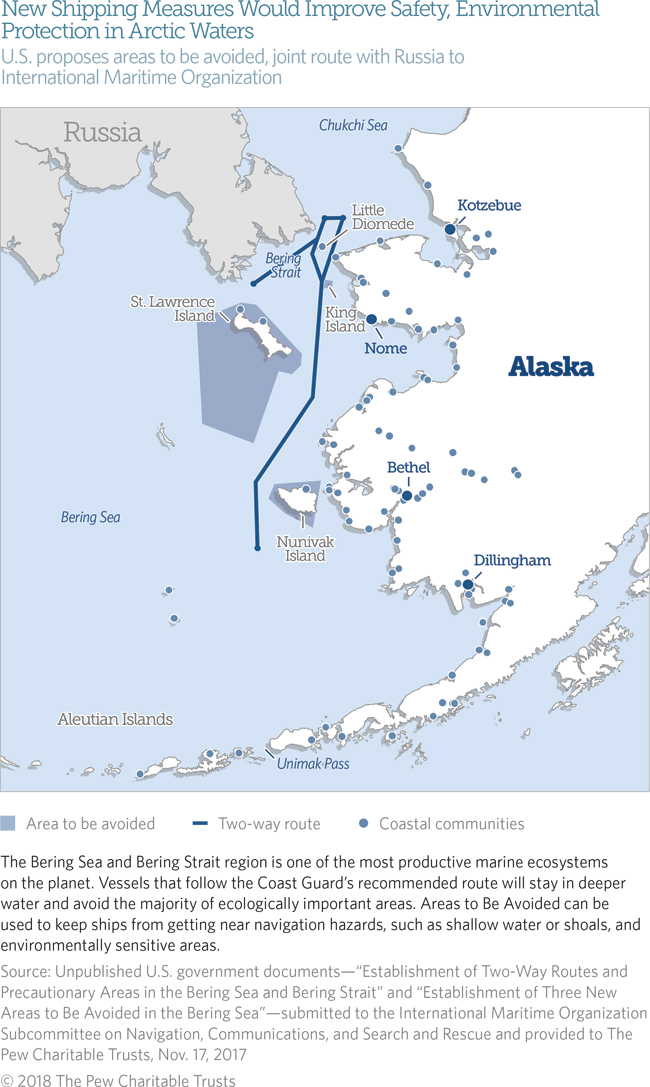 Q: How will the recommendations be enforced?
A: The Areas to Be Avoided and route are recommendations; they are voluntary. That said, ships will want to abide by them because they reflect the safest options, and prudent mariners will typically look for the least risky route. The Coast Guard published the recommendations in a Marine Safety Information Bulletin to ensure that vessel operators are aware of the recommended route and ATBAs.
The Coast Guard has also submitted a joint routing proposal, in cooperation with Russia, and a separate proposal for three ATBAs in U.S. waters to the International Maritime Organization—the United Nations organization that creates and maintains international regulations for ships—to promote broad awareness and acceptance of the measures throughout the international maritime community. Member states will vote in spring 2018 on whether to adopt the proposal, and the U.S. and Russia are continuing discussions for a transboundary ATBA in the Bering Strait.
It is important to note that even when voluntary, safety measures like ATBAs have a very high compliance rate among commercial vessel operators.
Q: Does increased Arctic ship traffic raise other concerns that weren't covered by the recommendations?
A: Yes, but this is a good first step. Communities have raised concerns that still need to be addressed, including additional impacts from transiting vessels that may be harmful to fish, wildlife, and coastal communities, such as waste discharges and ship strikes; the need for better communications, weather forecasting, and updated maritime charts; and better oil spill response capacity. And while this study addressed the area of greatest risk, the Coast Guard should look at doing a similar review starting where this study leaves off, in the southern Chukchi Sea, to address the risks in the U.S. Arctic Ocean from the north coast of Alaska to the border with Canada.
Learn more about the northern Bering Sea and Bering Strait region: