The Pew Charitable Trusts' Ernesto Escobar joined Senator Francisco Chahuán and Rapa Nui representatives from Easter Island at a press conference today to call for the creation of a large-scale marine reserve in Easter Island's Exclusive Economic Zone.
The announcement came in conjunction with recent satellite evidence that a number of vessels are suspected of conducting illegal fishing activity in Easter Island's waters. SkyTruth, a U.S.-based non-profit organization that specializes in applying satellite-based remote sensing technologies to environmental issues, performed the monitoring work. Escobar, who directs Pew's Global Ocean Legacy's Easter Island project, issued this statement:
"This evidence demonstrates the urgent need for surveillance and enforcement in Easter Island's waters. SkyTruth's important monitoring work helps to pinpoint where suspected illegal fishing activity is taking place and when it is happening so that surveillance efforts can be targeted and enforcement action taken.
"The establishment of a large marine reserve in Easter Island's Exclusive Economic Zone would help protect the Province's waters while also ensuring that traditional Rapa Nui fishing practices remain not only possible, but also viable. A marine reserve would also help preserve the Easter Island's unique and fragile oceanic biodiversity from illegal fishing activity. Now is the time to create a large marine reserve and help protect the waters of Easter Island and the local fishing practices of the Rapa Nui."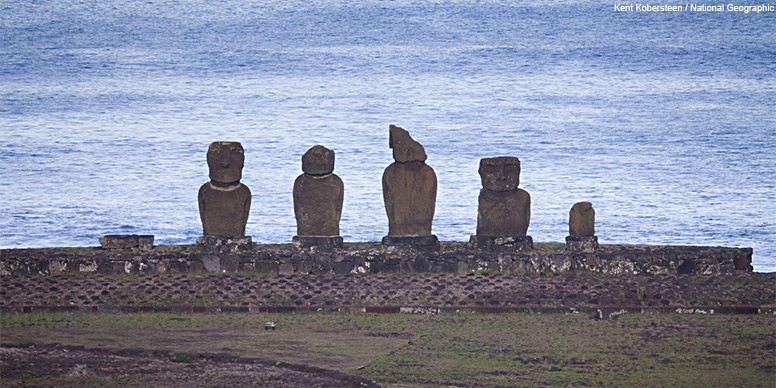 ---

Map of possible illegal, unreported, and unregulated fishing vessels in Easter Island Province between January and October 10, 2013. Map credit: GreenInfo Network, 2013.
Editors' Note:
Since January 2013, SkyTruth's monitoring efforts have detected 42 unidentified vessels within and just beyond Easter Island's Exclusive Economic Zone. Of this figure, 25 of these vessels were detected within Easter Island's Exclusive Economic Zone and may be conducting illegal and unreported fishing activity. This information may support the Rapa Nui community's long-time claim that foreign vessels are fishing illegally in Easter Island's waters.
Media materials, including data from SkyTruth's monitoring work for Easter Island's waters, are available here.
More information on Pew's Global Ocean Legacy work in Easter Island is available here.
The Pew Charitable Trusts is driven by the power of knowledge to solve today's most challenging problems.