The Southern Ocean: Where Sport, Diplomacy, and Marine Protected Areas Meet
Pew hosts an expert discussion on the need to create a network of MPAs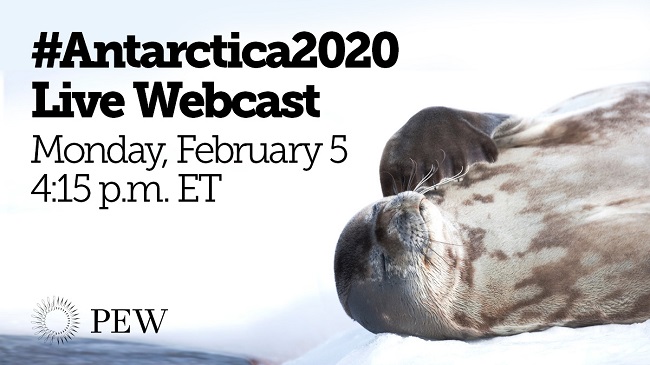 Return to this page Monday at 4:15 p.m. ET to watch the webcast.
An ocean advocate, a cold water swimmer, a champion hockey player-turned-politician, and Costa Rica's former president will discuss the international collaboration that led to the creation of a marine protected area (MPA) in the Ross Sea off Antarctica in 2016 and their efforts to establish a network of MPAs around the continent by 2020.
The Pew Charitable Trusts is hosting the discussion with José María Figueres, a former president of Costa Rica; Lewis Pugh, the U.N. patron of the ocean and cold water swimmer; Slava Fetisov, a member of the Russian Duma and Olympic gold medalist hockey player; and Karen Sack, the managing director of Ocean Unite.
The Ross Sea MPA—the world's largest—safeguards critical habitat for Adélie and emperor penguins, Weddell and crabeater seals, toothfish, and killer whales, in addition to many prey species, such as Antarctic silverfish and krill. The designation is helping to protect the Ross Sea's ecosystem and providing a vital global reference area for scientists studying the impacts of climate change.
Andrea Kavanagh, director of Pew's protecting Antarctica's Southern Ocean campaign, will moderate the panel and share details about the campaign's efforts to conserve the Antarctic. Pew is working with the Commission for the Conservation of Antarctic Marine Living Resources and its member governments to establish a network of large marine protected areas around Antarctica. In addition to advocating for fully protected marine reserves, Pew supports the development of ecosystem-based fisheries management measures for the Antarctic krill fishery to minimize competition with species that rely on these crustaceans for food.
Join the conversation by following #Antarctica2020 on Twitter.
Location:
The Pew Charitable Trusts
901 E Street NW
Washington, DC 20004