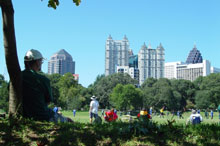 The Baltimore City Health Department conducted an HIA of the West North Avenue Streetscape Plan, an urban redevelopment project for a major east-west corridor in the city. The HIA sought to determine the impacts of alternative streetscape design features on the health of residents and to identify design priorities that would promote community health.
Consultation with community members revealed five areas of greatest concern to residents: crime, social cohesion, commercial development, walkability, and housing prices. The HIA report recommended that the plan address these issues by including installation of sidewalk and bus stop lighting, development of vacant buildings for housing and commercial use, conversion of empty lots into community gardens and playgrounds, redevelopment of blocks and lots associated with the sale of illicit drugs, and planting of trees and plants along sidewalks. The report also recommended that the city implement protections against displacement, such as tax credits for current residents and creation of low-income housing units.
The HIA was funded by the Centers for Disease Control and Prevention's Healthy Community Design Initiative.