6 Steps to a More Flood-Resilient West Virginia
Findings from Pew-led symposium prompts ideas for improving infrastructure, leveraging nature, and accessing funding
6 Steps to a More Flood-Resilient West Virginia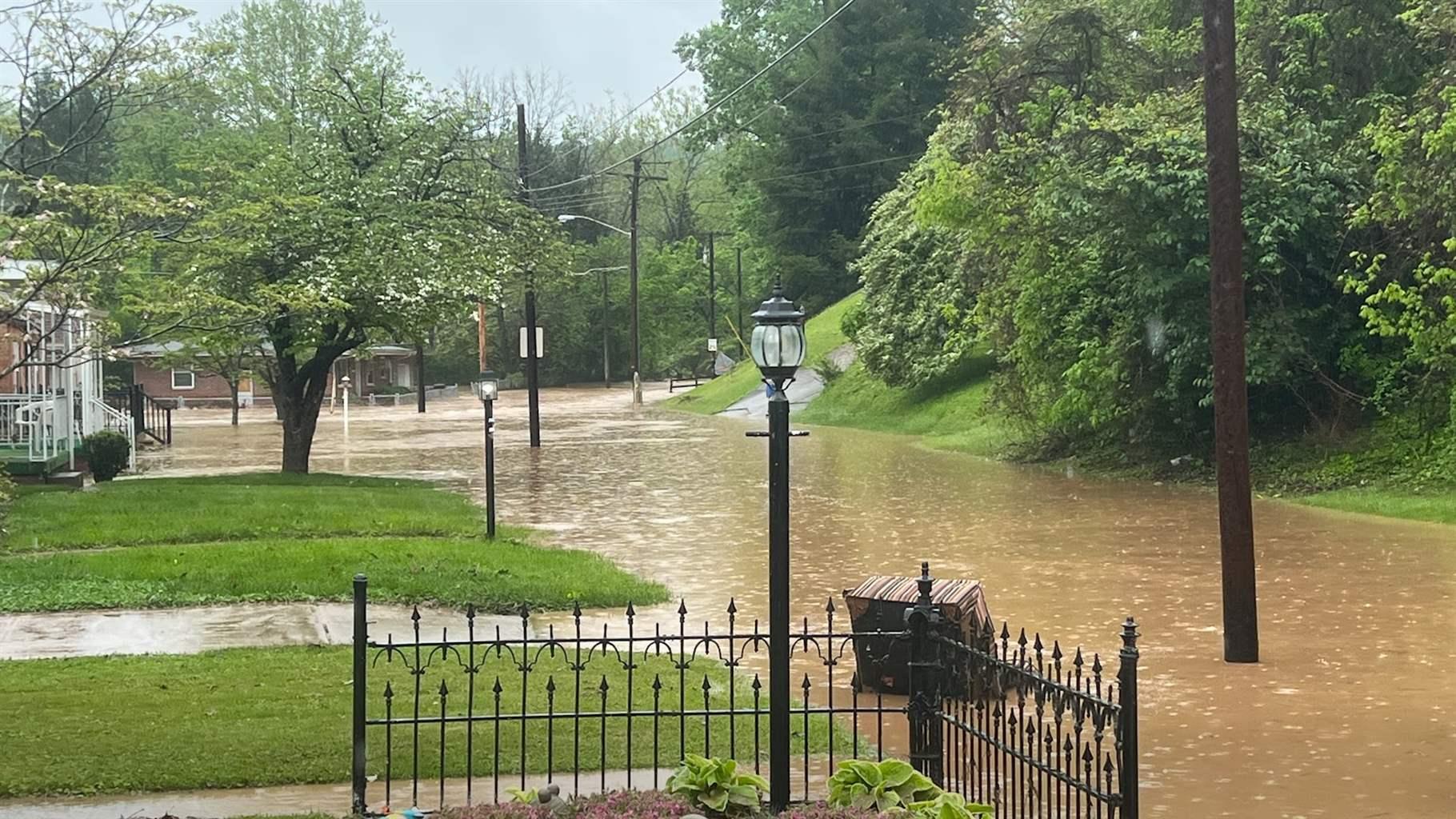 Flooding is an ongoing challenge in West Virginia, where the topography—steep hillsides and mountains creased with rivers, streams, and narrow valleys—often sends floodwaters rushing through communities. Two factors are driving the flood risk here even higher: an increase in severe rain, driven by climate change, and development that is both minimizing the landscape's ability to absorb excess water and putting more people in harm's way when floods do occur.
Earlier this year, flood resilience experts from across West Virginia joined The Pew Charitable Trusts, SBP—a national nonprofit organization focused on disaster recovery and resilience—and the State Resiliency Office for a two-day symposium to find solutions and update the state's flood protection plan. Federal, state, and local practitioners joined outside experts to examine root causes and drivers of flood risk in some of the state's most vulnerable communities and develop new solutions to West Virginia's current and future flood challenges.
Six prominent themes emerged during the symposium. Pew believes these should be part of the updated plan and should guide statewide resilience action.
1. Build capacity at the state and local levels.
Skilled and trained staff who are ready to adopt and implement the revised flood plan are needed at the city, county, and state levels. Symposium participants suggested the state government partner with the Association of State Floodplain Managers Certified Floodplain Manager Program to offer West Virginia's flood plain managers specific training that reflects the state's complex topography.
Participants also voiced the need to boost local capacity to apply for federal flood mitigation funding and advance community-led planning in the most vulnerable places. Such efforts could include expanding educational opportunities for local and state officials, flood-preparedness professionals such as engineers, and the public to build broad understanding of flood risk and response.
2. Improve coordination across state government.
Participants expressed the need for the state to identify a single agency to coordinate flood resilience efforts—including data-sharing—across state and local agencies. Since floodwaters do not respect state or county lines, the state has a vital role to play in coordinating with local communities and across watersheds.
Additionally, participants noted the need to clarify which state offices are responsible for various aspects of flood resilience, from response and recovery efforts to long-term planning and implementation, and for applying for federal funding through initiatives such as the Federal Emergency Management Agency's Flood Mitigation Assistance program. Moreover, many symposium attendees cited the importance of detailing how specific state agencies will assume responsibilities toward implementation of an overarching flood protection plan.
3. Implement flood-ready infrastructure.
Participants cited numerous infrastructure issues, including undersized culverts, vulnerable bridges, and inadequate stormwater systems that are often overwhelmed by runoff. Proposed solutions include updating aging and poorly maintained storm drains with grate designs to prevent debris buildup and investing in maintenance and monitoring to prevent clogs. The state should also update any system that can fail in a flood, including water and wastewater, energy, and transportation networks. Finally, infrastructure upgrades should be designed to withstand the increasingly intense rainfall that experts are predicting for the future.
4.Promote nature-based solutions.
Several attendees emphasized the role West Virginia's landscapes can play in flood resilience and adaptation. Such nature-based solutions and green infrastructure include protecting wetlands and restoring streams to their natural state to increase the landscape's capacity to hold and move floodwaters. The West Virginia state government should explore incentives that broaden the application of these nature-based approaches. This might include state funding for resilience projects that emphasize nature-based designs and programs that help communities evaluate opportunities for nature-based flood solutions at small and watershed scales to address flooding.
5. Buy out properties in flood-prone areas.
West Virginia has a long and successful history of voluntary buyouts that help residents relocate from areas with high flood risk. Participants suggested more action in this vein, potentially by having localities or the state acquire delinquent properties in flood-prone areas and converting the land to greenspace, which in turn could weather—and absorb—floodwaters without risking lives or property damage. Buyouts could cover entire blocks or communities, and be tied to incentives for development in higher, drier, and safer locations.
6. Identify sustainable funding sources to implement the plan.
Symposium attendees emphasized the need to identify reliable funding sources to implement the plan, and to do so during the planning process. A lack of funding was a major reason parts of the 2004 plan were not implemented. Participants suggested that funding of resilience activities would garner more public support if the State Resiliency Office and supporting agencies like the Emergency Management Division engage the public in development of the new plan.
In addition to the necessary capacity building and technical assistance, nature-based solutions, and buyouts mentioned above, participants noted state resources should assist communities recovering from non-declared disasters, and provide the matching dollars often needed for federal risk mitigation and resilience grant programs.
The symposium offered an important opportunity for flood experts and state officials to collaborate on how to ensure West Virginia's new flood protection plan better protects residents, businesses, and infrastructure from the nation's most costly natural disaster. Following the six steps outlined above will make West Virginia more resilient.
Kristiane Huber is an officer with The Pew Charitable Trusts' flood-prepared communities project and Berenice Davila Gonzalez is a Pew RAY Outreach and Advocacy Fellow and a program assistant supporting the flood-prepared communities, international fisheries, and U.S. public lands and rivers projects.