Los científicos detectaron que no se informa del 30 % de la captura mundial de peces
¿Cuánto pescado estamos capturando en realidad?
© The Pew Charitable Trusts
Según indica un nuevo estudio, el 30% de las capturas realizadas en todo el planeta podrían no declararse. Actividades como la pesca artesanal y de subsistencia, además de la pesca ilegal, a menudo no se incluyen en las estadísticas oficiales, lo cual impide conocer realmente el alcance de la actividad pesquera a nivel mundial. Actualmente los científicos estiman que las capturas mundiales ascienden a 109 millones de toneladas métricas (t) al año.
En un nuevo estudio, numerosos científicos liderados por la organización Sea Around Us han calculado que las capturas anuales a nivel global ascienden aproximadamente a 109 millones de toneladas métricas, unos 32 millones más que las declaradas oficialmente en 2010 por más de 200 países y territorios.
Estas nuevas estimaciones proporcionan a los países un mejor cálculo de sus volúmenes de captura que el que tenían anteriormente. Joshua Reichert, vicepresidente ejecutivo y director de las iniciativas medioambientales de The Pew Charitable Trusts, considera que este trabajo de investigación es un "estudio innovador que confirma que estamos sacando de nuestros océanos muchos más peces de lo que sugieren los datos oficiales y proporciona una panorámica general matizada de la cantidad de pescado que se pesca en los océanos del planeta todos los años".
En el estudio, publicado el 19 de enero en la revista Nature Communications, el autor principal Daniel Pauly y el coautor Dirk Zeller han recopilado información con la ayuda de cientos de científicos de todo el mundo. Este equipo de investigadores examinó datos sobre las capturas de más de 200 países y territorios procedentes de una amplia variedad de fuentes, incluyendo literatura académica, estadísticas industriales, expertos en pesca locales, agentes del orden, datos de población humana y otros registros como por ejemplo la documentación de las capturas de los turistas. A continuación, utilizando un método denominado "reconstrucción de capturas", el equipo de Sea Around Us calculó las capturas totales, incluyendo aquellas que no figuraban en los datos oficiales.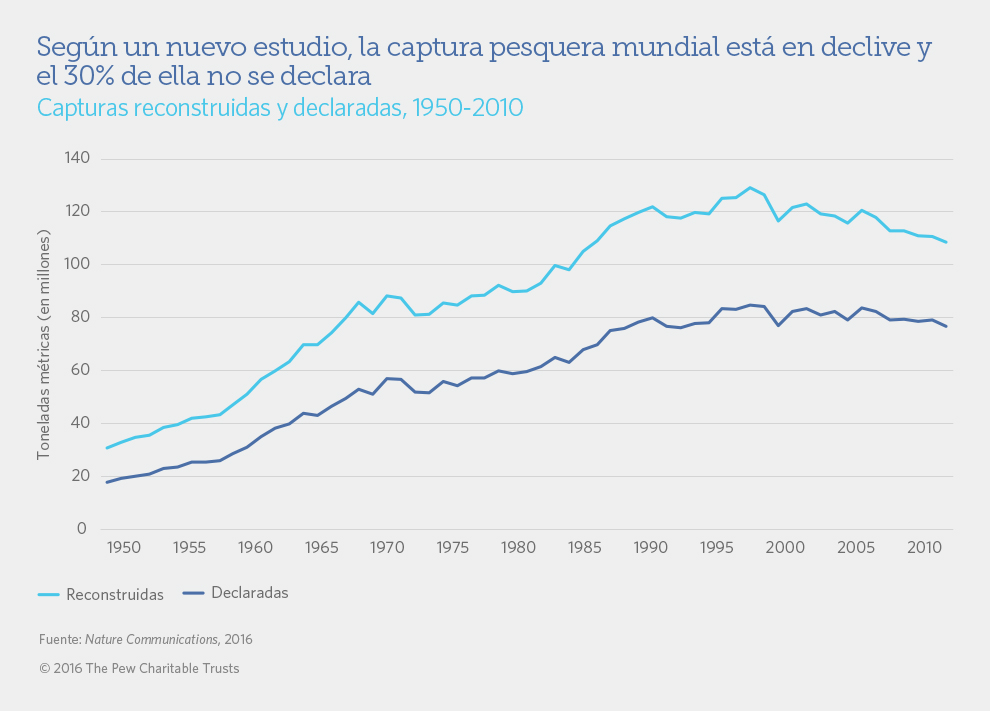 Sea Around Us es una iniciativa de investigación de la Universidad de Columbia Británica (Canadá) que evalúa el impacto de las pesquerías sobre los ecosistemas marinos de todo el mundo. El proyecto se inició en 1999 en colaboración con Pew y, en 2014, Sea Around Us empezó a colaborar con Vulcan Inc. para proporcionar datos pesqueros más precisos y completos a los países de África y Asia.
Rebecca Goldburg dirige los programas de ciencias ambientales de Pew.