Hermanas del Pacífico
Artesanas de Isla de Pascua traen un mensaje de protección de los océanos a Washington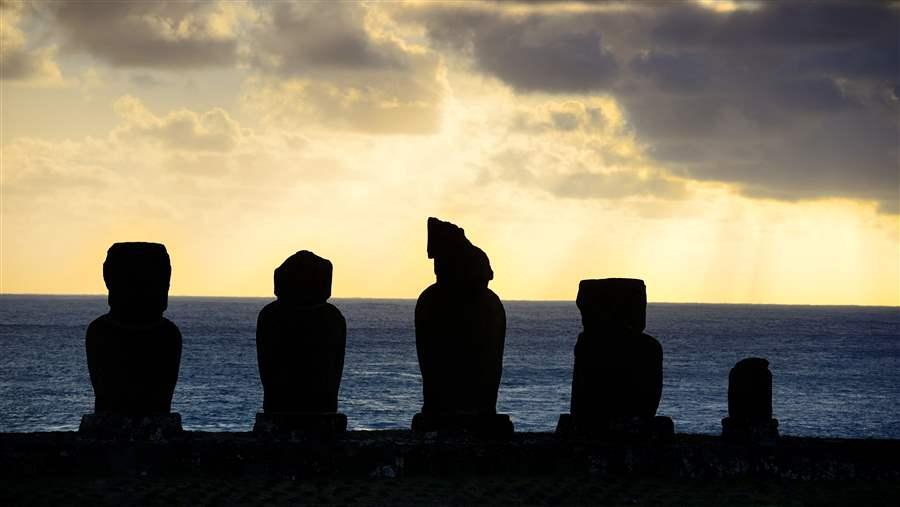 © Eduardo Sorensen
Siete mujeres artesanas y recolectoras de Isla de Pascua —o Rapa Nui, como se conoce a la isla, a su pueblo indígena y su idioma— exponen sus obras de arte en en la Embajada de Chile en Washington, D. C.
La muestra, que se inauguró el pasado 4 de septiembre bajo el nombre "Conservando el Mar de Rapa Nui",se mantendrá abierta durante un mes en la sede diplomática para celebrar la cultura y la vida submarina de la isla.
Ubicadas en el sudeste del Océano Pacífico, a unos 4000 km (2500 millas) al oeste de Chile continental, las aguas de la Provincia de Isla de Pascua son famosas por contener puntos geológicos clave y áreas de rara biodiversidad. Especies de peces sumamente migratorios se refugian entre montes submarinos de millones de años.
La exposición, organizada por la Embajada de Chile, The Pew Charitable Trusts y la Asociación de Mujeres Recolectoras de Rapa Nui, muestra artesanías tradicionales elaboradas a partir de los caparazones de caracoles endémicos como el Pure o "cabeza de dragón". También incluye fotografías tomadas por el fotógrafo chileno Eduardo Sorensen que reflejan la gran diversidad de vida submarina de la Provincia.
En el evento, el Embajador de Chile en los Estados Unidos, Juan Gabriel Valdés, la Directora de Océanos Internacionales de The Pew Charitable Trusts, Karen Sack, y dos de las artistas Rapa Nui reflexionaron sobre la importancia de la exposición.
En sus comentarios, Sack describió la activa vida marina de la Isla de Pascua e hizo hincapié en que constituye "uno de los ambientes marinos más destacados del mundo, hogar de numerosas especies endémicas y en peligro de extinción, así como también de frágiles ecosistemas como montes submarinos y ventanas hidrotermales".
Resaltó la importancia de trabajar junto con comunidades locales en todo el mundo para proteger nuestros océanos. "La protección de los océanos, cuando es dirigida por comunidades locales para asegurar su bienestar, es inspiradora y energizante", dijo Sack. "Tenemos el agrado de trabajar con organizaciones y personas, como nuestras 'hermanas' aquí de Rapa Nui, para fomentar la protección marina".
El proyecto Legado Global para los Océanos de Pew, ha estado colaborando durante tres años con la comunidad Rapa Nui, las autoridades chilenas y los científicos para identificar la mejor manera para proteger las aguas de la Isla de Pascua contra amenazas tales como la pesca ilegal, no reportada y no regulada.
Uri ErisaTuki de la Asociación de Recolectoras de Rapa Nui instó al mundo a proteger su hábitat marino "que proporciona el sustento para la mujeres de Rapa Nui, que en su mayoría son pescadoras, recolectoras y artesanas."