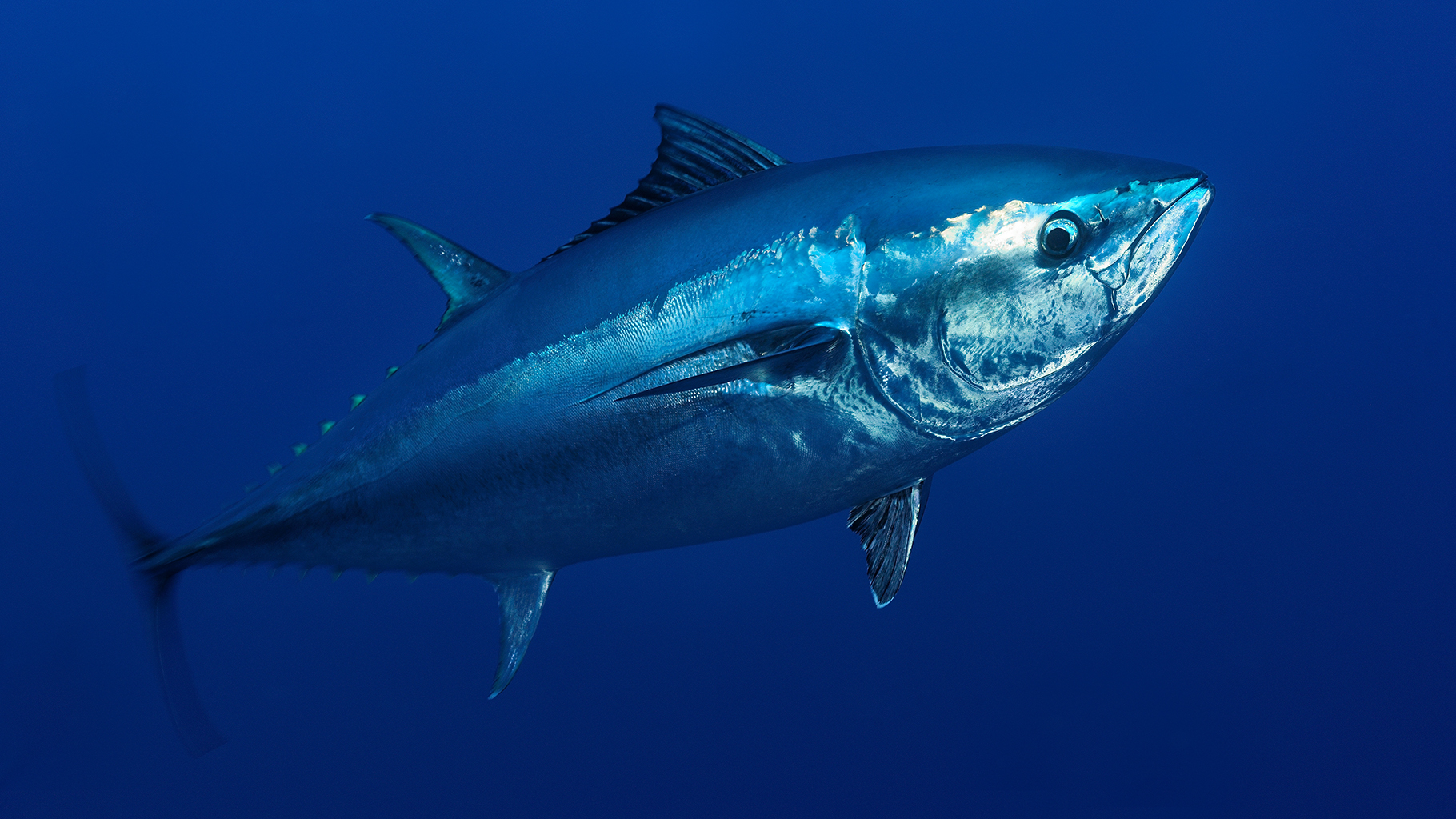 A Big Win for Bluefin
The Atlantic bluefin tuna may grow to the size of a small car, swim nearly as fast as one, and eat everything in its path, but this apex predator is still vulnerable to mightier forces.
That's because this species is one of the most sought-after fish in the world. Prized in Japanese sushi restaurants and in global fish markets and grocery stores, the bluefin demands the highest price of any fish in the sea. Its commercial fishery is worth more than $1 billion each year, with a single tuna often earning fishers more than $10,000 at the dock. In the past, this demand has led to its decimation.
But last November, one of the world's largest regional fishery management organizations took a big step to ensure that this valuable fish will be around a long time.
The International Commission for the Conservation of Atlantic Tunas (ICCAT), which includes 52 member governments and all European Union countries, unanimously agreed to adopt a new management procedure that includes science-based data to determine how much Atlantic bluefin tuna can be caught each year. Also called a harvest strategy, this precautionary and science-based set of rules will automatically adjust catch limits based on a number of potential factors, such as indicators of a fish population's status. This system will lock in the recent recovery of the once highly depleted eastern Atlantic and Mediterranean population and also allow the western Atlantic population of the species to rebound.
In the past, annual catch quotas—numbers negotiated based on stock assessments alone—contributed to years of decline and overfishing of Atlantic bluefin. Because the decisions about quotas will now be automatic and nondebatable, the harvest strategy will also allow ICCAT to turn attention to other pressing matters, such as how bluefin fisheries affect other vulnerable species and the effects of climate change on tunas. The bluefin harvest strategy, which went into effect in January, also paves the way for employing similar modern and precautionary management plans for other fish populations around the globe.
"Atlantic bluefin was once the poster child for overfishing," said Grantly Galland, who works with The Pew Charitable Trusts' international fisheries project. "But after nearly a decade of negotiations at ICCAT, the adoption of a management procedure for Atlantic bluefin tuna is a seminal moment in the management of fish stocks. For years, ICCAT frequently adopted quotas far above the scientifically recommended limits. But thanks to leadership from Canada, the European Union, Japan, and the United States, ICCAT is committed to embracing a long-term solution that will sustain the fishery."
Pew has been working on efforts to recover the Atlantic bluefin tuna population since 2009, when it joined a call for a ban on trade. In addition, Pew has been seeking to improve international management of all tuna species by promoting science-based harvest strategies that do not allow overfishing, minimize the impacts of destructive fishing gear, rein in illegal fishing, and increase the transparency and accountability of tuna regional fisheries management organizations.
—Carol Kaufmann
Arrests Higher for Adults With Both Mental Illness and Substance Use Disorder
Although adults with both substance use disorders and serious or moderate mental illnesses ("co-occurring disorders") make up approximately 2% of the overall U.S. population, they represented 15% of all people arrested between 2017 and 2019, according to an analysis by The Pew Charitable Trusts. Almost half of these arrests were substance-related, such as for drug possession.
Pew's research on data from the National Survey on Drug Use and Health from 2017-19 also found that more than 1 in 9 adults with co-occurring disorders were arrested annually—six times more often than adults with a mental illness alone, and 12 times more often than adults with neither a substance use disorder nor a mental illness. Women with co-occurring disorders accounted for more than 1 in 5 of all women arrested and were 19 times more likely to be arrested than women with neither a substance use disorder nor a mental illness. And Black adults with co-occurring disorders were arrested 1.5 times more often than their White counterparts.
Although policymakers have been working to better understand and improve interactions with the justice system for those with substance use disorders or mental illness, less has been known about people with co-occurring disorders, and the analysis helps shed light on those concerns.
Although years of research has determined that simultaneous and coordinated treatment produces better outcomes for multiple diagnoses than separate treatment for mental illness or substance use disorders alone, the analysis found that people with co-occurring disorders were unlikely to receive treatment for more than one disorder. Only 1 in 10 adults with co-occurring disorders (10%) received treatment for both conditions, while 2 in 5 (42%) received no treatment of any kind for either condition during the prior year. Black and Hispanic adults with co-occurring disorders were also less likely to receive mental health or substance use treatment than White adults (47% and 43%, respectively, versus 64%).
Researchers have found that communities with more treatment availability may have lower crime and jail incarceration rates; however, more could be done.
"There needs to be an increased focus on the needs of people with co-occurring disorders, particularly on integrated treatment for both mental illness and substance use," says Julie Wertheimer, who directs Pew's public safety performance and mental health and justice partnerships. "Such integrated treatment could reduce the number of people both entering and cycling back through the justice system."
—Demetra Aposporos
Religious Makeup of Congress Differs From General Population
As it began its 118th session, the U.S. Congress remained largely untouched by two trends that have long marked religious life in the United States: a decades-long decline in the share of Americans who identify as Christian and a corresponding increase in the percentage who say they have no religious affiliation, according to an analysis by the Pew Research Center.
Since 2007, the share of Christians in the general population has dropped from 78% to its present level of 63%. Nearly 3 in 10 U.S. adults now say they are religiously unaffiliated, describing themselves as atheist, agnostic, or "nothing in particular," up from 16% who did not identify with a religion 16 years ago. But Christians make up 88% of the voting members of the new 118th Congress who were sworn in on Jan. 3, only a few percentage points lower than the Christian share of Congress in the late 1970s. In the 96th Congress, which was in session in 1979-80, 91% of members of Congress identified as Christian.
Just like in recent sessions, only one member of the new Congress—Senator Kyrsten Sinema (I-AZ)—identifies as religiously unaffiliated. Another (Democratic Representative Jared Huffman of California) describes himself as humanist, and 20 are categorized as having unknown religious affiliations. Most of these members declined to state a religious affiliation when they were asked by CQ Roll Call, the primary data source for this analysis.
—Daniel LeDuc
Philadelphia Artists Recognized
Twelve artists across a range of disciplines—performance, literature, visual arts, and more—were named Philadelphia's Cultural Treasures fellows in December. Part of the larger Philadelphia's Cultural Treasures funding initiative—which honors people of color artists, cultural groups, and organizations with exceptional significance to Greater Philadelphia—the fellowships provide the artists unrestricted grants ranging from $75,000 to $120,000 as well as a $15,000 retirement savings contribution and opportunities for professional development to help advance their work. The grants are a collaborative effort among The Pew Center for Arts & Heritage, The Barra Foundation, Neubauer Family Foundation, William Penn Foundation, and Wyncote Foundation and are an attempt to help these artists weather and emerge stronger from the COVID-19 pandemic, which hit communities of color particularly hard. The fellowships are a regional component of the America's Cultural Treasures initiative created by the Ford Foundation.
The awardees—Daryl Kwasi Burgee, Vashti Dubois, Maori Karmael Holmes, Homer Jackson, Wit López, Roberto Lugo, Louis Massiah, Pepón Osorio, Ursula Rucker, Sinta Penyami Storms, Andrea Walls, and Yolanda Wisher—range from visual, multimedia, and multidisciplinary artists to filmmakers, ceramists, poets, singers, dancers, musicians, and educators. They all enhance the city's cultural fabric and make a material difference in their communities.
"The 2022 Philadelphia's Cultural Treasures fellows represent extraordinary artistic practices and exemplary community-driven work by artists of color that are critical to the city's cultural landscape," said Paula Marincola, executive director of The Pew Center for Arts & Heritage.
—Demetra Aposporos