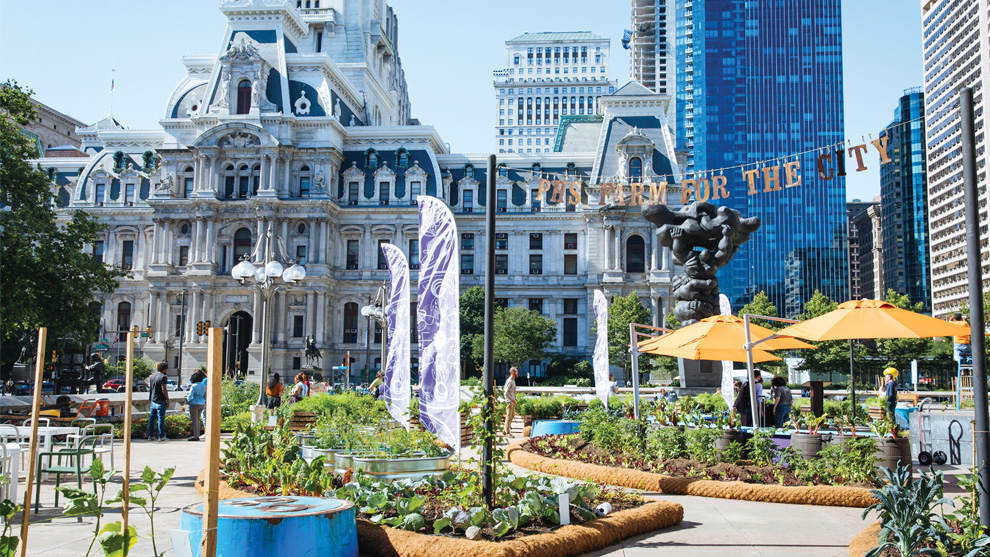 Pew supports Pennsylvania Horticultural Society's 'Farm for the City' public installation
In June, the Pennsylvania Horticultural Society, with support from the Pew Center for Arts & Heritage, opened its "Farm for the City" public installation. The exhibit transformed Philadelphia's Thomas Paine Plaza, located near City Hall, into a temporary 2,000-square-foot garden to encourage public conversations about the role of urban agriculture in strengthening communities. Over four months, the raised-bed gardens were expected to grow about 1,000 pounds of produce, to be donated to Broad Street Ministry, a community service organization dedicated to serving the homeless.
Pew Center for Arts & Heritage names 2018 awardees
The Pew Center for Arts & Heritage in June announced 45 grants supporting a wide range of work from the Philadelphia region's cultural organizations and artists. Totaling more than $8.7 million, the awards provide funding for 12 fellowships for artists working in a variety of disciplines and 33 project grants for the presentation of exceptional, creative programming and events that contribute to the vibrancy of Philadelphia's civic life.
A portrait of Philadelphia's government hiring
The Philadelphia research initiative in June released an analysis of the city government's hiring and employment processes. It found that Philadelphia's civil service regulations allow its hiring managers less flexibility than their counterparts in many of the nation's most populous cities, potentially limiting the infusion of new talent into the ranks of city government. Interviews with over 40 Philadelphia officials portrayed hiring and promotion practices that are cumbersome, inflexible, and slow. Among the findings: From 2013 to 2015, the median time between an individual's submitting an application and being selected for a position was 360 days—and some applicants sat on waiting lists for up to two years. Pew performed the study at the request of Philadelphia officials.
Recognition for Arts fellows
Two Pew fellows in the arts have been recognized for their visionary work as composers and musicians. Bassist Jamaaladeen Tacuma, a 2011 fellow, was honored in March with the 2018 Benny Golson Award, presented by Philadelphia's Office of Arts, Culture, and the Creative Economy. And pianist Dave Burrell, a 1996 fellow, was celebrated for his lifetime of achievement during New York's Vision Festival in May. The festival, which described Burrell as "a leader in the contemporary jazz scene," featured the pianist and musical collaborators in a performance highlighting his five-decade career.
Pew-funded performances held in Philadelphia region
Performances funded by the Pew Center for Arts & Heritage and presented over the summer included a concert from celebrated jazz guitarist Nels Cline. Cline—who performed "Lovers (for Philadelphia)" with a 17-piece jazz orchestra that featured songs inspired by Philadelphia's musical history—is also known for his work with the Grammy Award-winning band Wilco. The Kimmel Center for the Performing Arts presented the Philadelphia premiere of the Pulitzer Prize-nominated "A 24-Decade History of Popular Music," created and performed by MacArthur fellow Taylor Mac. The epic work was presented in two 12-hour performances that traced critical moments in the nation's history through hundreds of popular songs from 1776 to the present.