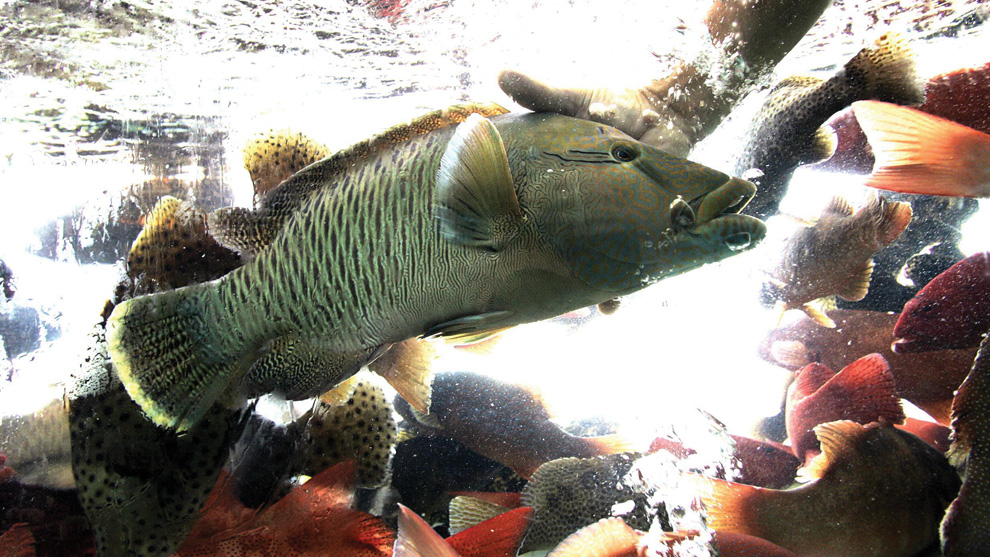 Hong Kong industry coalition agrees to code of conduct for sourcing seafood
The Hong Kong Sustainable Seafood Coalition—an organization of 12 Hong Kong and Macau seafood importers, international hotel chains, and retailers—agreed in June to focus on the assessment and avoidance of illegal, unreported, and unregulated (IUU) fishing in its members' supply chains. Hong Kong imports 90 percent of its seafood, of which up to 75 percent falls within the IUU category, according to local industry estimates. Pew's ending illegal fishing project says this commitment will help its efforts to persuade global seafood buyers to adopt policies that avoid and assess IUU risks in their supply chains and provide leadership on this issue in the East Asia region.
Congress advances flood-preparedness measure
The Senate homeland security committee passed a bill in June that would create a new source of federal funding for preparedness activities that reduce flood risks and damage from disasters. A provision in the bill sets aside an additional 6 percent of all federal disaster spending for mitigation, establishing a permanent funding source for such activities. Preventive actions such as elevation of structures and relocation of flood-prone properties have a $6 return on every $1 invested. Pew supports increased investment in mitigation to reduce the nation's disaster costs and better prepare communities for the increased threat of flooding.
Coral habitats receive protection
The Gulf of Mexico Fishery Management Council voted in June to protect vulnerable deep-sea corals. Twenty-one coral hot spots identified by scientists as priorities for protection—totaling 484 square miles, an area twice the size of New Orleans—were designated as "Habitat Areas of Particular Concern." Under this measure, damaging fishing gear such as trawls, bottom longlines, and traps is now banned year-round in most sites. Corals grow slowly and can live thousands of years; once damaged, they may take centuries or longer to recover. For five years, Pew staff provided recommendations, met with managers and fishermen, developed maps to educate fishing crews, and generated strong public support.
Pew teams with CDC to examine inappropriate antibiotic use
In July, the antibiotic resistance project and the Centers for Disease Control and Prevention published new research in JAMA Internal Medicine on inappropriate antibiotic prescribing in urgent care centers and retail health clinics in the U.S. The study found that patients going to urgent care centers for conditions that do not require an antibiotic (e.g., cold, flu, allergies) still received such a drug 46 percent of the time. The research is part of an ongoing collaboration between Pew and CDC to improve antibiotic prescribing across all health care settings.
States improve fiscal health
Pew's experts recently worked on fiscal issues in a number of states that led to new policies to establish warning systems for school finances, stabilize revenue, evaluate tax incentive effectiveness, and improve public retirement programs:
In May, Indiana Governor Eric Holcomb (R) signed legislation that includes a provision requiring the Distressed Unit Appeal Board to adopt policies and procedures to identify school corporations demonstrating signs of financial distress; decide when a corrective action plan is needed; and determine when a school corporation can be considered financially healthy.
Also in May, Kansas Governor Jeff Colyer (R) signed a budget bill that contains new deposit rules for the state's budget stabilization fund for fiscal years 2020, 2021, and 2022. The deposits are designed to hedge against revenue surprises at the end of the fiscal year, setting money aside when revenue exceeds expectations—something Kansas had struggled with for many years.
In June, Connecticut Governor Dannel Malloy (D) signed legislation eliminating three tax credits after a Department of Economic and Community Development evaluation showed they were ineffective, potentially saving the state millions of dollars in the coming years. The department's study was the first under an overhauled tax incentive review process.
North Carolina Governor Roy Cooper (D) signed a bill in June that creates a reserve fund to address the unfunded liabilities of the state's public retiree health benefit and retirement system. The fund will be paid for through savings strategies that Pew's state fiscal health team helped put in place last year.