Bringing Up Baltimore
One city's approach to strengthening its most vulnerable families
In 2008, the city of Baltimore undertook a first-of-its-kind effort. First, it sought to transition its home visiting programs into using only evidence-based program models. Second, the city worked to build a unified system of services. And finally, it moved to establish procedures to measure the results. Like the many policymakers across the country considering similar shifts, leaders in Baltimore were searching for better outcomes for children and families and continued support from public and private funders who, in recent years, had increasingly sought greater effectiveness and accountability.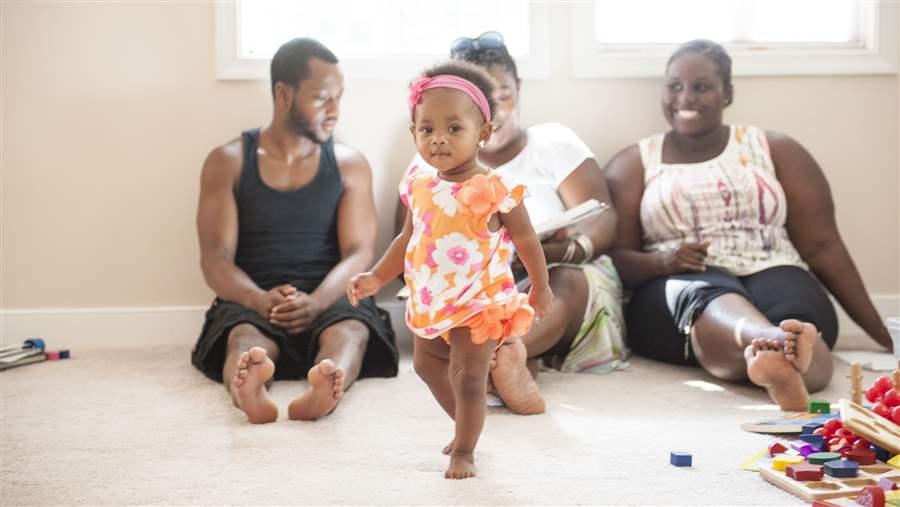 © James Kegley
To understand what worked and what didn't in Baltimore's transition to evidence-based home visiting and what factors influenced city leaders' strategies and choices, The Pew Charitable Trusts commissioned Carson Research Consulting Inc. to conduct interviews with stakeholders: agency personnel, providers, and families. The city's experience is instructive as more states and municipalities attempt similar changes to better support young families and provide taxpayers with the best return on their investment.
Baltimore's transition to evidence-based home visiting began with a critical decision-making process. City policymakers, faced with the fourth-highest infant mortality rate among U.S. cities of comparable size in 2009, conducted a needs assessment to document problems and identify areas for improvement. They also undertook a comprehensive literature review to find potential solutions. They determined that high-quality home visiting was an important, high-impact component of an improved early childhood system of care.
Using the existing research base, leaders found that properly implemented home visiting could effectively improve birth outcomes, provide family support, and enhance the health of young children as part of a larger comprehensive plan. As a result of this process, policymakers agreed that home visiting should continue in the city—not as it had, as disparate programs with no central strategy, but rather as an aligned system implementing proven practices.
City officials designed a new home visiting system that includes two federally approved, rigorously evaluated, evidence-based models—Nurse Family Partnership and Healthy Families America—which they believed could reach those expectant mothers most at risk for low-birth-weight babies, preterm births, infant mortality, and child abuse and neglect. They also developed a central system to identify, engage, and enroll targeted mothers and provide a single point of entry into the home visiting system.
This brief offers an overview of the Baltimore experience and identifies the eight steps that were key to the city's successful transition:
Get leadership buy-in.
Conduct a needs assessment.
Select evidence-based programs.
Implement evidence-based programs and create a unified system.
Provide staff with training and technical assistance.
Establish a central triage and referral process.
Establish a monitoring and reporting system.
Monitor implementation and outcomes.