Poll: Suburbanites Value Philadelphia as a Place to Visit but not Live
A new public opinion poll commissioned by The Pew Charitable Trusts' Philadelphia Research Initiative shows that residents of seven counties surrounding Philadelphia have a generally positive impression of the city, though they value it more as a place to visit than as a place to live. Suburbanites see a strong link between Philadelphia's future and that of their own communities but identify less strongly with the city than they did a decade ago, when their views on the topic were last surveyed.
The survey, conducted November 15-22 among 801 adults, finds that 53 percent of suburbanites think that the city is headed in the right direction while 24 percent say it is off on the wrong track. That is a rosier assessment than Philadelphia residents gave in a Philadelphia Research Initiative poll taken in January when 41 percent said the city was headed in the right direction and 34 percent said it was off on the wrong track. By a large margin, suburbanites also believe that the city will get better in the next five years.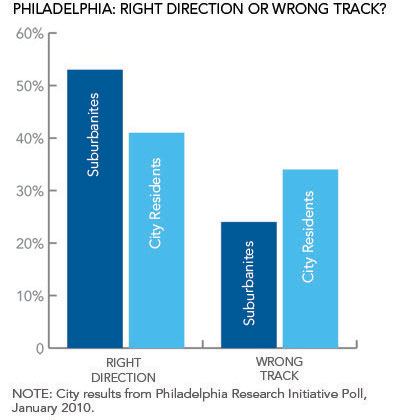 The counties covered by the survey are Bucks, Chester, Delaware and Montgomery in Pennsylvania and Burlington, Camden and Gloucester in New Jersey.
In the poll, residents of the suburban counties give the city glowing ratings as a place to visit; 81 percent give it a good or excellent overall grade. Ninety-six percent say that Philadelphia is a good or excellent place for historical sites and landmarks, 94 percent for arts and culture, 92 percent for spectator sports and 90 percent for food and restaurants. Only as a place to shop does the city get a less than stellar mark, with 64 percent rating it good or excellent for that purpose.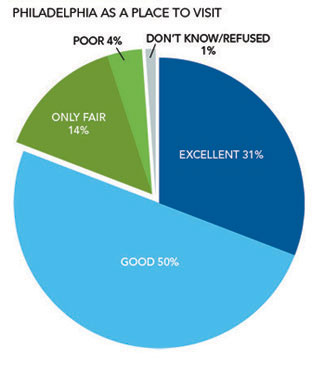 But suburbanites are much less enthusiastic about Philadelphia as a place to live. Thirty-nine percent rate it a good or excellent place in that regard while 55 percent rate it "only fair" or poor. Asked what they would tell someone thinking of moving to the city, 42 percent say they would recommend in favor of such a move. The rest are split between recommending against a move or offering no recommendation either way. And 13 percent see much likelihood of themselves moving to the city in the next 10 years or so.
Suburbanites see the fate of their communities and that of Philadelphia as intertwined. Eighty-six percent describe the city's economy as important to the economy of the region; 78 percent say that the social and economic conditions in the city are important to them; 65 percent say that Philadelphia is important to their own quality of life. In addition, 78 percent would like to see city and suburban officials work together to address regional issues.
In other ways, however, their responses, when compared to those in past surveys, show an increased sense of distance between city and suburb. In the current poll, 40 percent say they use "Philadelphia" or "the Philadelphia area"—as opposed to descriptions that do not include the city's name—to describe where they are from when asked by someone from outside the region. An average of 50 percent chose the Philadelphia options in surveys done between 1996 and 1998 by Greater Philadelphia First, a business-promotion group that no longer exists.
Today's suburbanites also express less pride in being identified with Philadelphia than in past surveys and report coming to the city less often—42 percent of them say they visit more than once a month (counting work trips) compared to an average of 48 percent in Greater Philadelphia First polls conducted between 1996 and 2000.
The city gets higher ratings from the wealthy, the young and commuters, lower ratings from low-income suburbanites, the elderly and those who rarely or never visit. In the poll, those who have frequent contact with Philadelphia tend to have a more positive impression of it.