US Leadership in Innovation
From the Lab to the Boardroom:
Maintaining Our Leadership Role in Clean Energy Innovation
Global energy demand is expected to grow 56 percent by 2040, especially in developing nations, according to the U.S. Energy Information Administration.1 The International Energy Agency forecasts that clean energy will provide half the electricity generation capacity installed over the next 25 years.2 During that period, clean energy could attract up to $7 trillion worth of investment worldwide.3
The United States' ability to take a suggestion and turn it into innovation and new technology is unparalleled. Strategic partnerships between federal and state government with the private sector and academia create new energy options and underscore the importance of transformational energy innovation.

Cheryl Martin, acting director, Advanced Research Projects Agency-Energy
The United States has long enjoyed the benefits of leadership in technology innovation. From personal computers to global positioning systems to hydraulic fracturing methods for recovering oil and natural gas reserves, robust partnerships between the public sector and American industry and entrepreneurs have often spurred new technologies and businesses.
Government investment in energy innovation is critical
In 2010, business leaders from the American Energy Innovation Council succinctly described the need for strong public investment in energy innovation:
"Innovation is the essence of America's economic strength. It has been our nation's economic engine for centuries. Our leadership in information technology, medicine, aviation, agriculture, biotech, and dozens of other fields is the result of our enduring commitment to innovation."5
Although federal government investment in energy innovation is critical to advance new inventions to the marketplace, the United States has not prioritized investment in this industry as it has for health and defense research. Energy is the third-largest sector of the American economy, but federal budget constraints have limited investment in energy research and development at a time when business opportunities for clean energy technologies are increasing.6 At the same time, nations such as South Korea, Germany, and Japan have higher levels of investment in energy innovation activities than the United States does.
Greater support for national energy laboratories and innovative programs such as the Advanced Research Projects Agency-Energy, Energy Innovation Hubs, National Science Foundation, and the Department of Energy's Office of Science and Office of Energy Efficiency and Renewable Energy will ensure that industry, government, and university partners can continue to make technology advancements that will result in more competitive U.S. clean energy businesses.
Benefits of federal government investment
Despite relatively low funding levels, federal investment in clean energy innovation is already paying off. Rapid technological advances are spurring interest in adoption of wind, solar, and other clean energy systems.
For example, the cost of onshore wind energy production has decreased by 90 percent since 1980. As a result, U.S. wind capacity has tripled since 2008. Because of wind's significant potential, further developments could result in wind supplying 20 percent of U.S. power by 2030.7
Similarly, falling costs and increased efficiency of solar photovoltaic, or PV, technologies are rapidly expanding their use in residential, commercial, and utility settings. Costs for PV have fallen 80 percent since 2008, deployment has jumped by a factor of 10, and innovative financing models are helping to bring solar power to military installations, auto manufacturers, hotels, homeowners, and public schools, reducing energy costs and carbon pollution.8
In 2013, more than 96,700 plug-in electric vehicles were sold, an 84 percent increase from 2012.9 Electric vehicles are becoming more affordable largely because of significant improvements in battery technologies. Innovations by industry leaders, with assistance from U.S. government laboratories, have brought battery costs down 50 percent in four years; driving on electricity is now equivalent to paying $1.22 for a gallon of gasoline.10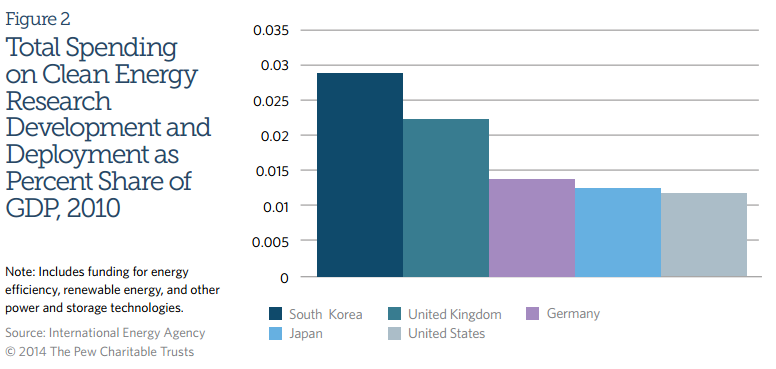 As battery storage progresses, these systems also are being used to enhance the value of solar and wind energy, ensuring that the power can be stored and then used when needed by utilities, businesses, and homes.
Public investment in clean energy can also leverage U.S. venture capital and private equity markets. In 2012, the United States led in venture capital financing for clean energy, attracting $4.3 billion, which was 78 percent of the global total.11 Private financing that helps technologies reach commercialization allows U.S. businesses to better compete in both domestic and international clean energy markets, where opportunities are growing as economies mature in developing nations. In Advantage America: The U.S.-China Clean Energy Technology Trade Relationship in 2011, Bloomberg New Energy Finance demonstrated that U.S. companies in 2011 enjoyed a trade surplus with China in key clean energy technologies, in large part because of U.S. leadership in advanced technologies, materials, and manufacturing.12
As clean energy capacity expands globally, and with investment expected to total $7 trillion by 2035, competition in the sector will intensify. Robust public investment in energy innovation can leverage leading capital markets and expertise in advanced manufacturing. In turn, this can help expand export opportunities for U.S. companies and their products.
Innovation can lower the price of technologies, increase demand for products and services, and position U.S. businesses to win a larger share of growing markets.