Timeline: Oil and Gas Leasing in Bristol Bay
1986—Despite strong opposition from local villages and residents, federally recognized tribes, fishing organizations, conservation groups, and the state of Alaska, the U.S. Department of the Interior (DOI) Minerals Management Service opened Bristol Bay to oil and gas exploration and development with Lease Sale 92.

1989—After the Exxon Valdez oil spill, Congress added the North Aleutian Basin, comprising Bristol Bay and the southeastern Bering Sea, to a nearly nationwide moratorium prohibiting new oil and gas development on the Outer Continental Shelf.

1995—DOI reached a settlement to buy back $95 million in leases that oil companies had purchased under Lease Sale 92. The DOI called its action "landmark protection" for "fragile offshore resources."

1998—President Bill Clinton added the North Aleutian Basin to President George H.W. Bush's 1990 executive leasing withdrawals (which covered California, southern Florida, Washington, Oregon, and northern East Coast states) and extended these executive protections until June 30, 2012.

2003—Congress removed Bristol Bay from the moratorium on oil and gas development in the Outer Continental Shelf.

2007—President George W. Bush changed the end date for executive protection of Bristol Bay from 2012 to 2007; the Minerals Management Service announced plans to hold a lease sale in Bristol Bay as early as 2011.

2010—President Barack Obama extended Bristol Bay's temporary protection from offshore oil and gas development through 2017.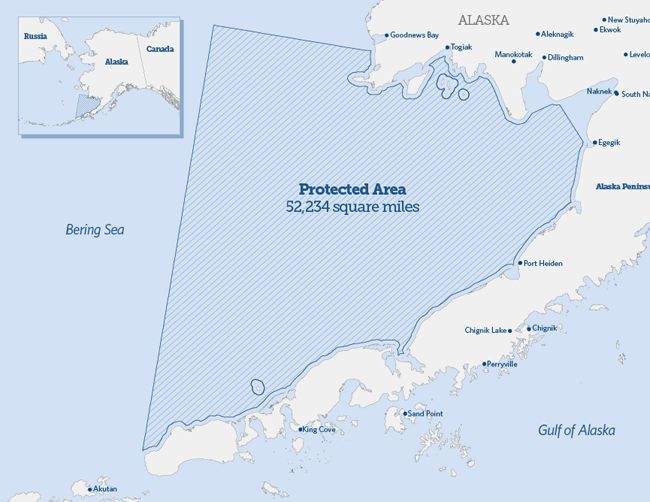 © 2009 National Geographic
Courtesy of Fish Basket Coalition