How Minnesota's Dual System for Civil Debt Cases Harms Consumers
Report shows need for consistent processes to help those without lawyers navigate courts
How Minnesota's Dual System for Civil Debt Cases Harms Consumers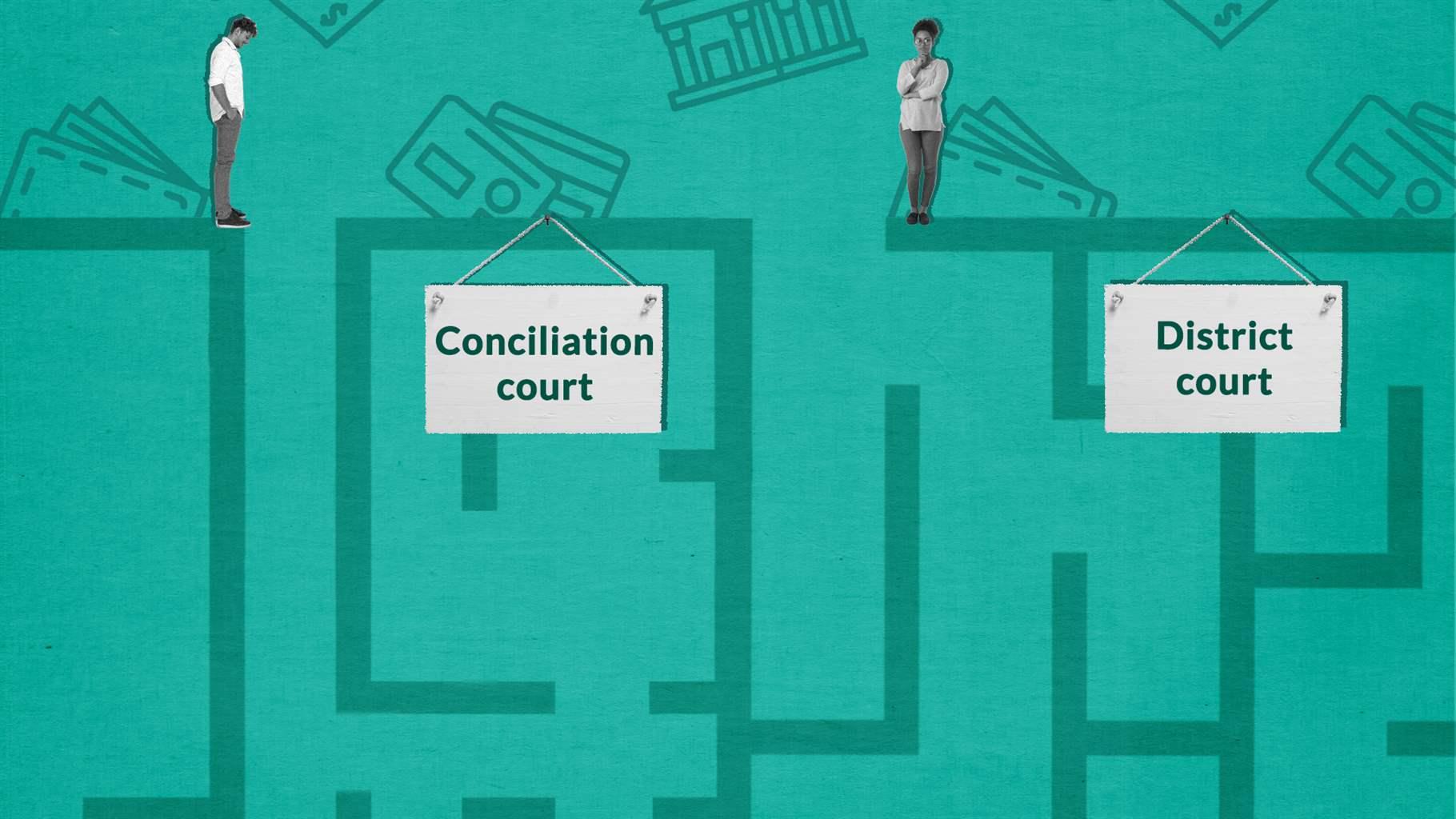 Minnesota has solid policies in place to help people being sued for debt, but in practice they are not being applied consistently to help the average consumer, according to a new report from the Minnesota State Bar Association's Access to Justice Committee.
The state gives plaintiffs the choice of filing consumer debt cases involving $4,000 or less in conciliation court, also known as small claims court, or the district court. The first option has fewer barriers to participating in the court process for both sides, while the latter has rules and procedures better suited to people represented by a lawyer. But the analysis found that roughly three-quarters of consumers in the state facing debt complaints are sued for $4,000 or less.
The data shows that more than half of the cases filed in district court between 2018 and 2021 were eligible for filing in conciliation court. That dual system means consumers who are sued by debt collectors can face vastly different policies and procedures, even under similar circumstances. Most Minnesota debt defendants are individual consumers who are being sued by a business and do not have an attorney. Conciliation court provides them with easy-to-understand processes and a clear path toward resolution. In district court, on the other hand, processes can be confusing and costly for debt defendants.
So, the study concludes, Minnesota's two-venue system is routing many defendants without attorneys away from the courts best equipped to help them.
Because district court rules can prove difficult for people without attorneys to navigate, they are a key driver of high default rates. The practice of "hip-pocket filing" there allows plaintiffs to serve defendants notice of a lawsuit before filing it with the court. With no way of verifying the actual filing or its legitimacy through the court, consumers often ignore or discard summonses, believing that they are being scammed. Just four other state civil court systems nationwide allow pocket filing; Minnesota is the only one that guarantees plaintiffs up to one year after service to file their case. Meanwhile, defendants must respond within 21 days or risk having a default judgment entered against them at a future date.
The study shows that 1 in 10 district court cases are filed more than eight months after the defendant is initially served. In theory, that pre-filing period should allow litigants more time to settle a case, but there is no clear data on settlement rates. In fact, the bar association committee that studied the systems found that the gap in time between serving the consumer with court documents and actually filing the case in the court creates uncertainty and confusion for consumers, which can lead to default judgments.
In line with national trends, both the district and conciliation courts in Minnesota have high rates of default judgments—automatic wins for plaintiffs in cases where a defendant doesn't respond to or participate in the case. But the default rate is significantly lower in the more user-friendly conciliation court (54%) than the district court (82%).
To address this issue, the Access to Justice Committee, which received support from The Pew Charitable Trusts for the study, recommends eliminating venue choice in Minnesota by requiring plaintiffs to file all matters involving $4,000 or less in conciliation court. The group acknowledged that this change would require considerable effort for courts to implement but stressed that conciliation court's procedures make it the "more appropriate venue" for such debt cases.
Ensuring that the same rules apply to all plaintiffs suing for small dollar amounts would make debt litigation processes in Minnesota less onerous for consumers—and help them receive the benefit of policies in place to assist them. It also would allow state civil courts to resolve debt issues in a more consistent, equitable manner.
Charlotte Stewart works on The Pew Charitable Trusts' civil legal modernization project.